---
As the winter chill sets in, things are also cooling in the Greater Toronto Area's real estate market. As such, 88% of GTA neighbourhoods were in underbidding territory in November, compared to 86% in October and just 15% in November 2021.

88% of GTA neighbourhoods sold below ask and 37 days on market is a three-year high, Wahi
This is according to the latest insights from digital real estate platform Wahi, which analyzed market activity, including bidding activity, across GTA neighbourhoods.
According to Wahi's data, homes in underbidding territory ranged from price points of $1.65M to $2.75M, with three neighbourhoods in Oakville ranking the highest for underbidding, followed by neighbourhoods in Richmond Hill and King. The five neighbourhoods that topped the list sold for around 6% to 9% less than the listing price.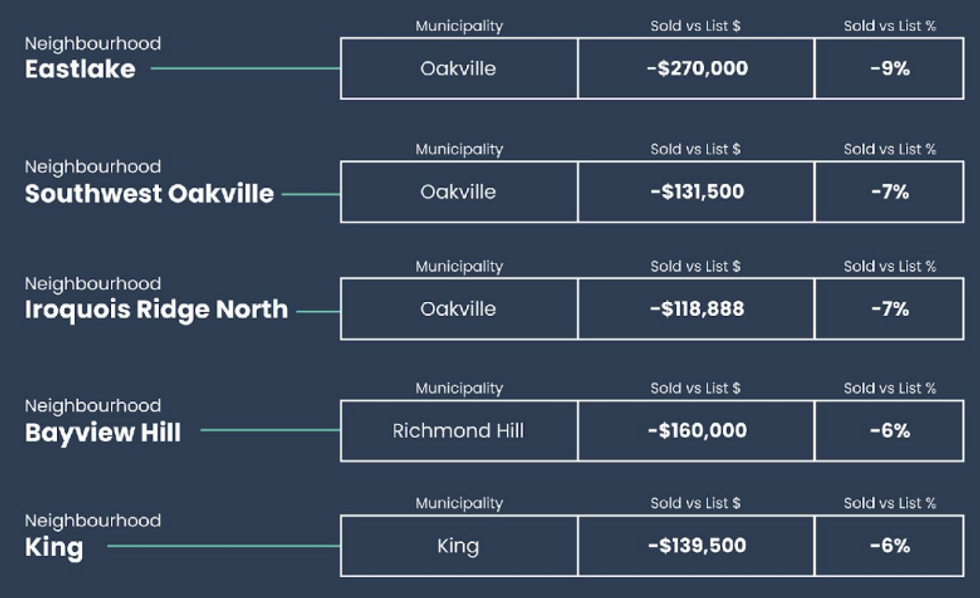 Top neighbourhoods for underbidding in the GTA, Wahi
On the flip side, 12% of GTA neighbourhoods were in overbidding territory in November, with listings selling at or above asking in in Markham, East York, Richmond Hill, and Oakville. In the top overbidding neighbourhoods, properties were priced between $1.2M and $1.65M, and sold between 6% and 23% over the listing price.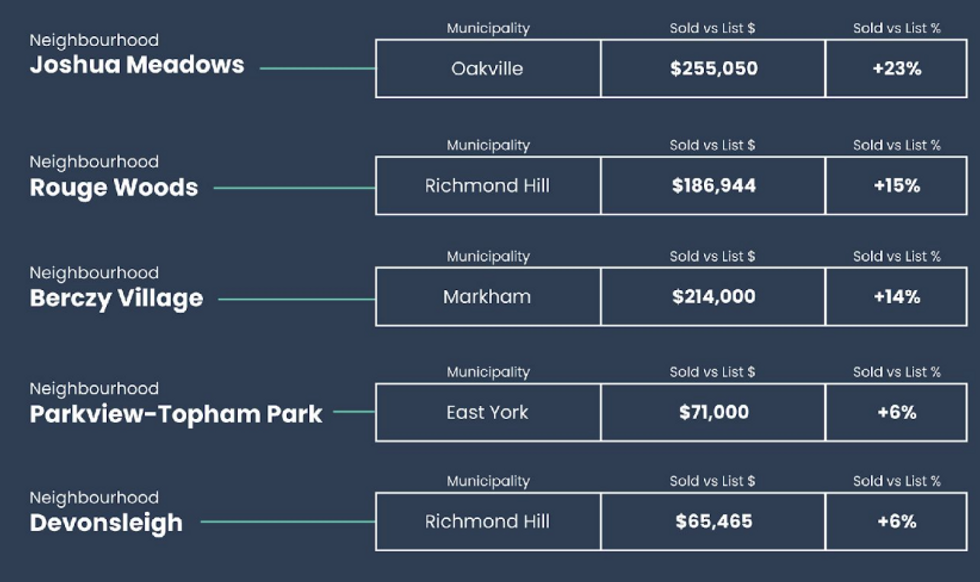 Top neighbourhoods for overbidding in the GTA, Wahi
For the GTA on the whole, Wahi found that transactions fell by 55% year over year in November, in line with the typical seasonal slow-down, while new listings fell by 12%. November saw the lowest number of listings since January 2022. Meanwhile, home prices fell by 7%, with detached home prices dragging that average down (declining by 13%), and condo prices having an offsetting effect (increasing by 3%). Homes in the GTA also sat on the market for an average of around 37 days, marking a three-year high and a 178% YoY increase.

November unit sales of 4,037 were GTA's lowest since onset of Covid pandemic, Wahi
Speaking specifically to the City of Toronto, transactions were down 56% YoY in November, new listings were down 19%, and home prices inched down marginally by just 1%. Properties in Toronto sat on the market for around 57 days, marking a YoY increase of 241%.
Real Estate News