The condo sector has officially recovered from its pandemic-era slump, achieving both a record year and fourth quarter for sales in 2021.
---
The latest data out from the Toronto Regional Real Estate Board (TRREB) reveals a total of 7,815 units traded hands between October and December -- a year-over-year increase of 21% -- despite buyers contending with some of the tightest market conditions seen in two decades. Just 8,758 new listings came to market during that time period, marking a 29% plunge from the same quarter in 2020, and leading overall active inventory to decline by two thirds.
Such steep seller-friendly conditions pushed up average unit prices by double-digit percentages, rising 16.4% to $710,087.
The Return of the Condo Buyer
This performance is a marked turnaround from the considerable softening experienced by the sector at the onset of the COVID-19 pandemic; spooked by the implications of close-quarter living as well as a drop in rental profitability, demand for condos tanked in the months following the initial March 2020 lockdown with sales plunging by 24.8% by the second quarter of that year. 
"In the early days of the pandemic, we saw a spike in condominium apartment listings and a brief lull in condo price growth," states TRREB Chief Market Analyst Jason Mercer. "The situation reversed dramatically in 2021, with the number of available units dropping in the face of strong demand. The resulting double-digit price growth will carry forward into 2022." 
These days, however, it's evident unit demand is being buoyed by the returning first-time buyer segment, who have clamoured for the most affordable entry points to the market. As ground-related housing becomes increasingly inaccessible -- the average GTA-area detached house fetched $1,598,735 in December, according to the board -- condos are increasingly the point of buyer focus. TRREB President Kevin Crigger says demand will only grow into the new year, further compounded by other factors as the economy recovers.
"The resurgence in the condo market was a key real estate story for 2021. First-time buyers, who arguably remained on the sidelines longer than existing home buyers during the earlier stages of the pandemic, reentered the market with vigour last year," he stated. "Condo demand will be robust in 2022 as well, with the expected increases in immigration and temporary migration into the GTA." 
Read: Toronto Real Estate Had its Biggest Year on Record in 2021
Transactions within the City of Toronto accounted for the bulk of sales, at 69% of all volume. A total of 5,336 sold within city limits, at an average price of $736,683. Overall, the majority of sales are occurring within the $500,000 - $699,999-range. Two-bedroom units were the most popular, accounting for 32% of all sales, followed by one-bed-plus-den units at 25%.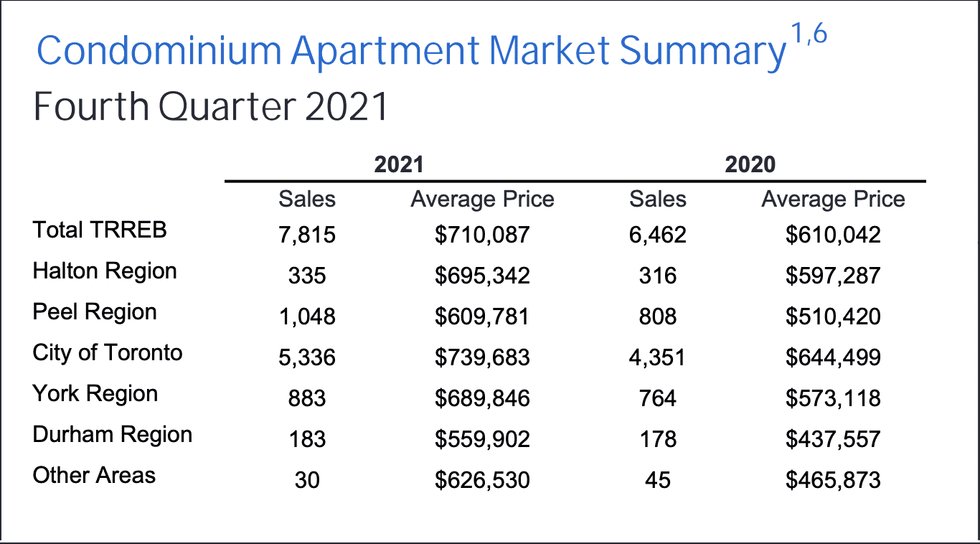 Toronto Regional Real Estate Board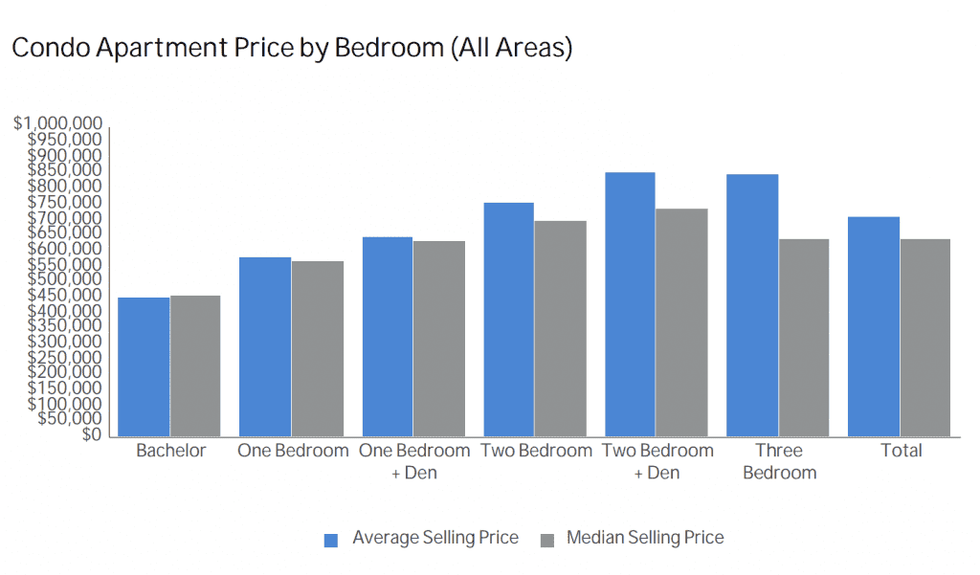 Toronto Regional Real Estate Board
Condo Rental Prices Nearly Back to Pre-Pandemic Levels
Unlike the ownership market, TRREB reports condo rental transactions declined on a year-over-year basis compared to the same quarter in 2020 -- but that's due to a lack of units for lease, rather than short demand. A total of 10,820 units were rented out in Q4, down 13.9% annually, while supply was down by nearly half, declining a whopping 48.9%, with 16,972 units listed.
Such an imbalance led to average lease rates also increasing by double-digit percentages; the average one-bedroom unit rose by 13.7% to $2,099, with two-bed average rents up by 12.6% to $2,763.
"The lack of housing inventory is not just an issue for the ownership market in the Greater Toronto Area," says Crigger. "After a relatively brief pandemic-induced blip in rental supply, available rental listings have declined. This has made it more difficult for would-be renters to find a place to live -- essentially you can't rent what isn't available. By extension, the lack of inventory has also resulted in increased competition between renters, pushing average rents higher."
Mercer says that, like ownership housing, the supply-and-demand imbalance is only going to deepen for the condo rental market.
"Demand will increase as both immigration and temporary migration into the GTA picks up over the next year," he says. "Both sources of population growth result in more demand for rental accommodation. In the absence of a marked increase in the supply of rental units, expect average rents to trend further upward in 2022." 

Toronto Regional Real Estate Board
All of these factors have contributed to continued record-low vacancy rates throughout the GTA, at 1.7% within the City of Toronto and even tighter in the 905 markets; vacancies hover at 0.9% in York Region, 0.7% in Durham, 0.8% in Peel, and a miniscule 0.2% in Halton.
Looks like buyers and renters alike should prepare for stiff competition for units in the year ahead, if the last few months are any indication.
Toronto