---
As an ambitious master-planned community slated for Scarborough's Golden Mile edges closer to breaking ground, Greater Toronto Area real estate developer CentreCourt has confirmed to STOREYS that they have entered into a JV partnership with lead developer Dream to bring the first phase of the project to fruition.
"We have been monitoring the City's Golden Mile planning process for several years now," says Gavin Cheung, Managing Partner and President for CentreCourt. "Over the next 10 years, we believe the new transit infrastructure in this area is going to be a major catalyst -- one that drives significant growth."
As for the choice to join forces with Dream for the first phase of the project -- this will involve the creation of the first 32- and 48-storey towers at 2200 Eglinton Avenue East -- Cheung cites CentreCourt's proclivity for projects with "compelling transit connectivity." As well, he says, CentreCourt is especially attracted to locations that are "undervalued today but poised for significant growth over time."
"When we realized there was an opportunity to work with a partner like Dream, who has a long-term outlook on this area and a fantastic vision for their master-planned community, we immediately jumped on it," Cheung goes on to say. "We have a track record of executing and delivering housing quickly and efficiently, which is a key ingredient for the success of a master plan -- the momentum must be built and then sustained from the very first phase of development onwards."
READ: Proposal Resubmitted for Mixed-Use Development in Scarborough's Golden Mile Neighbourhood
It's been nearly five years since real estate development powerhouse Dream unveiled plans for Scarborough's Golden Mile neighbourhood. Dream's first proposal dates back to 2018, and since that time, the proposal has snowballed into a mixed-use community that will sprawl five blocks at 2200-2206 Eglinton Avenue East, 75 Thermos Road, and 1020-1030 Birchmount Road.
The most recent iteration of the proposal, submitted to the city in 2021, calls for a gross site area of 63,624 sq. m, tower heights ranging from 20 to 48 storeys, and a total gross floor area (GFA) of 284,438 sq. m. The total GFA is expected to accommodate a 2,582-sq.-m retail component, a 16,012-sq.-m office component, and 3,391 new residential dwelling units over 265,844 sq. m.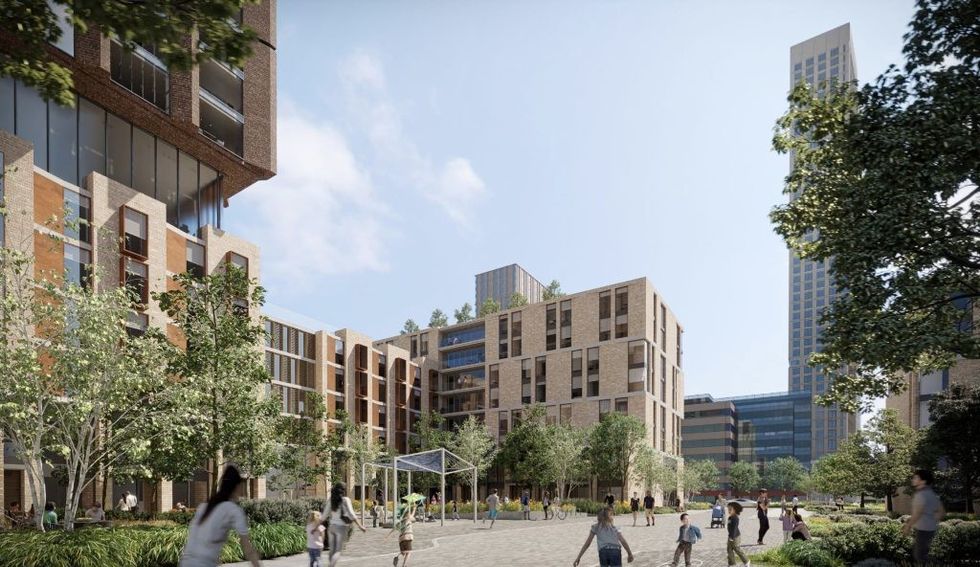 BDP Quadrangle
In accordance with the Golden Mile Secondary Plan, two new public streets are also proposed, including a 27-metre east-west street and a 20-metre north-south street. As well, the development will encompass 6,185 sq. m of new public parkland.
The community is expected to eventually add around 1,380 new jobs to the Golden Mile area.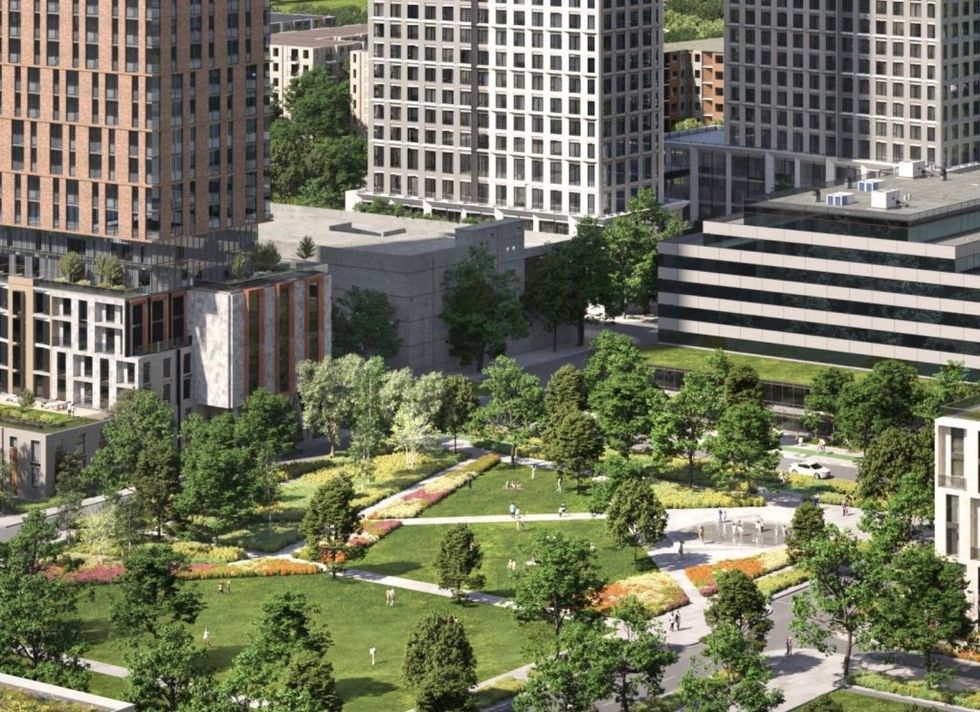 Artist rendering of the proposed North Park (BDP Quadrangle)
Michael Cooper, Founder of the Dream Group of Companies, tells STOREYS that the newly minted partnership with CentreCourt is motivated by "a shared vision for the future of the Eglinton Avenue East area" and is an opportunity to enhance what Dream already has in store for the project.
"The partnership combines Dream's experience in large-scale projects with CentreCourt's expertise in high-rise residential developments," he says. "Together, we aim to create a vibrant community and exceed expectations for our project."
Cooper also alludes to a long-standing and mutual respect between Dream and CentreCourt, driven, in large part, by the shared prerogative of bringing these types of transit-oriented, mixed-use developments to market.
He says that it's not out of the question for CentreCourt to be involved with the subsequent phases of the larger master-planned project as Dream continues to explore and evaluate potential partnerships that align with the vision.
"While it's premature to confirm CentreCourt's involvement in future aspects, we value our partnership and foresee possible collaboration as the project progresses," says Cooper. "Our priority is to make decisions that contribute to the community's success and foster a cohesive neighbourhood for residents."
Toronto