It's not just the big things that European cities get right; it's also the small stuff — cars, for example. By North American standards, European cars are positively, ridiculously, miniscule. You can see dump trucks at work sites that are so tiny they make ours look like locomotives.
Then there's the question of what Europeans drive. Visitors can spend weeks in cities like Vienna, Prague and Budapest without seeing a single SUV, let alone a pick-up truck. By contrast, the largest-selling vehicle on this side of the Atlantic is the Ford F-150, used mostly to transport families to the mall, not take equipment to the job.
---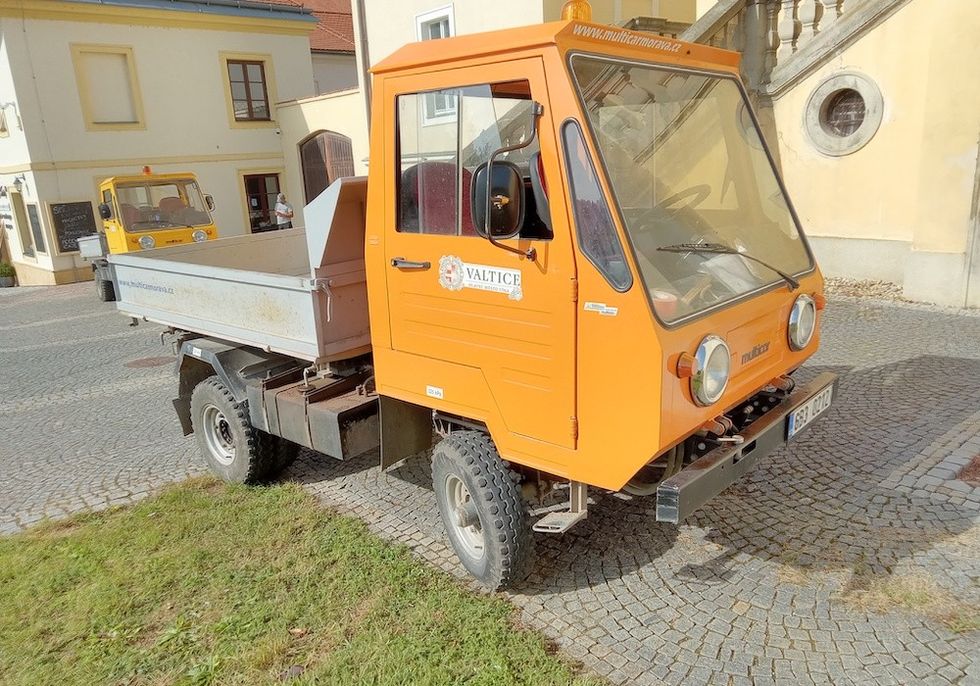 A small pickup truck common in Europe.(Christopher Hume)
It's not that Europeans don't love their cars. They do. It's that their cities predate the automobile. The roads are narrow, cobbled and meandering. They must also do double duty serving pedestrians as well as drivers. That was their original purpose, after all, and one they must still accommodate.
But not all urban thoroughfares are so restrictive. Vienna's famous Ringstrasse, for example, includes nine lanes for cars and LRT as well as two raised islands, both filled with food kiosks, newsstands, subway entrances and planted with trees. Yet crossing the boulevard on foot couldn't be easier. Unlike, say, Scarborough, there's no need to take your life in your hands to get from one side to the other. Better still, Vienna might be the only city in the world where you can exit the metro, buy a paper, a beer and enjoy a snack.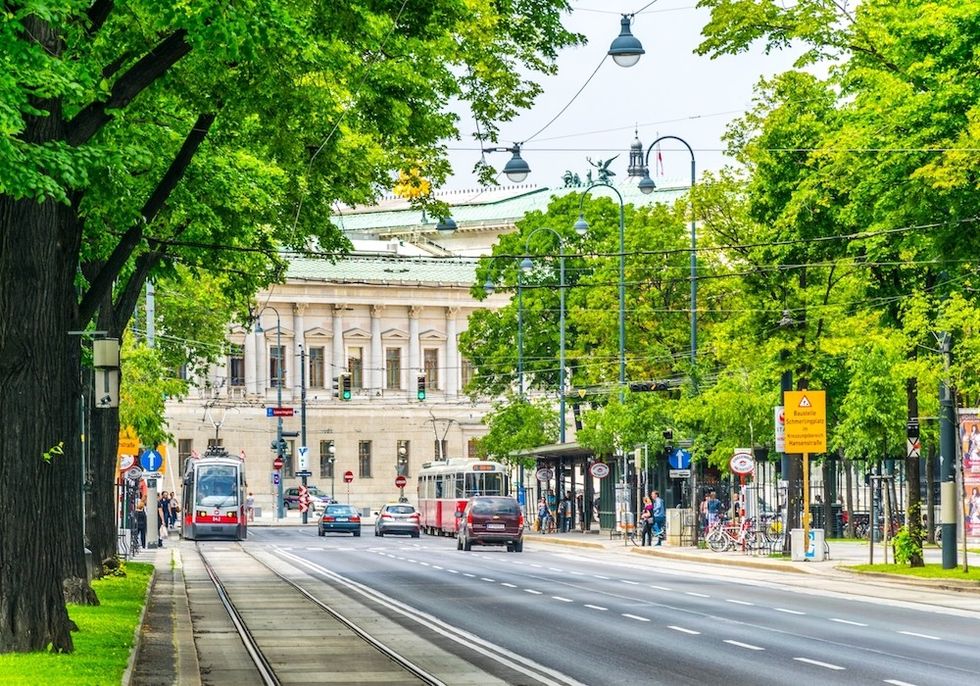 Vienna's Ringstrasse. (Shutterstock)
Speaking of the LRT, public transit is typically the preferred means of getting around these cities. A yearly pass in these cities costs roughly the equivalent of one Euro ($1.50 CAN) a day. For anyone over 65, it's half-price, for those 70 and older, it's free.
As North American tourists quickly discover, pedestrianism in Europe goes beyond anything we have here. How do they meet the needs of local merchants with the hordes of visitors who clog the streets? Very simply: deliveries are allowed until 10 a.m. and after that, electronic barriers rise from the ground to cut off vehicular access. It's that easy. But propose such a scheme even in a neighbourhood as obviously suited to pedestrians as Toronto's Kensington Market and it's those same merchants who stand united in their undying opposition to a suggestion they claim would destroy their business. It's like Brexit played out on the street level.
It's impossible to help those who won't help themselves.
Speaking of street-level perspective, these European cities pay meticulous attention to how streets work. A semi-pedestrianized road in Budapest divided by a single lane of one-way traffic features high-design furniture that includes benches, chairs, bike racks, utility poles and angular bollards that look like something from a 1920s German Expressionist film.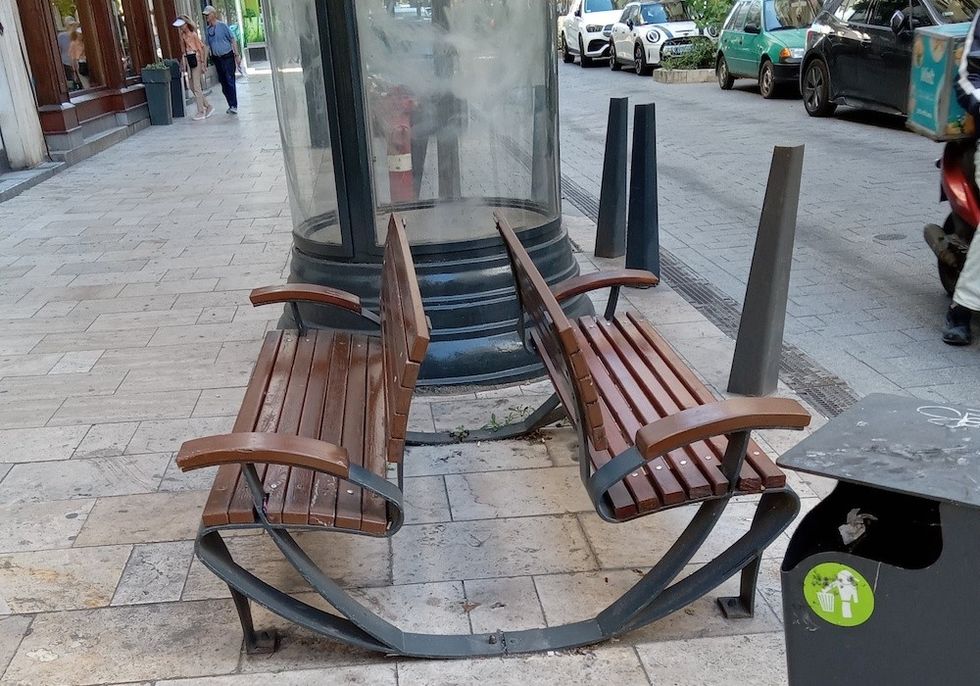 Benches along the street in Budapest. (Christopher Hume)
Best of all, though, are the bus shelters so covered in vegetation they might be mistaken for vertical gardens. As any regular rider knows, waiting is an irritating but inevitable part of travelling by public transit. How better to pass that time than sitting in a mini-greenhouse?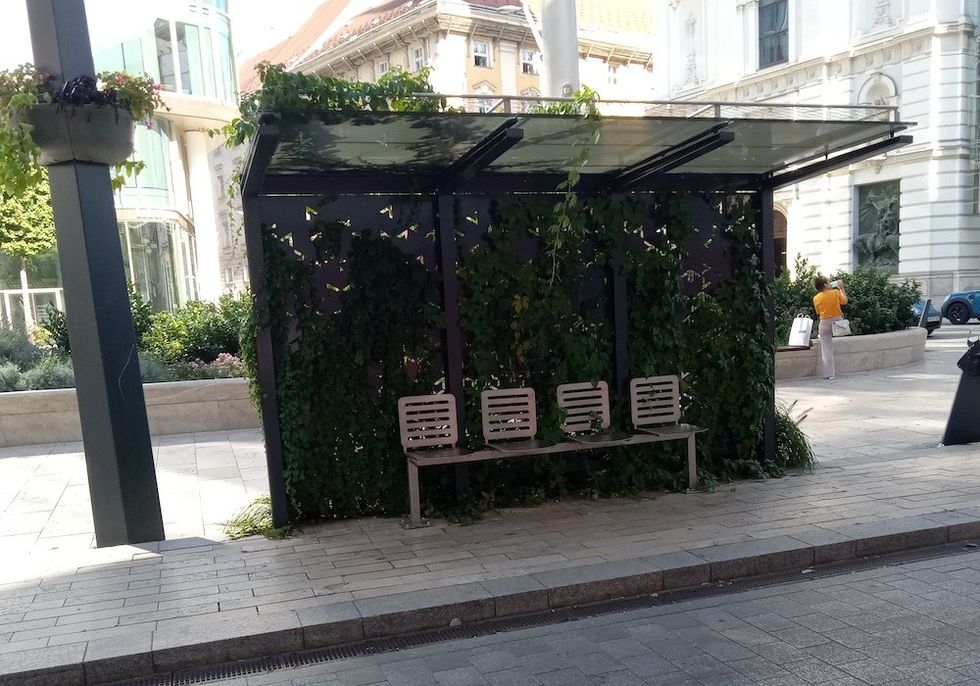 A bus stop in Budapest.(Christopher Hume)
Confirmation of this civic commitment to the public realm can be seen at every turn. On a quiet Sunday morning in Prague, when most people are still in bed or eating breakfast, a team of city workers dressed in emergency orange overalls pull up outside a hotel window to sweep the sidewalks and rake leaves. Shortly afterwards a (tiny) garbage truck pulls up and they empty their piles of trash into its rear end and it drives off. These streets have been trodden for many centuries but are as clean as if they were laid last week.
Where Europeans haven't fared so well is in their reliance on trailer trucks. A few minutes on any highway reveals a continent abjectly dependent on 18-wheelers to keep itself going. If nothing else, the endless torrent of trucks carrying goods across the EU through multiple countries without stopping makes clear the extent of the economic destruction the United Kingdom inflicted upon itself with Brexit.
It's pretty much the same on this side of the Atlantic. Here, as there, these mechanical beasts of burden are a necessary evil. Europe, however, does a better job keeping them out of its cities. Urban roads are refreshingly free of these monster vehicles as well as the dump trucks and concrete mixers that proliferate in a city under constant construction like Toronto.
Perhaps like Emily Dickinson, the Europeans believe that "If you take care of the small things, the big things take care of themselves." In any city, picking up the garbage is a good place to start.
Hume with a View