Toronto
Properties
East vs. West: Two Homes Sell for $500k Over in Opposite Ends of Town
You've heard about the Tale of Two Cities (no, not that one — this one). But what about the Tale of Two Semi-Detached Homes?
Recently in Toronto, two eerily-similar 4+1 bedroom houses each sold for roughly $500,000 over asking.
Now, it's already been established that Toronto real estate has killed the asking price, and a property going for over list is not necessarily something to write home about in and of itself these days.
But from their red-brick exteriors to their spacious living rooms and ample outdoor space, these homes — standing on opposite ends of the city — and their selling stories, are simply too alike not to note.
The first property, 141 Simpson Avenue, is located in North Riverdale, and was listed for $1,599,000. The home sold for $2,128,500 — $529,500 over list. Meanwhile, 48 Galley Avenue, which stands in the Roncesvalles neighbourhood, was listed for $1,689,000 and sold for $2,150,000. That's $461,000 over asking.
Both abodes are nestled into coveted neighbourhoods, provide easy access to transit, and offer opportunities for income via their basements-turned-apartment suites.
Whether you prefer Riverdale or Roncesvalles, anyone would be hard-pressed to deny that either one of these homes is a major score — airy and welcoming all at once, they both boast what could be 2021's hottest commodity: Outdoor space.
To further illustrate just how wildly these two transactions resemble each other, we've gathered some "East vs. West" images from the properties' virtual galleries, which will help you draw the connection between the two.
Or, perhaps, they'll have you arguing with your co-habitants about which place you'd rather move into. Conflict or no conflict, we know you want to see the breakdown of these two sells: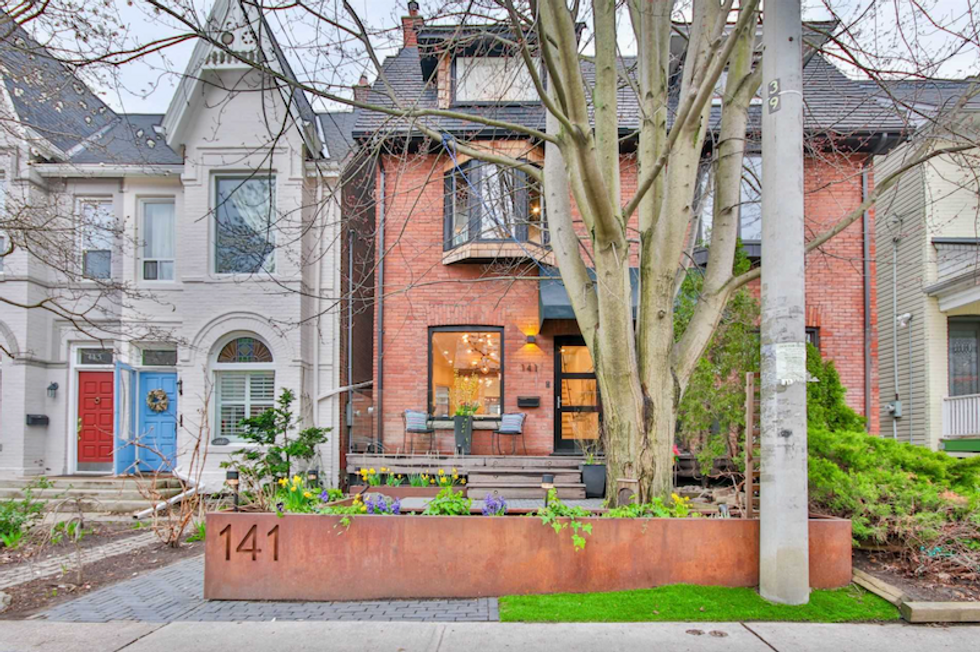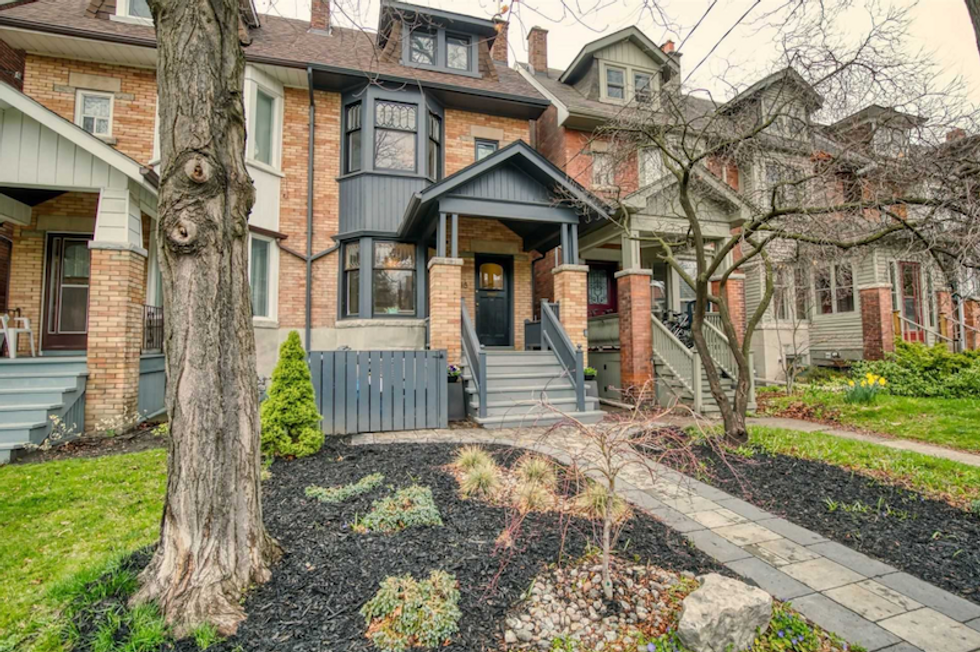 Both semi-detached in style, 141 Simpson Avenue is the left-side property of its pairing, while 48 Galley Avenue is the right-side. Each home is donned in red brick and boasts a sizeable front garden.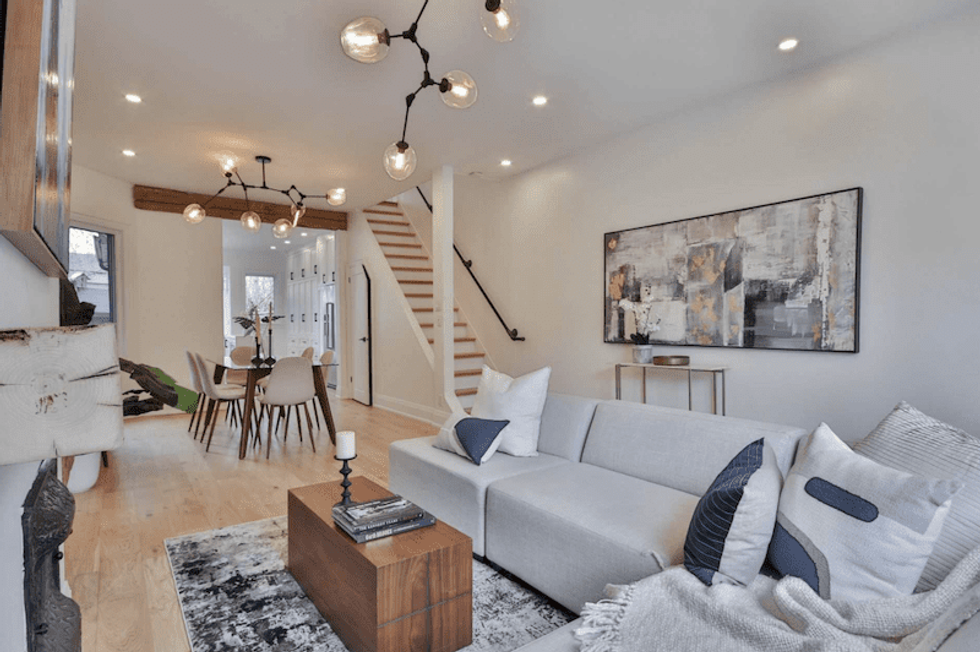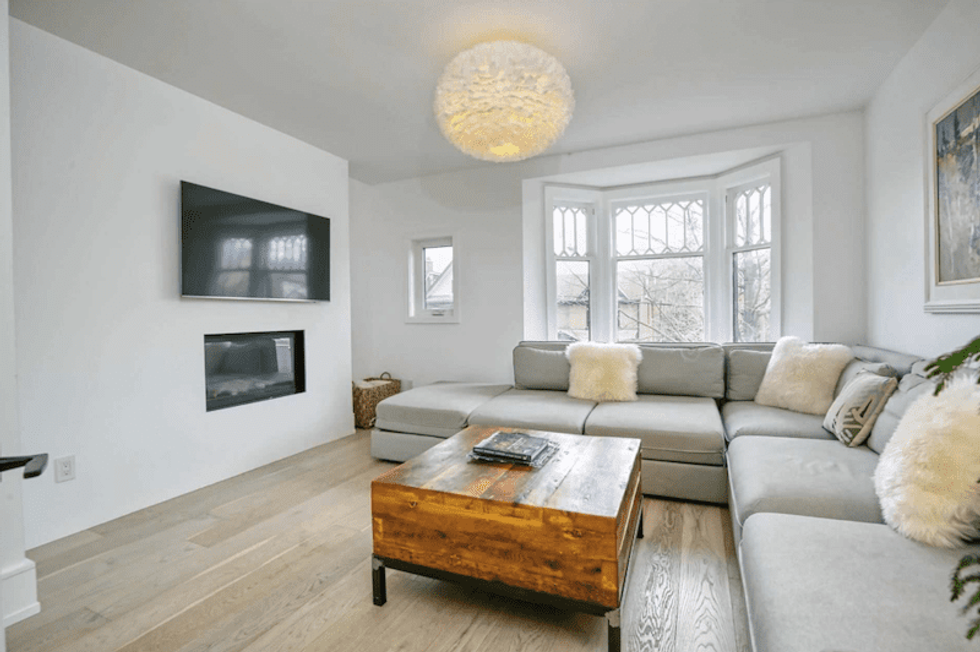 The Riverdale living room is designed with warmth in mind; red-toned wood and minimalist lighting bring a cozy essence into the open-concept space. Roncesvalles, meanwhile, embraces more of a natural-lit look, with its one main light feature boosting the glow a large front window already introduces.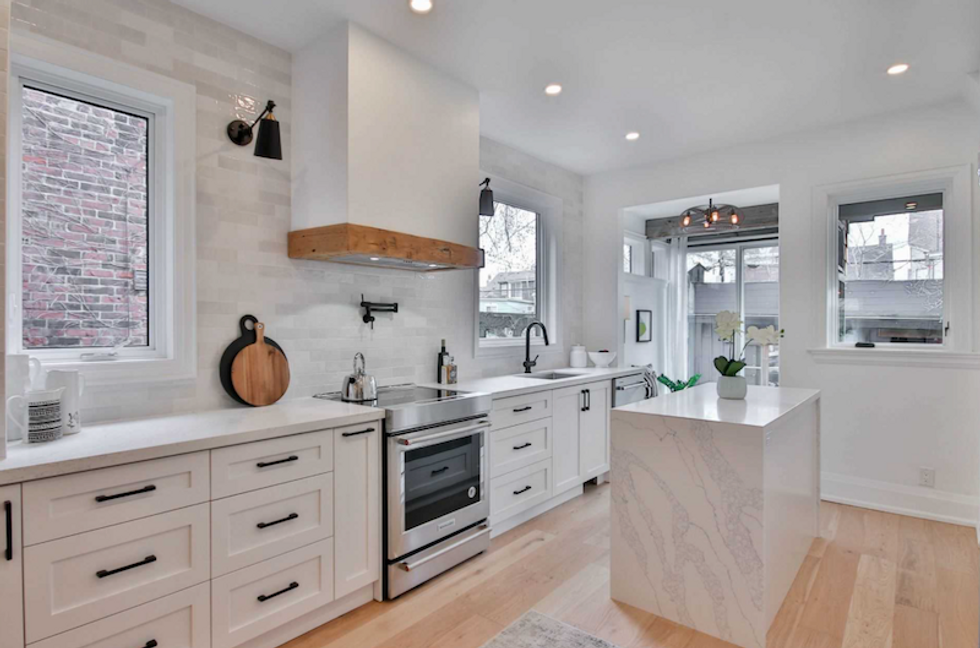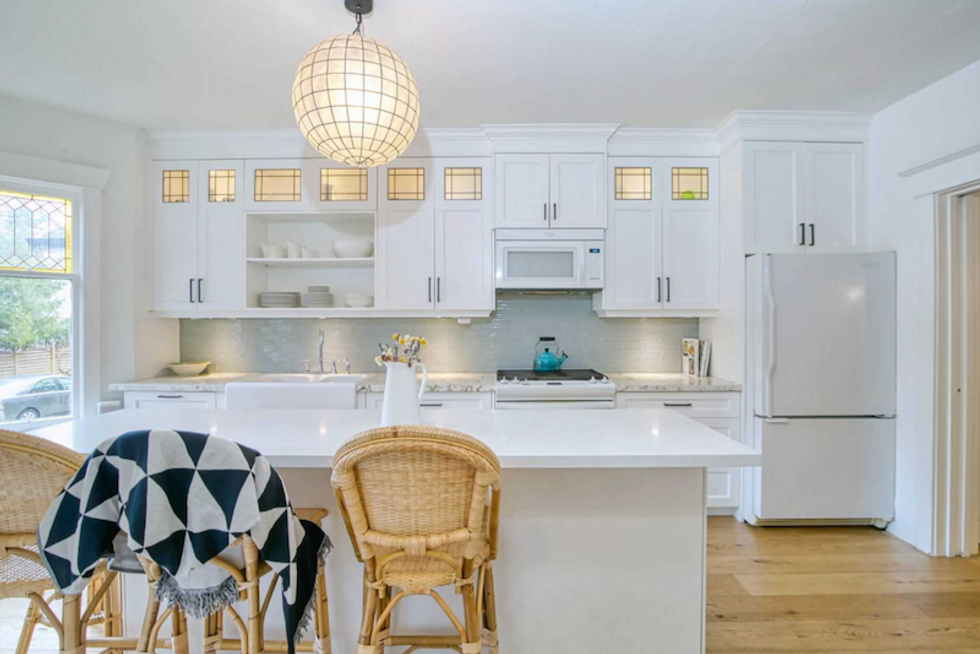 Both kitchens lean into light colours, which enhance the spacious sense already provided by large windows and open-concept designs. Islands stand in the centre of both — though the one in Roncesvalles is slightly larger — while light wood floors maintain the rooms' crisp vibes.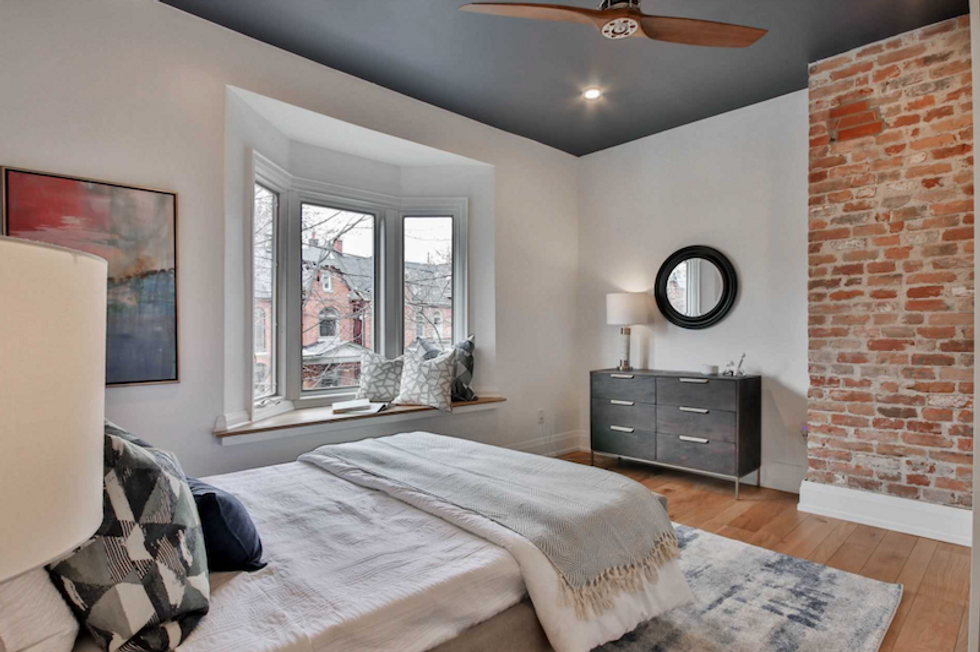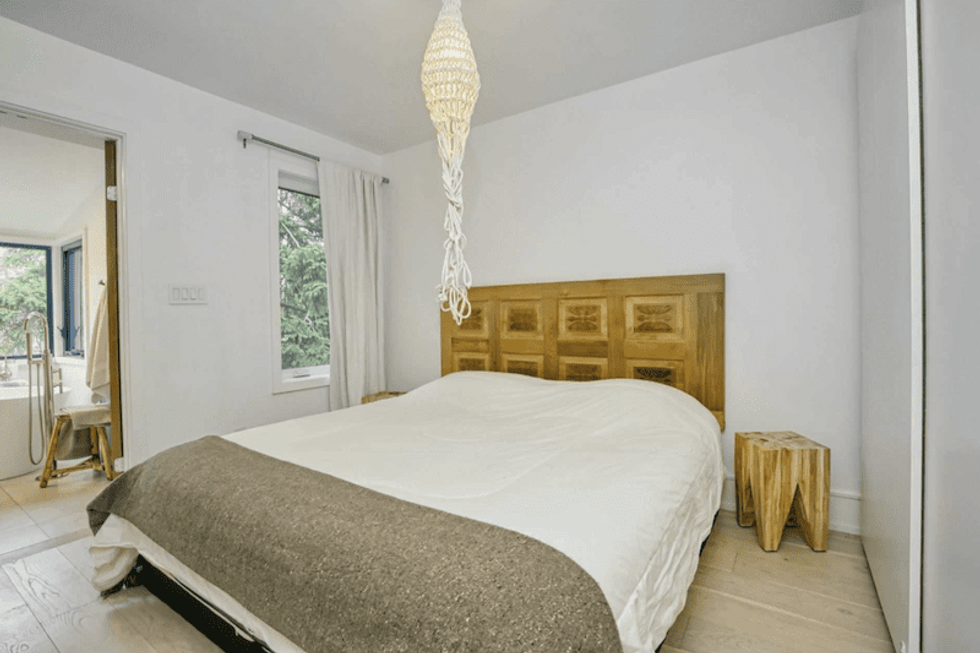 The exposed brick, red-toned wood flooring and dark-painted ceiling in the Riverdale bedroom bring forth a cozy feeling that calls for cuddling up and sleeping in for "just five more minutes." Meanwhile, Roncesvalles is light and lively; we imagine even on overcast days, rising in this room would be easy.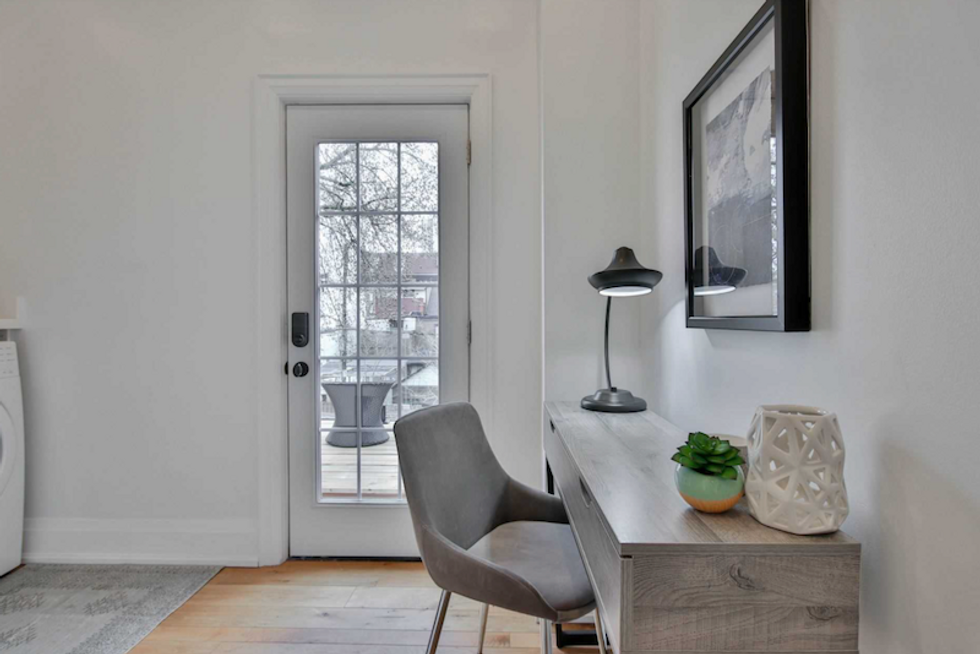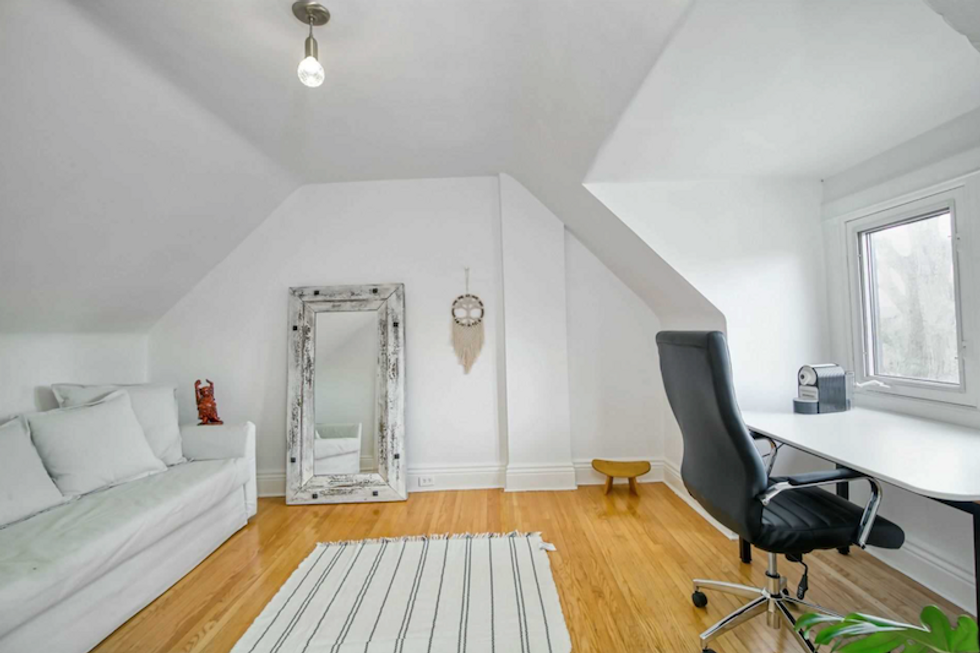 While both these home offices feature the benefit of outdoor views, Roncesvalles might take the cake — it appears as though this abode has seen one of its 4+1 bedrooms transformed into an office space, while Riverdale's shares room with the laundry suite. However, considering each home has the same number of bedrooms, either one could opt for a full room dedicated to workspace, as long as it didn't sacrifice the sleeping space of a family member.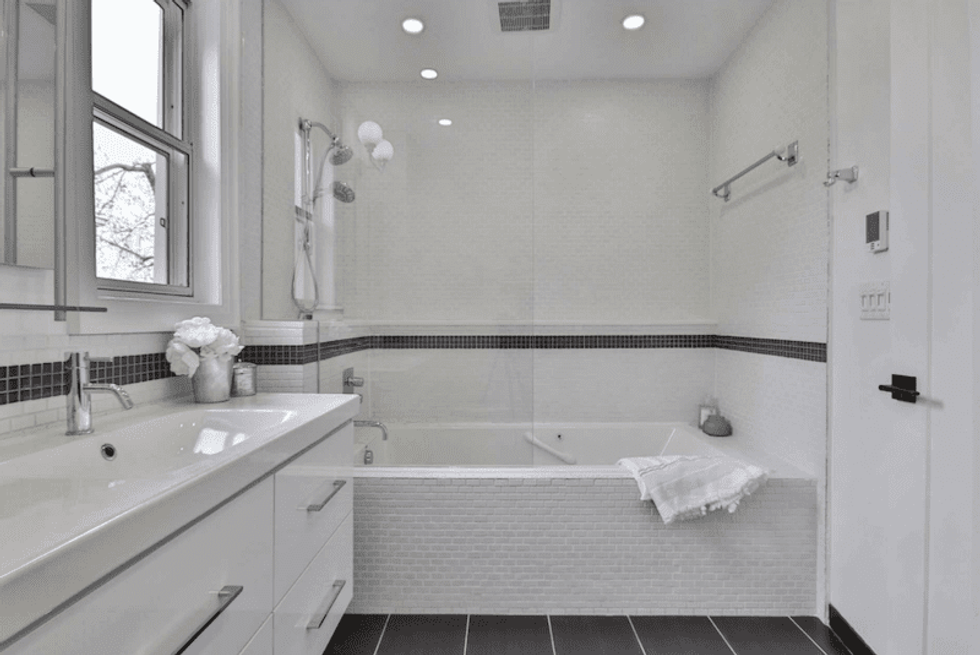 The details on the Riverdale tub's exterior are ultra-charming, while the Roncesvalles basin provides a more sleek visual. Each water closet lends itself to a different type of bather: One who prefers to be cozily tucked into the room's most private section, and the other who will embrace a sprawling windowscape, no holds barred.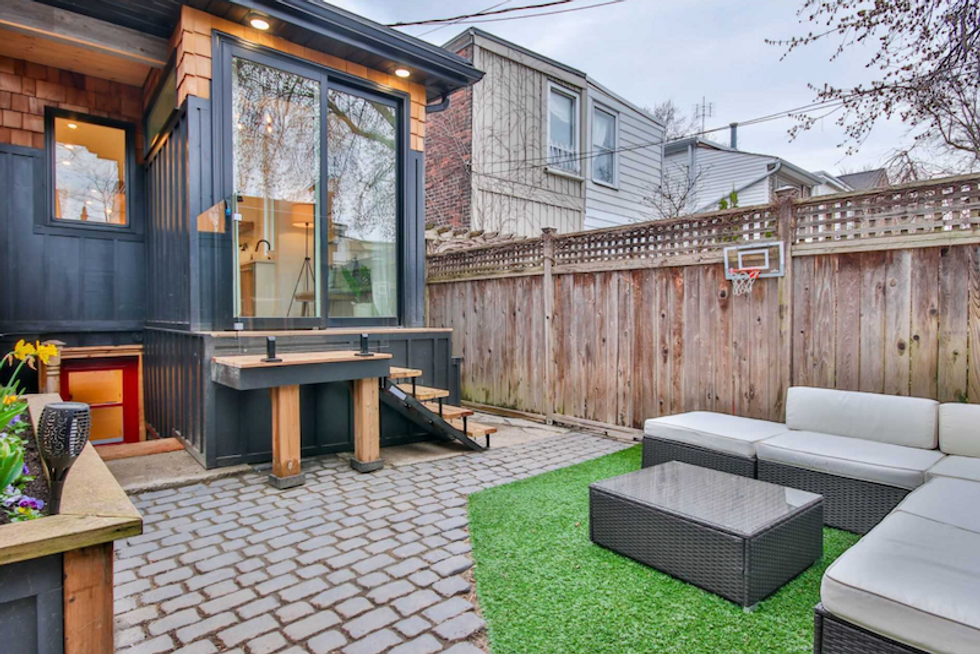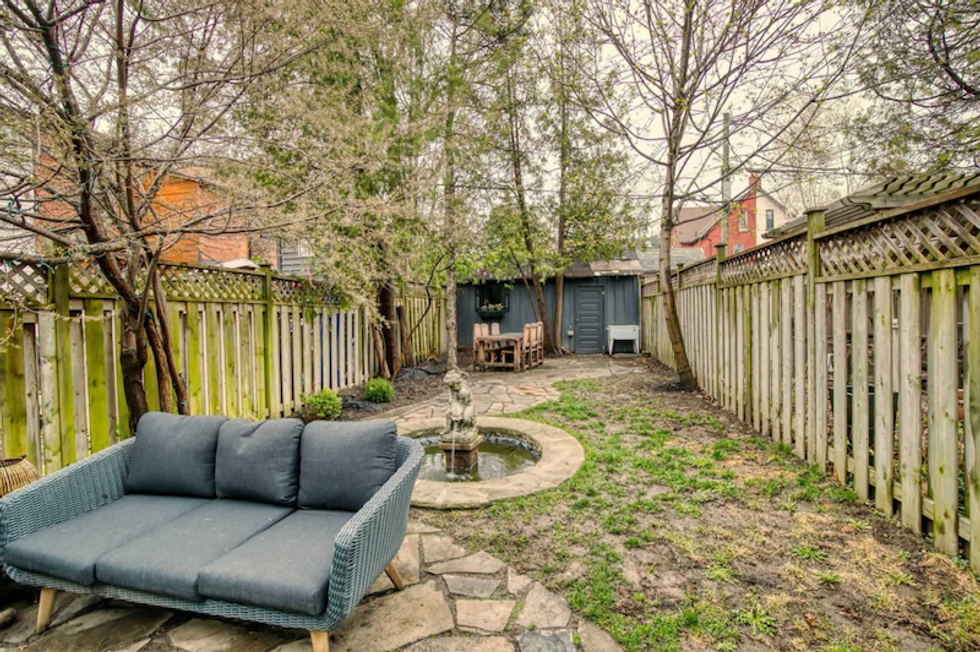 The Riverdale backyard is undoubtedly smaller than that of the Roncesvalles, but 141 Simpson Avenue does boast two upper-level decks, un-pictured, which make up for space lost below. Either way, come summer, both these new homeowners will be soaking up the sun in the privacy of their own outdoor areas.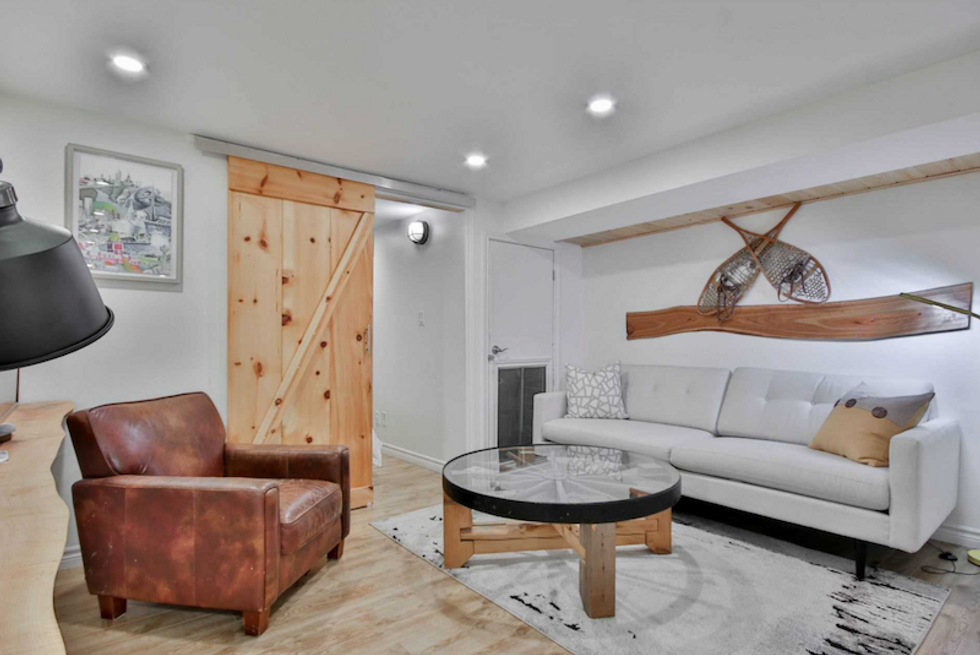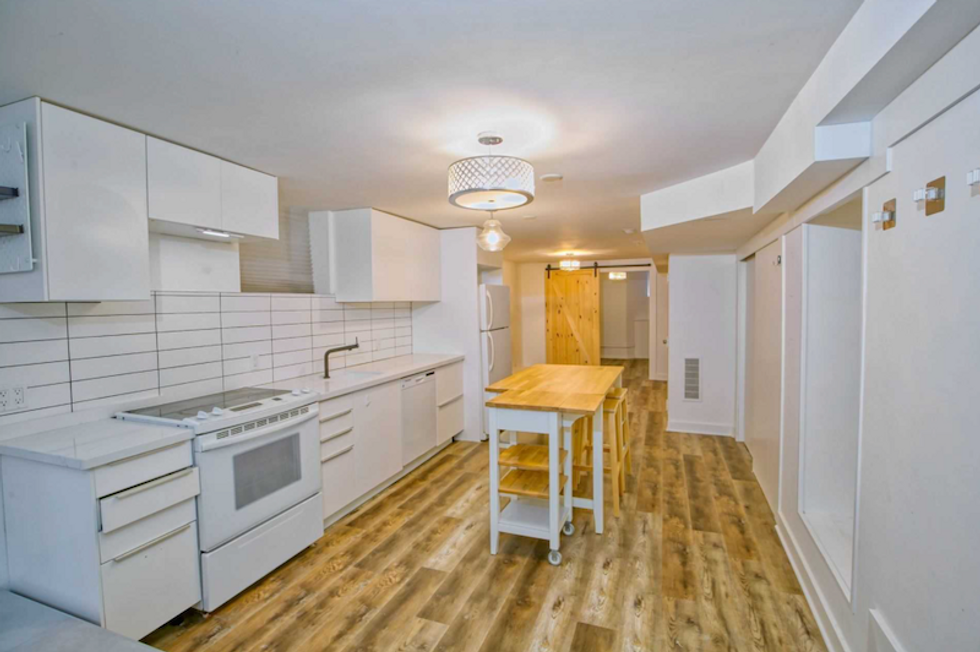 When it comes to the basement suites, we may be asking you to compare apples to oranges here, seeing as one image is a living room and the other is a kitchen. But we're doing so for good reason. Look closely, and note the doors! Indeed, both of these properties feature sliding barn doors in their lower-level units.
While specific details may have you rooting for either Riverdale or Roncesvalles to take the gold in this competition, any spectator must admit that the properties' similarities are uncanny and, as such, are (at least almost) equally beautiful.