Brampton
Future Developments
This Condo Build is Emblematic of Brampton's Growth into an Urban Hub
Urban concepts in suburban settings are part of Ontario's growth plan but, when it comes to high-rise living, there are too few truly exceptional examples in the GTA.
That is, until now.
DUO Condos, comprising two 26-storey towers encompassing 349 units, is a joint project between National Developments and Brixen Developments Inc. in downtown Brampton. Like any good downtown development, the project will be built around transit infrastructure, including the Hurontario LRT — slated for completion in just two years' time — as well as Brampton Transit, Züm Transitway, Mississauga Transit, and GO's Milton and Lakeshore West lines.
Additional nearby offerings include Sheridan College — a mere five-minute walk from DUO — plus Brampton Golf Club and Peel Village Golf Course, as well as parks and a slew of retail, both big box and independent.
READ: New High-Rise Introduces Metropolitan Living to City of Brampton
In tandem with nearby schools and the tranquil neighbourhood at large, which will doubtlessly foster community — an element of vertical living that is too often bereft in major downtown cores like Toronto's — DUO is one of the GTA's most optimally-located condominium developments.
Employment opportunities in downtown Brampton are plentiful — the city has worked diligently to create a regional technology hub that will attract commuters from as far west as Kitchener-Waterloo and east of Toronto.
For example, the region's Innovation District was conceived in 2018, and has already become one of the GTA's greatest economic development success stories, with the nearby Centre for Innovation thriving. Further, the City of Brampton's partnership with the Ryerson Venture Zone encourages entrepreneurship, and cultivates homegrown talent; the venture is a resounding success.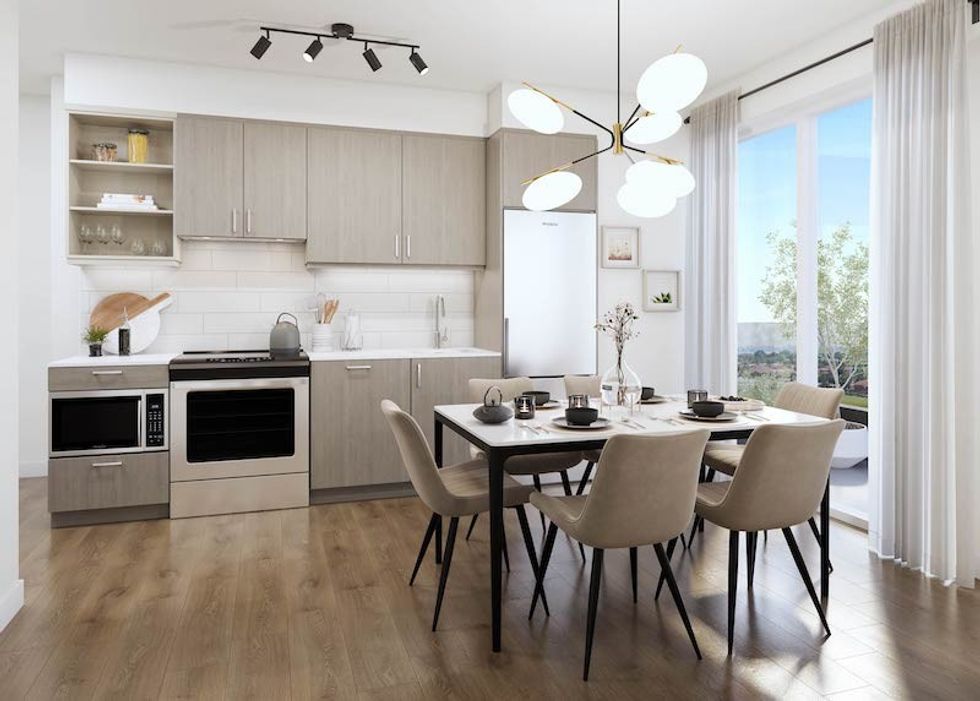 And at the end of a day spent working, exploring, or playing in Brampton, the front doors of DUO welcome residents home.
The suites found within this development are spacious, often family-sized abodes, complete with nine-foot ceilings and high-performance, durable laminate flooring, plus private balconies or terraces, and modern interiors and hardware. Priced from the $500,000's the units bring one of the highest values for homeownership options in the Greater Toronto Area.
The kitchens feature cabinetry with soft-close hinges, quartz countertops, designer tile backsplashes, stainless steel sinks, and top-of-the-line appliances. Plus, 24-inch refrigerators and 30-inch slide-in smooth top electric stoves complete the sleek kitchen spaces, while the suite bathrooms are spa-inspired.
Beyond the unit offerings, the communal spaces and amenity offerings throughout the DUO towers — designed by EsQape Design — are serving luxury levels of comfort and connection.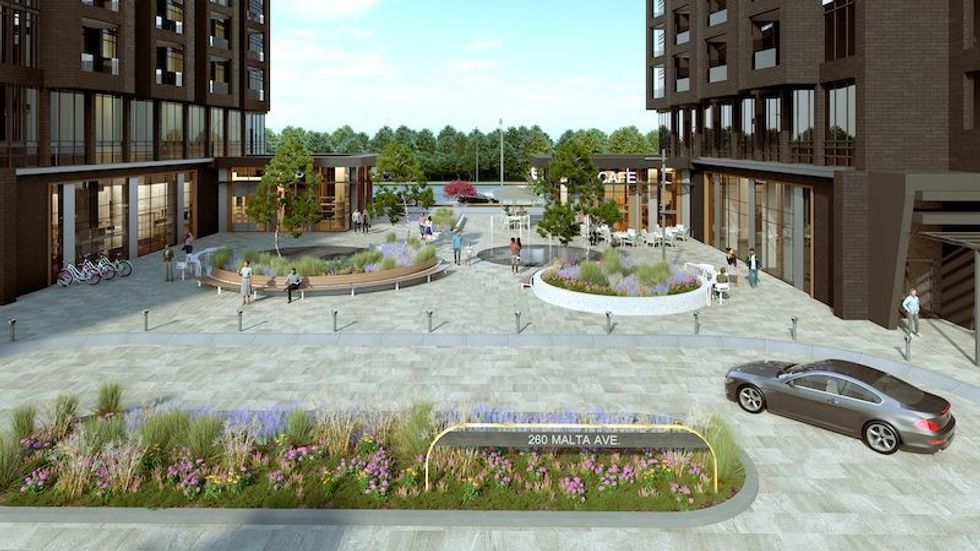 The lobby, which exudes quality to the nines, comes complete with concierge service that promises a warm welcome every time residents return home. Meanwhile, a state-of-the-art fitness studio encourages the infusion of physical activity into the daily routine, while an adjacent kids' playroom — brightly coloured and designed with soft corners — is within view of the workout space. This means children have a place to play under supervision, while adults let off steam.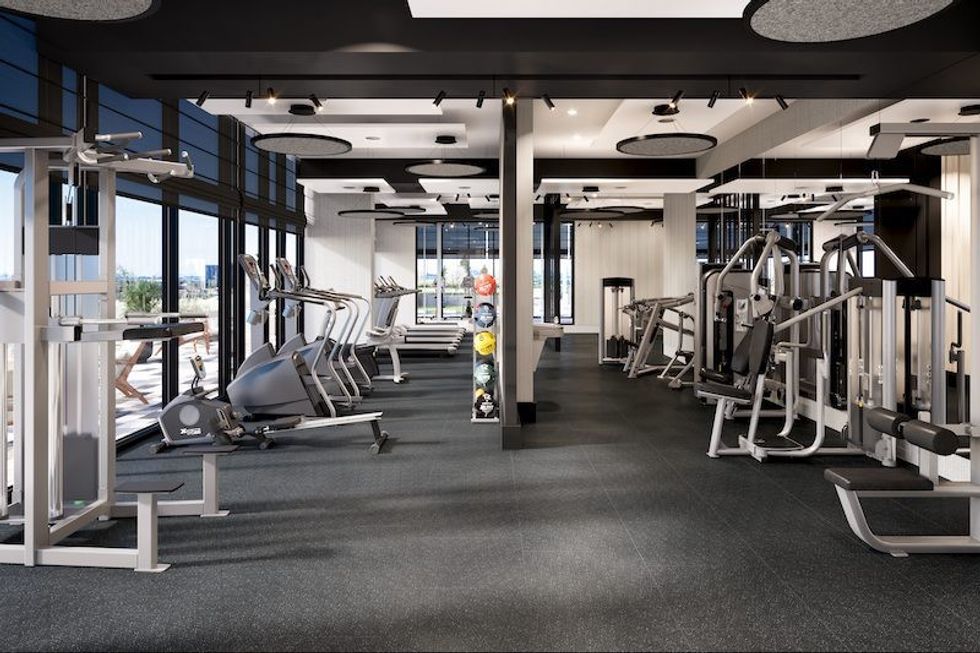 And, ideal for the era of remote work, an impressive co-working hub on site not only provides a place to hunker down for a project, but works in tandem with the region's many connected transit options to essentially negate the need for vehicle ownership.
At the end of long hours spent on the job, residents won't need to leave the condominium to embrace a little R&R. Reason-being, the rooftop terrace — the amenity package's crown jewel — offers a retreat-like space in which to rest and restore. The sky-high outdoor area overlooks the burgeoning downtown core — in which the city has heavily invested to cosmetically rejuvenate — and Brampton's many acres of greenery.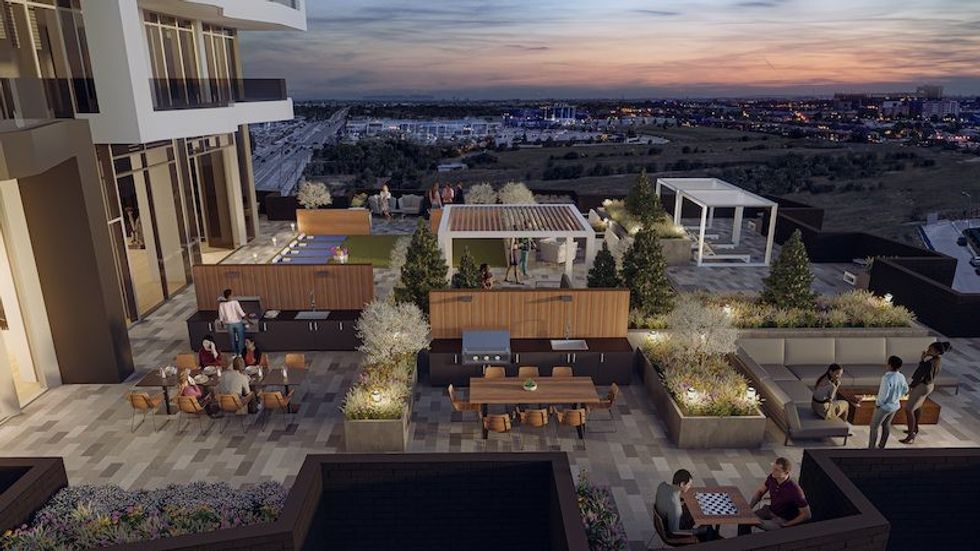 Ideal for the to-be resident who's seeking a home with high-quality amenity offerings, chic and spacious suites, and an essence of connection and access, DUO Condos checks all the boxes.
*First release successfully SOLD OUT. Register for NEXT RELEASE, coming this spring. Register at www.duocondos.ca.
---
This article was produced in partnership with STOREYS Custom Studio.