---
In the next 20 years, the City of Brampton is expected to see its population grow by 25%.
In anticipation of this growth, a new high-rise is coming to the Toronto-adjacent city, offering a valuable opportunity for first-time homebuyers who are looking to break into the market without having to sacrifice their lifestyle. 
Located on the corner of Malta Avenue and Steeles Avenue, DUO Condos is one of the first high-rise condominiums to come to the City of Brampton, offering residents a metropolitan living experience that the city has never had before. 
This 2.6-acre community is conveniently located near trails and green spaces, giving homeowners easy access to nature and the outdoors.
Yet, while nature is just a step away, DUO Condos is also close to rapid transit, schools, and shopping. Not to mention, the community is closely connected to highways 407, 410, 401 and the QEW, bringing Toronto's core as close as a 30-minute car ride. 
The development will include two towers, connected by a spacious, brick-paved outdoor courtyard. The building itself, designed by IBI Architects, boasts a modern design finished with black metal and glass, setting a new standard for high-rise living along the Steeles corridor.
The first tower will have 350 suites, with options for a studio, 1 bedroom, 1 plus flex space, 2 bedrooms and 2 plus den. Prices start at $400,000s, bringing one of the highest values for homeownership options in the Greater Toronto Area. 
A collaboration between National Homes and Brixen Developments, DUO Condos is set to bring downtown living to the heart of Brampton. 
This new pair of towers is perfect for anyone who wants to live a metropolitan lifestyle without the hustle and bustle of downtown Toronto. It also offers a valuable opportunity for potential investors looking to purchase property in a promising, fast-growing neighbourhood.
Beyond its latent value and convenient location, DUO Condos offers high-quality, premium living, with thoughtfully designed homes that were made for living in. The boutique style homes are light, functional and modern. Spacious and flexible, most abodes include a balcony or terrace, so homeowners can enjoy a cup of coffee on their private patio, or even grow an herb garden on their terrace.  
Like the homes within it, this building's amenity spaces, designed by EsQape Design, are flexible and multi-functional, allowing residents to enjoy the shared spaces throughout the year. For those who enjoy hosting and entertaining, for example, a spacious dining and social room is available, equipped with a full kitchen and bar. 
For remote workers and students, a co-working space awaits, with small nooks for independent work, as well as open-concept seating for group projects. On site there's also a spacious fitness studio, complete with cardio equipment, a yoga and pilates studio, spinning, and a private room for personal training or group classes.
In addition to the fitness and social amenities, the new community also includes 3,500 square feet of ground-floor retail space for the first building, creating an opportunity for new restaurants, cafes, or boutiques to set-up shop. No doubt, this area will soon be a beloved destination for dining and socializing.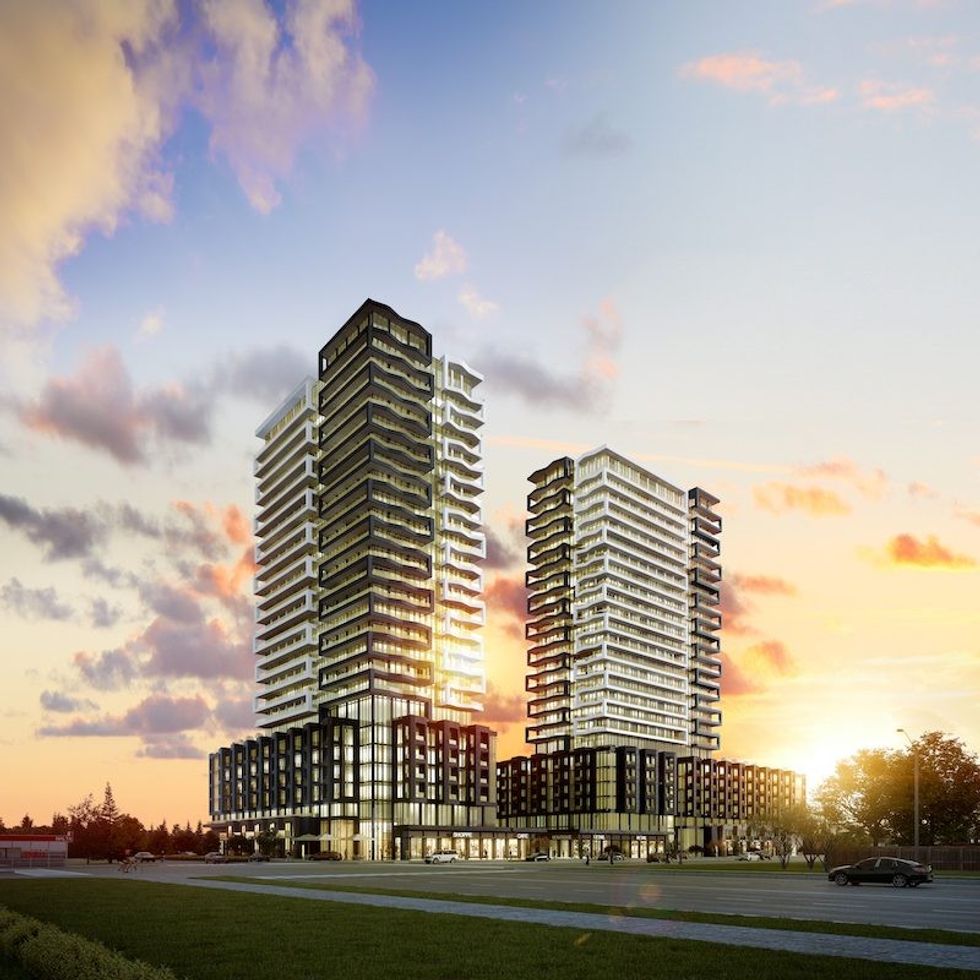 DUO Condos (Rendering)
This high-rise is coming at an integral time in Brampton's growth as a city, and it's no coincidence. National Homes has been contributing to Brampton's growth for close to a quarter of a century, and has played an integral role in the city's continued development over the years.
"Since 1992, we have had the great privilege of contributing to Brampton's growth and evolution, including the development of over 1,850 homes in eight communities," says Jason Pantalone, President and Managing Partner, National Homes. "Brampton is quickly becoming a new urban centre with its own distinct identity, and we're thrilled to bring one of the city's first high-rise condos to life, setting a benchmark for quality in a shared vision with Brixen Developments."
As Brampton continues to transform into a new urban centre that's distinct from its neighbour Toronto, it's essential that new living options come forth, catering to this city that is on the crux of major change.
"The launch of DUO Condos is an exciting milestone that will transform the way people live in Brampton," Andrew Iacobelli, Co-Founder at Brixen Developments says. "Situated minutes from the new Brampton Gateway Terminal LRT, DUO Condos will be a model for thoughtful communities, offering much-needed housing options and amenities that cater to the evolving demographics of the city. Along with our partners at National Homes, we look forward to unlocking the potential of this great site and contributing to an already-desirable neighbourhood."
The perfect destination for anyone looking for a beautiful home with tremendous value -- that happens to be conveniently located next to fabulous amenities, shopping, and the outdoors -- DUO Condos marks the emergence of a new era for Brampton.
To register, visit www.duocondos.ca.
---
This article was produced in partnership with STOREYS Custom Studio.
Future Developments