On Wednesday evening, CREW Vancouver held their 2023 Leadership Awards gala in front of a sold-out crowd at the Rosewood Hotel Georgia.
CREW is a non-profit association dedicated to supporting women to become leaders in the world of commercial real estate, with the Vancouver chapter founded in 2005. CREW Vancouver currently has a membership of over 150, with almost half of its members having over 15 years of experience in commercial real estate and 76% of its membership consisting of CEOs, presidents, partners, or senior managers.
---
The Leadership Awards were conceived in 2021 to recognize and celebrate extraordinary leadership and success in Vancouver's commercial real estate industry, with recipients demonstrating "excellence, integrity, innovation, and dedication to acceleration of diversity in our industry."
The awards consist of three industry-nominated categories determined by an independent selection committee consisting of Jocelyne Legal (EVP, Floorspace), Mary Aubrey (Retired, Former-SVP of Asset Management, Nicola Wealth), Mark Stevenson (SVP of Corporate Reporting, Grosvenor), and Jessica Toppazzini (Managing Director, Avison Young).
The 2023 Leadership Awards selection committee.(CREW Vancouver)
Where conflicts of interest existed, members of the selection committee were replaced for some categories by alternate members: Madeline Clement (Director of Asset Management, Manulife Investment Management), Jasmean Toor (VP of Real Estate Finance, Edgar Development), Rachel Orr (Director of Finance & Governance, 2023 CREW Vancouver), and Veronique Turner (Development Manager, Headwater Projects).
On top of the awards, multiple scholarships were also granted and the gala featured a keynote speech from Cheryl Cran, the author of Super. Crucial. Human and The Art of Change Leadership, two books focused on leadership.
And the 2023 CREW Vancouver Leadership Awards went to...
Rising Star (Presented by Avison Young)
This award is given to a CREW Vancouver member who has worked in the commercial real estate industry for less than ten years and who has distinguished themself amongst their peers by making meaningful professional contributions that are outstanding and unique.
Winner: Britainny Hari, Director of Marketing & Communications, CBRE
Women of Influence (Presented by Beedie)
The Woman of Influence award recognizes an experienced CREW Vancouver member who has distinguished themself by their leadership qualities and demonstrates a high commitment to their career, industry, and community.
Winner: Cindy MacMillan, Vice President of Investment, Grosvenor

Catalyst (Presented by Grosvenor)
The Catalyst award recognizes a senior-level executive and champion who has consistently demonstrated a commitment to advancing women in commercial real estate, serving as a catalyst for change in their company and throughout the industry.
Winner: Susan L. MacLaurin, Chief Communications Officer, QuadReal Property Group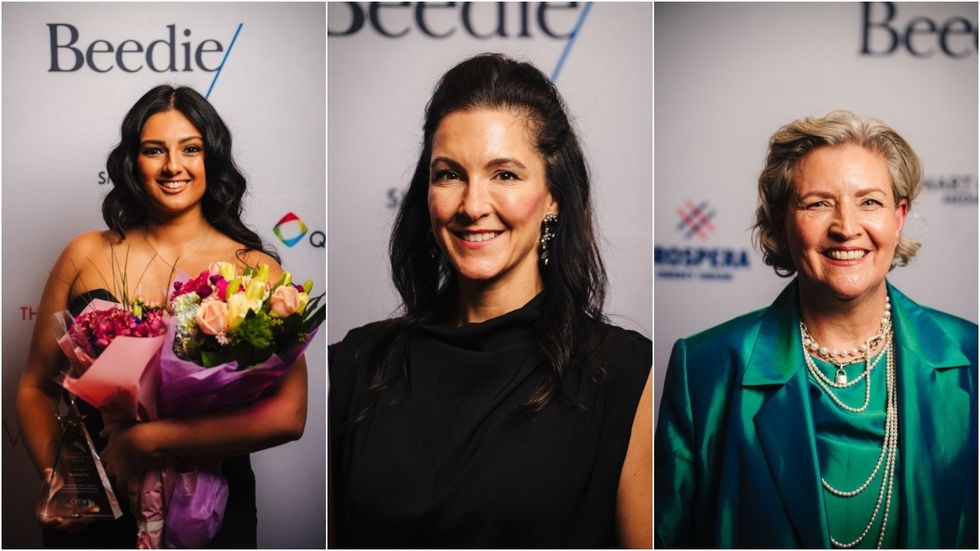 Britainny Hari, Cindy MacMillan, and Susan L. MacLaurin.(CREW Vancouver)
Tribute (Presented by QuadReal Property Group)
The Tribute award is presented to a member of the Vancouver real estate community who has been instrumental in supporting the growth of women in the industry.
Winner: Hendrik Zessel, Vice Chairman, Cushman & Wakefield Equity, Debt & Structured Finance Canada

Excellence In Service (Presented by Prospera Credit Union)
The Excellence in Service award is presented to a CREW Vancouver member who has shown intense dedication to at least one committee for a minimum of one year and who, through such commitment, was able to promote the advancement of women in commercial real estate.
Winner: Jenna Macdonald, Marketing and Sales Manager, Strand
Scholarships
CREW Vancouver & SFU Beedie School of Business Advancing Women Real Estate Award: Christina Cao
CREW Vancouver & Conwest Award for Women in Real Estate: Fiona M.F. Chen, Ao Li Shen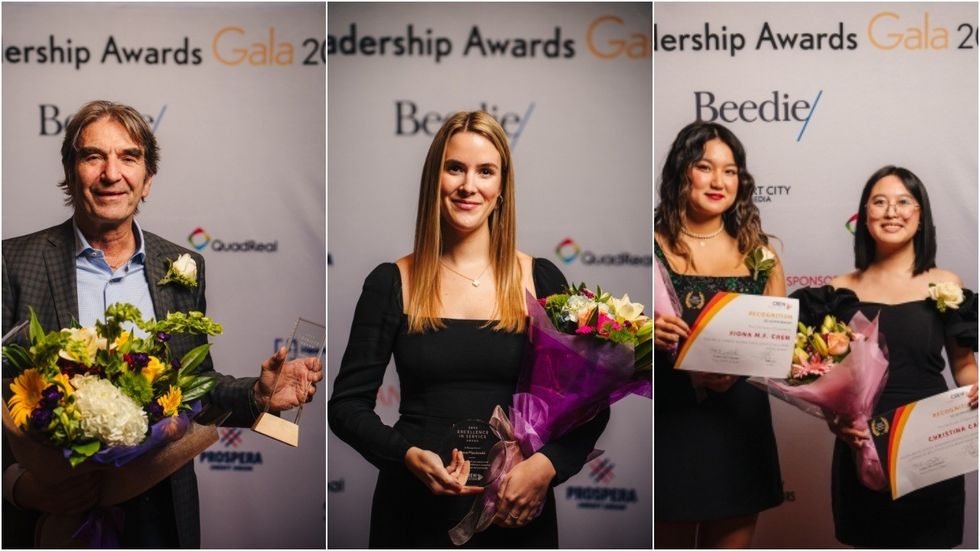 Hendrik Zessel, Jenna Macdonald, Fiona M.F. Chen, and Christina Cao.(CREW Vancouver)
Commercial