---
Those seeking a slice of small-town living in the idyllic countryside should look north to Creemore Village. This picturesque gem offers a refreshing escape from the hustle and bustle of city life, while remaining close enough to Toronto for a day trip or evening show.
With its renowned beauty and proximity to nature, this charming town has captured the hearts of locals and visitors alike, leaving many yearning for a permanent way to immerse themselves in the area.
Presenting such an opportunity is Creemore Condos. It's the first project of its kind to emerge in Creemore, inviting future residents to enjoy the conveniences of condo living in a close-knit community that embraces a calm, fulfilling way of life.
Located at 121 Mary Street, Creemore Condos is nestled among the breathtaking landscapes of Simcoe County's countryside.
Creemore's allure lies not only in its small-town charm, but also in its proximity to an abundance of remarkable natural wonders. Surrounded by lush greenery, pristine golf courses, meandering hiking trails, and stunning beaches, residents of Creemore Condos will have a world of outdoor exploration right at their doorstep. The town has been described as "one of the prettiest towns in Ontario" by Harrowsmith Magazine, and the "Hamptons of the north" by the Globe and Mail, and for good reason. Crown jewels of the region include the UNESCO-designated World Biosphere Reserve, the Bruce Trail, and the Mad and Noisy rivers.
Distinguished by its historic charm, Creemore captures the essence of small-town living; here, neighbours become friends, and a sense of belonging flourishes. The town's welcoming atmosphere, vibrant local businesses, and year-round community events foster a sense of togetherness that's harder to tap into in large urban centres.
Creemore Condos is one of the latest projects from MDM Developments, recognized for its long line of exceptional communities across Ontario. When completed, the four-storey boutique condominium will house 72 units, with 36 units in each building.
The community will feature a mix of suite sizes, ranging from one bedroom with one bathroom to three bedrooms with two bathrooms, with all units coming with a locker and parking spot.
READ: Cameron Lake's Calling: Enjoy Resort-Style Living in Fenelon Falls
ISM Architects designed the development to reflect the traditional homes found in the county, while Bailey Designs crafted chic and contemporary interiors that are unique to the area. The result is a balanced blend of cozy and modern aesthetics throughout the project.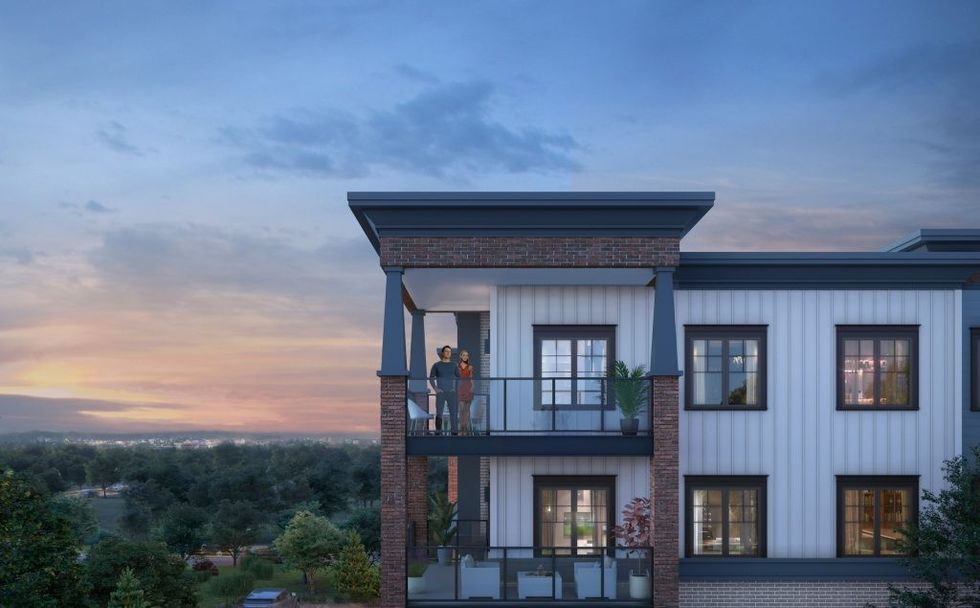 Rendering of Creemore Condos Exterior
Inside, residents can look forward to modern, spacious, and maintenance-free suites, brimming with high-quality design features and finishes.
Living rooms will boast access to a private balcony, 9-foot ceilings, 5-inch baseboards, and laminate flooring throughout.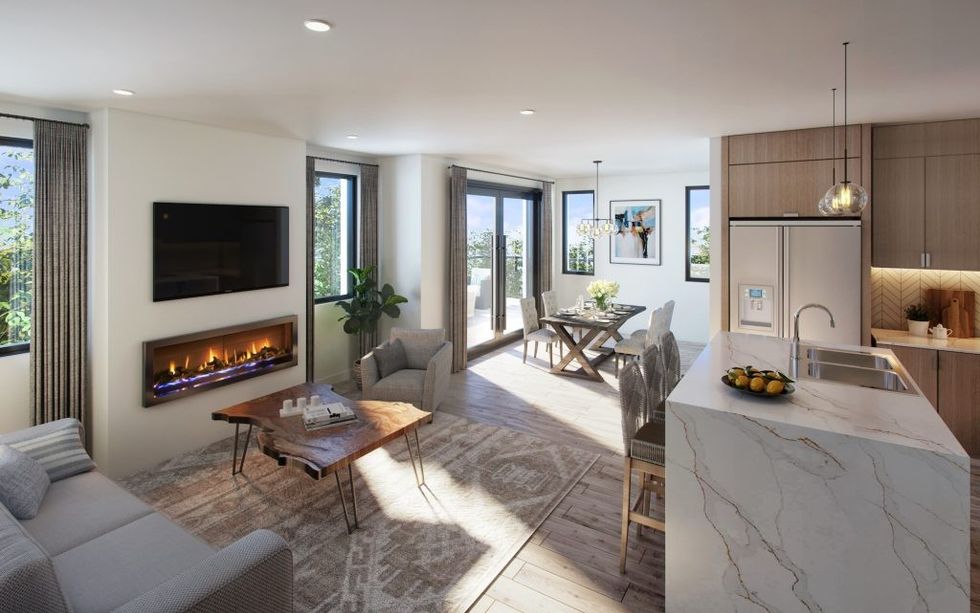 Rendering of Creemore Condos Unit Interior
The open-concept kitchens are feasts for the eyes, complete with European-inspired stainless steel appliances, contemporary cabinetry, ceramic tile backsplashes, quartz countertops, and under mount double-basin stainless-steel sinks.
Airy, breezy, and maintenance-free, suites like these make it easy for residents to lock up and head out for a weekend ski trip or fishing excursion, without any stress about the upkeep of home -- a major plus not often available to property owners in cottage country.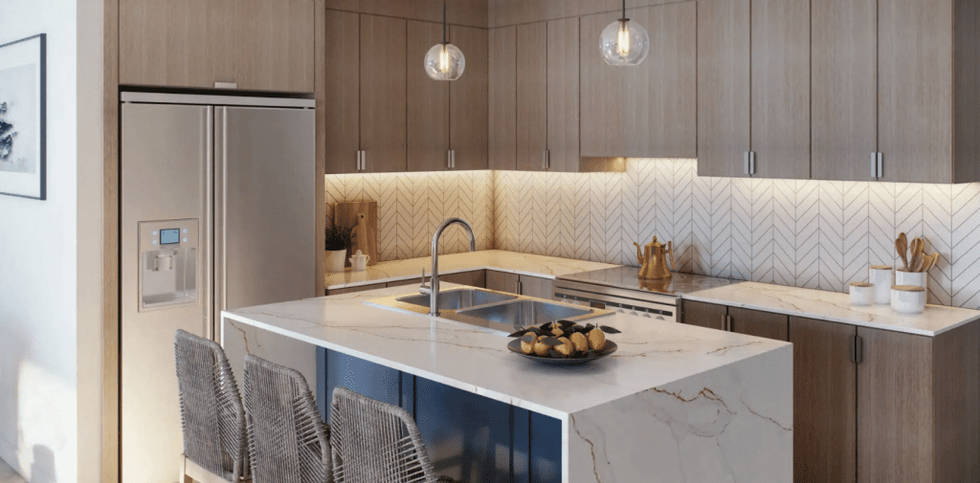 Rendering of Creemore Condos Unit Kitchen
This ease continues throughout the rest of the development, too. Creemore Condos will feature a manicured communal outdoor lounge space with landscaping by Landmark Environmental Group, plus an indoor amenities room, meeting rooms, and a fully equipped fitness studio.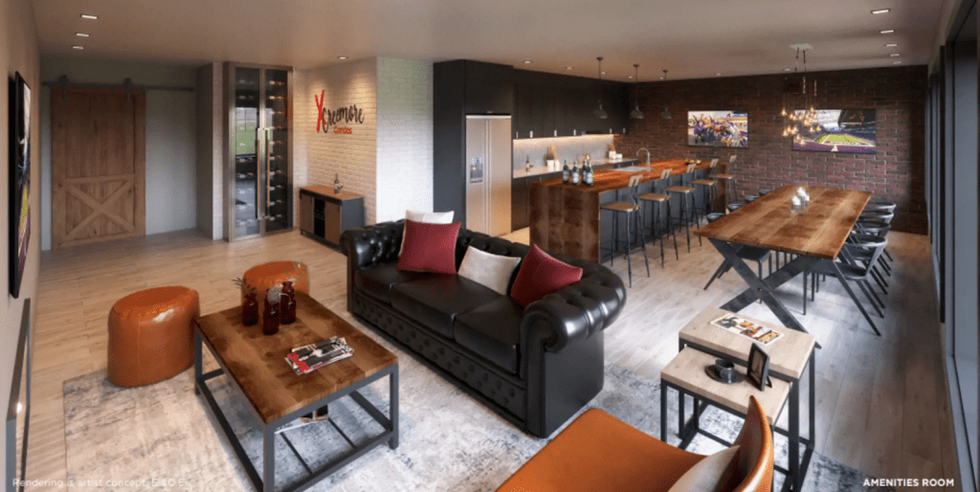 Rendering of Creemore Condos Amenities Room
For when residents crave some off-site exploration, they can look forward to venturing through Creemore's charming downtown streets, brimming with locally owned bakeries, cafes, restaurants, unique homeware stores, boutiques, galleries, pubs, and more.
And regardless of the season, Creemore and its neighbouring towns offer something for everyone to enjoy. Imagine: brisk walks along the Bruce Trail in the spring, local brewery and winery visits during the summer, cycling through the countryside as the leaves change in autumn, and hitting the slopes and snowshoeing throughout Simcoe County during winter.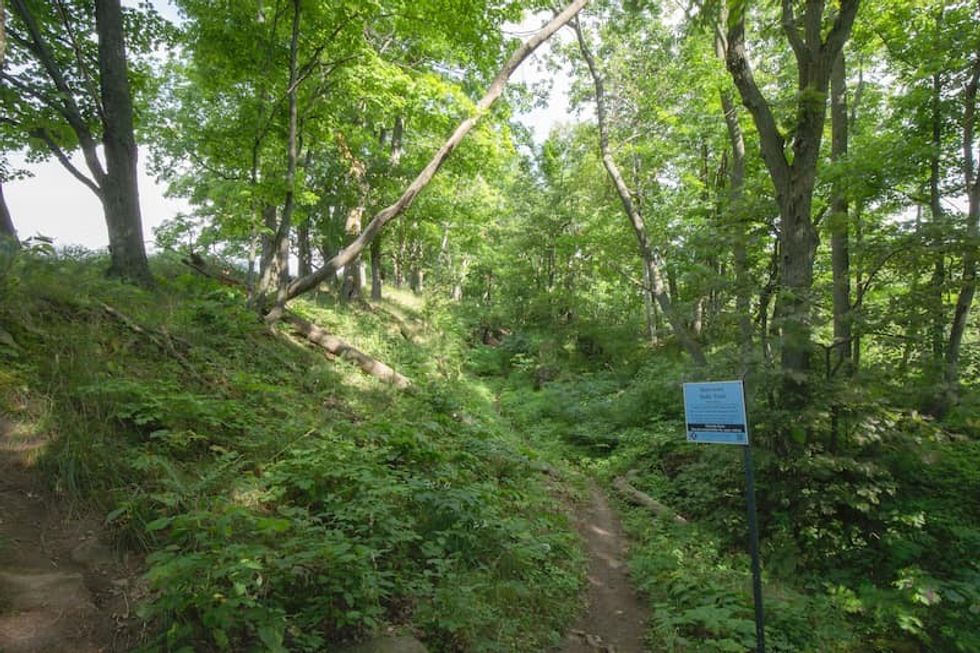 Bruce Trail via Shutterstock
This upcoming development promises an unparalleled gateway to small-town living, offering residents the chance to immerse themselves in the beauty of nature while enjoying a close-knit community atmosphere. With its proximity to an array of recreational activities, Creemore stands as a testament to the enduring allure of small-town charm.
If you've been craving a change of pace, a connection to nature, and a tight-knit community, Creemore Condos could be your ticket to a fulfilling life in Ontario's captivating countryside.
Creemore Condos is currently under construction, with occupancy slated to begin in early 2024. You can clickhere for exclusive updates, community brochure, floor plans, site plan, pricing, and purchasing details.
---
This article was produced in partnership with STOREYS Custom Studio.
Future Developments