From virtual showrooms and staging, to contactless contract signing, the real estate industry's technology sector has seemingly advanced years since the onset of COVID. 
---
While the relentless pandemic – with its perpetual stay-at-home orders – isn't the primary cause of forward-thinking change in real estate technology, it has been a major accelerator for the realm over the past year. 
This high-tech makeover has changed how real estate has been bought, sold, leased, and managed for developers, real estate agents, and homebuyers. And most of these game-changing advancements will stick around long after the term "social distancing" disappears from daily discussions. 
In the meantime, another term, "proptech," is gaining quick, buzz-worthy traction. The booming world of property technology includes everything from big data (think, websites like Zillow) and machine learning to predict trends, to virtual and augmented reality and smart buildings – and beyond.
"Every process in real estate can be more efficient with some sort of technology or software and I think that, a year into the pandemic, everyone is open to adapting and embracing change, because we were forced to" says Tim Ng, founder and principal of Toronto-based ADHOC STUDIO. "The pandemic has pushed the industry ahead ten years."
Long before COVID-19 switched up "business as usual" on the real estate front, ADHOC STUDIO had already created a multi-faceted digital sales centre. But the pandemic has served as a major catalyst for its widespread adoption; since its onset, business has shot through the virtual roof for Blackline, the web-based sales management software created by ADHOC. First launched in 2019, the end-to-end sales and marketing platform allows for the sale of real estate anywhere, any time. 
Blackline consolidates all of the essentials – floor plans, unit lists, and neighbourhood info – in one location. It's a virtual one-stop-shop for sales presentations, inventory management, real-time updates, analytics, floor plan comparison, suite reservations, and more. For developers, this allows for simplified and remote education of anyone from brokers to end-users, substituting traditional sales centres with coffee shops and dining room tables.
Relationships – both old and new – are historically front and centre in the real estate space. After all, the industry revolves around the largest (and arguably most important) purchase most people make. With the absence of face-to-face meetings, however, both realtors and homebuyers have had to adapt to digitally-formed and maintained relationships.  
"After a year of this, people have eased into video calls and it has become the new norm," says Ng. "They've replaced in-person meetings and visits to presentation centres to sign contracts. I think the openness to video calls creates a lot more efficiency – and people are realizing that."
'Personal videos promoting a project have also become increasingly popular with sales reps and leasing agents," says Ng. "These high-quality videos not only highlight all of the talking points of potential homes, but also facilitate trust and a deeper connection between the buyer and the realtor in lieu of an in-person experience." 
"Visual content has become incredibly important, and things like drones have become real estate mainstays," says Ng. "We do a lot of renderings, animations, and virtual tours. More and more, developers are relying heavily on visuals and videos to sell condos. Buyers need to see what it looks like without physically being there."
Part of this involves virtual staging, something that's grown in popularity as of late, disrupting the industry in the process. "You can take a picture of an empty unit that's not furnished, then render in the furniture and it looks impressively believable," says Ng. 
Such staging is just one aspect of initial virtual visits "to" properties, which help buyers determine what's right for them from afar. And it's dynamic processes like this that will undoubtedly live on, well beyond the time of physical distancing. 
"When it comes to every part of how real estate is sold and transacted, people are going to stick to what makes things efficient, even when life returns to normal(ish)," says Ng. New industry staples here to stay range from shared online-booking systems between homebuyers and agents (as opposed to a call or email), to virtual open houses. 
Welcome newer additions to the real estate industry also include advanced analytics like MLS Home Price Index (HPI), which makes more accurate appraisals, forecasts industry trends, and targets marketing goals to appropriate audiences.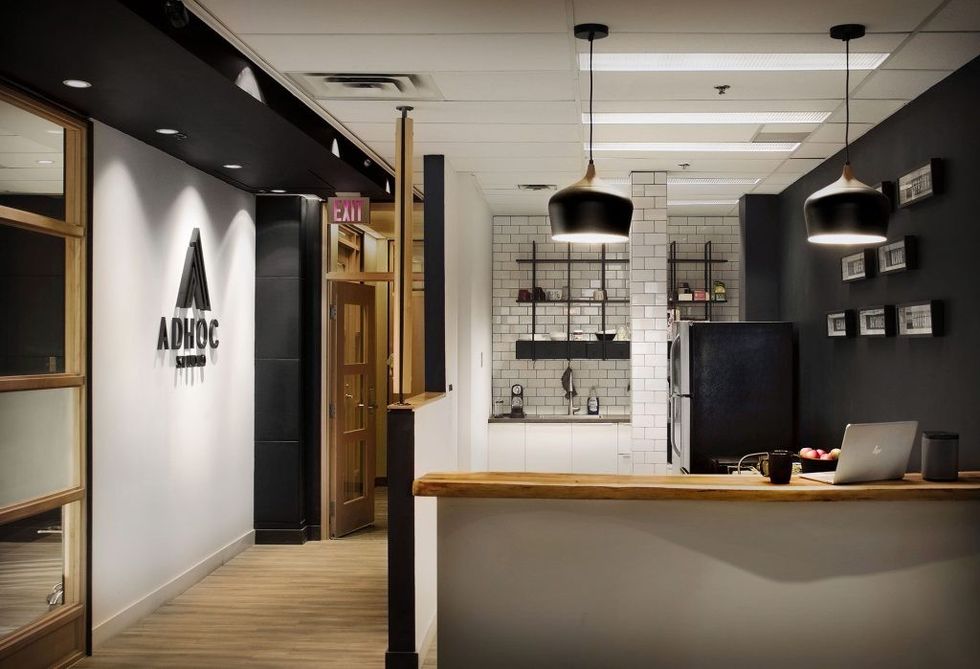 ADHOC STUDIO
As for ADHOC, their priority remains to increase industry efficiency in any way they can through technology. Most recently, the company launched a broker ambassador program with 16 top-performing realtors in the Greater Toronto Area (GTA). "This facilitates an open line of communication with top realtors as to how we can make their process or work flow easier and create an even better system," says Ng. "It's shocking that there hasn't been anyone who's reached out to realtors to learn what they need in a software." 
While it may be shocking, it's no secret that the real estate industry has been historically slow to adopt to changing technology. 
This doesn't mean, however, that we've bid farewell to physical showrooms and in-person meetings for good. According to Ng, the new virtual additions to the real estate industry won't replace the traditional experience, but complement it, in the same way online shopping does for classic bricks-and-mortar retail.  
"It's all about adapting in order to maximize efficiency," says Ng.
Industry Profiles