---
Production and delivery delays of materials have led to escalating construction costs in the new build low- and high-rise sectors -- costs that will ultimately be borne by consumers.
Scott McLellan, Senior Vice President of Plaza Corp. in Toronto, says that many materials used in condominium construction have "literally doubled since January 1," although deliveries are, by and large, punctual. Steel has gone from $2,500-2,800 a unit to nearly $4,500-5,000 because domestic steel mills are sold out of virtually all of their products as a consequence of backlogged orders and capacity constraints, the latter for seemingly trifling reasons like social distancing in factories. He added that the impacts will be felt well into 2022, and that the additional costs will be reflected in higher sale prices.
"We base our pro forma on the best cost estimates we have for our next projects using current numbers with inflation, but we're not awarding contracts for another six or seven months because nobody can give us a price today as a result of not being able to lock in material costs themselves," McLellan said. "We try to lock in our contracts before we go to market so that we don't get stuck. A developer's costs could go up 20%, and in some cases that could wipe out their profit, which wipes out the project. We've seen escalations of up to 30-40% in hard costs. That's one reason the average price per square foot of a condo is up $200-300."
While most materials arrive at their destinations on time, many finished goods don't, despite being ordered up to two years in advance. Supply chain issues are well documented -- in many cases, goods (not to mention crews) are stuck on ships lined up at ports -- and McLellan says the resultant delays could compromise building delivery timelines.
"It's been crazy because you might get a whole floor of fridges, stoves and dishwashers but no washers or dryers because they go on backorder, which never happens," McLellan said. "Getting appliances throughout the whole industry has been problematic. This is happening everywhere in North America; I've been talking to builders I know in the States and they're going through the exact same thing we're going through. Appliances have become a thorn in the side, no question."
Lumber is imperative in low-rise construction but with mills inoperative earlier in the pandemic and the supply chain disrupted, backordered deliveries mounted and supply of the material became scarcer. It also didn't help that the Bank of Canada plunged interest rates to an historic low that inadvertently sparked a housing rush.
"Before the pandemic, we were spending about $40,000 on lumber per house, and a year ago the highest price it went up to on the same house was $102,000," Mike Bowering, President of Mutual Developments, said. "Now, that same house is probably down to around $60,000."
Suppliers have told Bowering that lumber will probably spike another 10-20% in the next year, and while there's greater supply of the material today, a shortage of other crucial materials persists.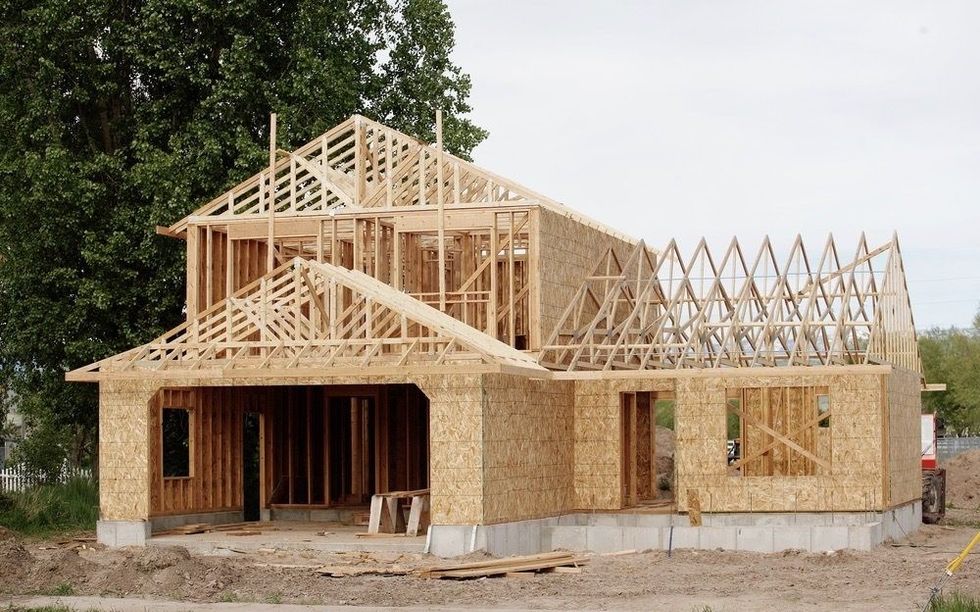 Shutterstock
"Concrete is another one. Every house has a concrete basement, so concrete mix has gone up quite a bit, by at least 20%, which is an increase of about $30,000-40,000 over what it was before," Bowering said. "Builders have to be ready to build as soon as they sell -- you have your building permits and trades lined up the instant you sell a home so you can start and lock in your costs."
These problems aren't unique to large-scale construction developments. A survey report from HomeStars noted that 35% of respondents delayed home renovations, which have surged during the pandemic as homeowners leveraged home equity growth against a low interest environment, delineating just how expensive materials have become.
"Over a third of survey respondents (35%) chose to postpone their renovation plans due to the increased cost of materials, which was widely reported. According to Statistics Canada, prices for lumber and other wood products increased by 27.9% from the first to second quarter of 2021. This price surge was due to a combination of ongoing supply chain constraints, high demand and low interest rates. Prices have decreased substantially since then and this will likely fuel the fire for future renovations, with prices coming into line with pre-COVID levels," HomeStars' report said.
Renovations