---
In order to better reflect current economic conditions, the City of Vancouver is proposing increased density bonus rates in the Cambie Corridor, the False Creek Flats, and Mount Pleasant, with some rising by nearly 60%.
Density bonuses -- or Density Bonus Contributions -- are charged to developers in exchange for extra density in certain zones of the city, up to a specified maximum floor space ratio. Like Community Amenity Contributions (CACs), Density Bonus Contributions can be provided in the form of in-kind amenities or cash contributions.
The largest dollar increase is proposed for RM-8A and RM-8AN zones in the Cambie Corridor, where the City of Vancouver is looking to raise density bonus rates from $60.07 per sq. ft to $85.00 per sq. ft, which represents a 41.5% increase. According to the City's RM-8 zoning district schedule, these zones allow for uses such as townhouses, duplexes, and triplexes, also known as "missing middle" housing, which the City is currently looking at increasing.
The density bonus for residential development in the False Creek Flats is looking at a jump from $131.06 per sq. ft to $140.00 per sq. ft, and remains the highest rate of all density bonus areas, likely due to the low amount of residential development that is allowed in the False Creek Flats. The rate increase in the Flats is for the FC-2E zone, which according to the City's FC-2 zoning district schedule, comprises of just a few parcels between East 1st Avenue and East 2nd Avenue, along Main Street.
On the non-residential side, the density bonus rate for certain industrial zones in the Mount Pleasant area is also facing an increase. Density Bonus Contribution rates for I-1A zones and I-1B with an FSR below 5.0 may jump from $7.22 per sq. ft to $11.49 per sq. ft, while the rate for I-1B zones with an FSR between 5.0 and 6.0 would remain at $51.77 per sq. ft.
Council will vote on the new proposed rates on Tuesday, April 11, where they will also vote on proposed increases for CACs.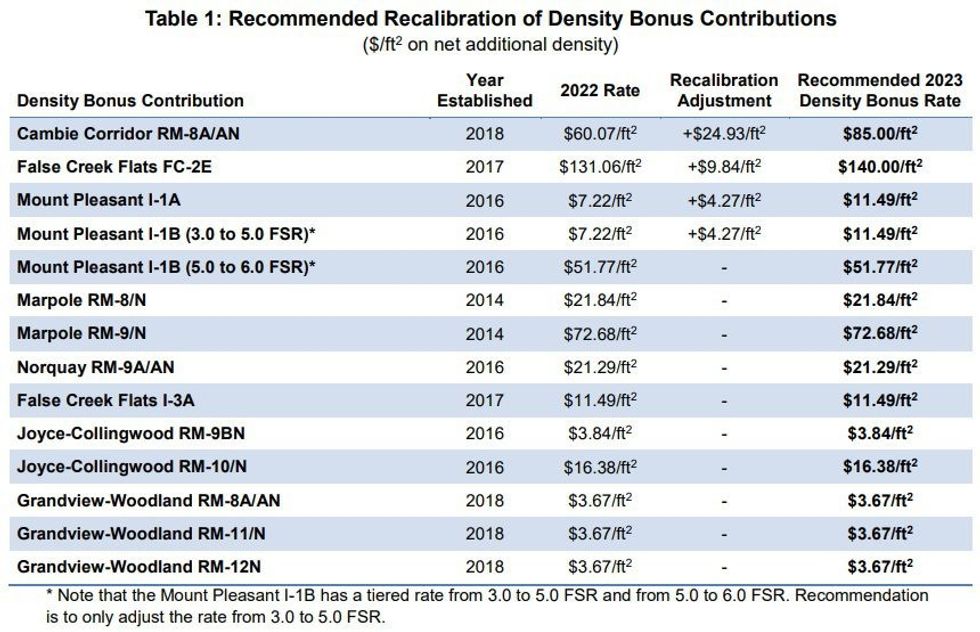 The proposed increases to density bonus rates. (City of Vancouver)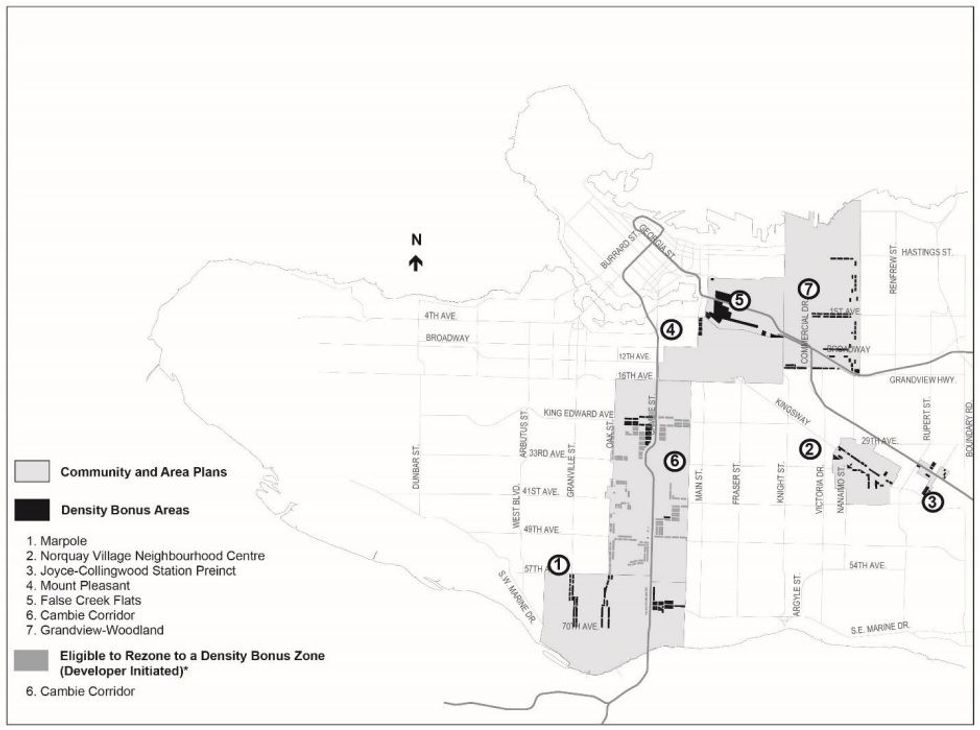 Current Density Bonus Contribution areas. (City of Vancouver)
READ: Three Sixty, First Project In New Vancouver I-1C Zoning, Launches
The City recalibrates density bonus rates every four years or sooner to reflect changing market conditions, although the City notes that the last adjustment was five years ago. In between recalibrations, rates are also adjusted annually using an inflationary index that's based on annual changes in property values and construction costs, in-part to avoid massive rate increases every four years.
The four proposed increases were recommended by Coriolis Consulting Corp. and Urban Systems Ltd., two external consultation firms that the City of Vancouver retained to assess both the current Density Bonus Contribution rates and the Community Amenity Contribution rates.
After receiving the recommendations, the City then conducted stakeholder engagement, which included bringing the proposed increases to the Urban Development Institute, National Association of Industrial and Office Properties, and the Homebuilders Association of Vancouver.
Somewhat less common than CACs, or at least less discussed, Density Bonus Contributions also go towards funding infrastructure improvements and public amenities in the city. For Density Bonus Contributions that are collected from projects within a community plan, the contribution is typically allocated to the public benefits strategy as identified in that community plan.
Aside from the increased rates, City staff are also recommending that the City carve out an exemption for secured market rental housing within Joyce-Collingwood RM-10N zones. This exemption already exists within the RM-8, RM-9, RM-11, and RM-12 zones, as well as the aforementioned FC-2E zone in the False Creek Flats, and staff are recommending the exemption to be extended to RM-10N zones so exemptions are consistent across all zones, which could improve project approval times.
READ: Vancouver Looks to Increase Developer CAC Rates as Much as 111%
Additionally, staff are also recommending improved definitions of the types of public benefits that can be funded by Density Bonus Contributions, in order to increase flexibility and to align more closely with those that are allowed to be funded through CACs.
All of the above recommendations will be brought to Council on April 11. If approved, the refined exemptions and definitions would be effected immediately, while the new density bonus rates would come into effect on September 30.
Vancouver