Last week, the Government of British Columbia announced that it is providing $48M to North Vancouver-based Capilano University to go towards the $63.2M acquisition of the now-shuttered Quest University campus in Squamish.
It has been made clear, however, that the acquisition did not involve the entirety of the campus.
---
Marshall Macleod of NAI Commercial, who brokered the deal with Capilano University, has since listed the four on-campus student residence buildings for sale. Capilano University is not the one selling the student residence buildings, rather they were not included in the purchase of the main campus.
"Student housing was not part of this purchase agreement," Capilano University's Director of Communications Pamela Findling confirmed to STOREYS. "However, we know securing housing can be a challenge for CapU students studying at any of our campuses and learning locations. We recognize student housing is a priority and are continuing to explore options for our students in Squamish."
The original listing offered up a total of 55 acres, with the main campus and associated facilities occupying approximately 17 of those acres. The remaining portion consists of development lands, which Capilano University confirmed to STOREYS were also not included in their acquisition.
What Capilano University did purchase includes the academic spaces, library, athletic centre, sports field, and a cultural activity area. In addition to new housing options, Capilano University is also exploring the possibility of a 74-space childcare facility.
The still-available dormitory buildings, each of which has 104 units, for a total of 416, "were constructed and are owned by another party," the listing says. It also notes that the underlying land is included in the offering, but the land — 3011, 3021, 3031, 3041 University Boulevard — is subject to a 99-year land lease to the developer of the buildings.
The Province may have its eye on the dorms, though, noting in its funding announcement last week that "there is an opportunity in the future to acquire already-built student housing adjacent to the campus that would provide approximately 450 beds," but that a "further feasibility analysis" is needed.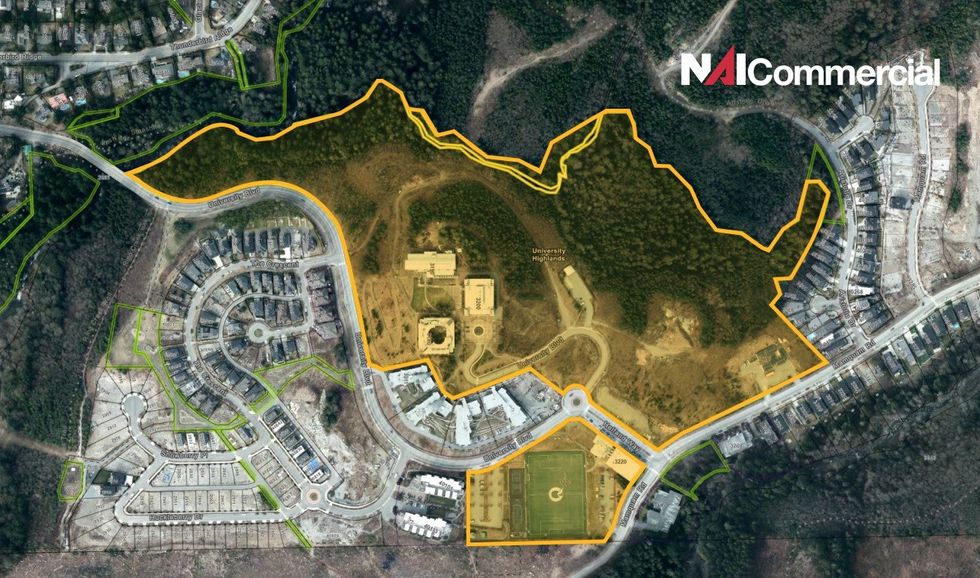 The full 55-acre property (yellow) with the student residences in between the two yellow blocks.(NAI Commercial)
Capilano University currently operates out of three locations: its main campus at 2055 Purcell Way in North Vancouver, its Lonsdale campus at 250-125 Victory Ship Way in North Vancouver, and its Sunshine Coast campus at 5627 Inlet Avenue in Sechelt.
"As a university that serves Vancouver's North Shore, the Sunshine Coast, the Sea-to-Sky region, and beyond, we are excited to open a new Capilano University campus in the District of Squamish," said Paul Dangerfield, President of Capilano University. "As we expand our presence in Squamish, we look forward to delivering new opportunities for learners to pursue post-secondary studies and have a distinct university experience in their home community, and to offer unique academic opportunities that attract people to this region."
Capilano University says it has long planned on expanding to Squamish, and even entered into an agreement to develop a new campus in Squamish in March 2022. Capilano University says the term of that agreement ended in spring 2023, and after the Quest University campus became available to purchase, they pivoted to acquiring the already-built space.
Planning for the campus and its programming will be shared in the coming months, with classes currently expected to begin in fall 2024. The university estimates that it will initially serve 100 students, before growing to serve over 380 in the future.
READ: BC Housing Acquires Salvation Army Harbour Light Vancouver Facility For $42M
Quest University Closure
Capilano University's acquisition was made possible after Quest University filed for creditor protection under the Companies' Creditors Arrangement Act in January 2020 amidst financial difficulties.
According to court documents obtained by STOREYS, the 55 acres owned byQuest University were "encumbered by various charges, liens, interests, mortgages, and assignments of rent, including a mortgage held by Capilano University," who also held various rights of first refusal to purchase or lease the site.
However, Capilano University's right of first refusal was essentially ignored, as it was believed that it would "give rise to a severe chilling effect on the market, with potentially disastrous results for Quest's restructuring efforts."
The property was subsequently sold to Primacorp Ventures, a BC-based company that invests in private post-secondary education, in a deal brokered by Colliers.
The documents also show that the owner of the student residence buildings alluded to in the listing is Southern Star Developments Limited Partnership, which was formed to build the residences, with a company called Southern Star serving as the general partner and Quest University serving as a limited partner.
Following failed attempts to get back above water, Quest University announced that it was shuttering in April 2023, with Primacorp Ventures finally selling the property to Capilano University, bringing the saga full circle.
Real Estate News