Rental living in today's market may not come with the most glamorous connotations — it's not an exaggeration to say that the media paints a pretty dismal picture of the sector — but new data from the largest rental survey in the country shows that many Canadians are, in fact, renting by choice.
Getting into the specifics of that data: 46% of current renters say that they have a "preference" for rental living. Of that group, 16% say renting fits their budget, 10% say they enjoy the "added services" that come with their rental accommodations, and 6% say they like not having a long-term financial commitment.
---
These are some of the insights captured through a new and first-of-its-kind multi-residential satisfaction survey from Shape Your Space and simplydbs. The leaders in real estate-related market research set out to find out about the lived experiences of today's renters earlier this year in the hopes of drawing out data-driven insights that can be used to inform and educate housing providers, giving them the opportunity to address challenges identified by respondents and improve the rental experience for all players involved.
Conducted between May and July 2023, the study compelled around 20,000 responses to over 70 questions. It's the largest-ever third-party study focused on satisfaction amongst Canadian renters.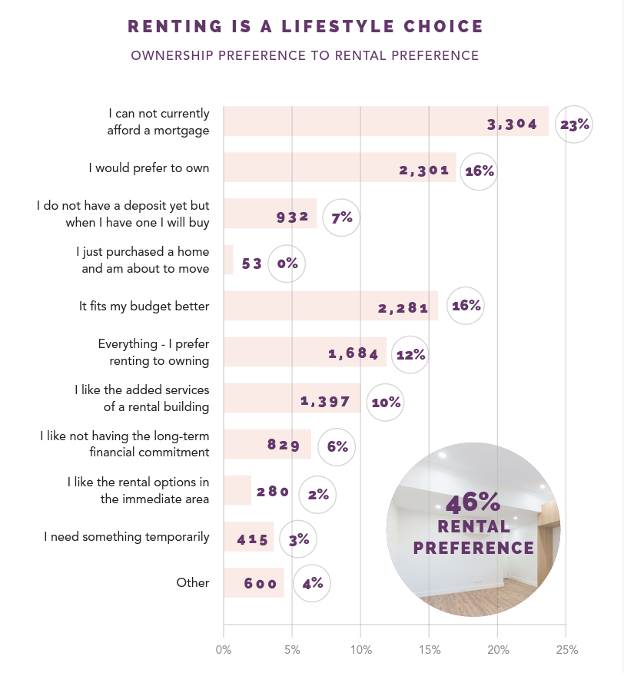 Source: Simplydbs
With interest rates at a 22-year high, and borrowing costs showing no signs of relenting any time soon, the narrative that's more often than not assumed these days is that many Canadians are renting because they can't afford to purchase a home. As it turns out, however, that's only true of 23% of the survey's respondents, and just 16% say that they would prefer to own a home rather than rent.
Digging Deeper: Who (Or What) Is To Blame For Current Rental Conditions?
While the year has seen a slew of bad press for housing providers, including with respect to bad faith evictions, only a nominal proportion of renters, at just over 1%, say they're currently in the throes of eviction.
It also seems that residents understand that, given today's economic realities, housing providers are under pressure, with 32% attributing escalating rental rates to inflated overhead faced by their landlords. Meanwhile, 28% say that homeownership being as costly as it is these days is what's pushing rents up further, while lesser proportions blame a shortfall of rental stock and population inflows, at 16% and 12%, respectively.
Rather astutely, 49% of renters expressed that they are at least somewhat concerned with affording their current rental, while a whopping 59% are very concerned about rents rising specifically in the city they live in.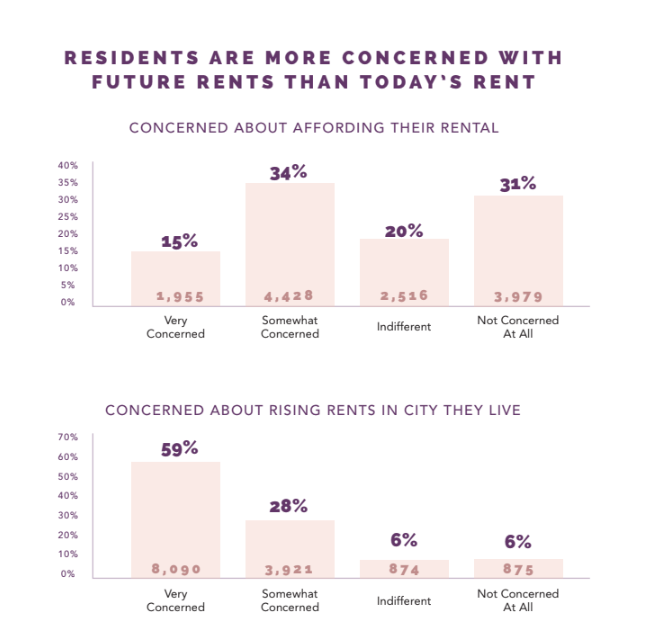 Source: Simplydbs
Nonetheless, the bulk of respondents indicate that they are "comfortable" planning a future in a rental, at 67%. Just 20% disagree with that sentiment. (And it's worth noting that there seemed to be a greater sense of that comfortability amongst those living in corporate-run rental accommodations, compared to those run by mom-and-pop landlords.)
Beyond The Basics: What Renters Really Want From Housing Providers
Despite the fact that a sizeable share of the survey's respondents are renting because they actually 'prefer' to, Wednesday's findings make it clear that today's tenants are wanting for a more progressive and holistic experience when renting.
For one, it seems that housing providers could be doing more to imbue a community feel amongst their tenants, with 32% of renters saying that they currently don't feel "connected" to their current rental community (compared to just 14% who feel "very connected").
As well, it turns out that tenants want more tech. The survey reveals that 43% of tenants are interested in using an app to view utility usage and fees, while a sweeping 88% of residents that have an app to unlock the doors like it and use it.
Finally, the lion's share of renters are reportedly aligned with eco-friendliness, with 80% saying that they put some degree of importance on carbon reduction, and 60% saying they're in support of carbon reduction initiatives even if they pose an inconvenience.
Real Estate News