When it comes to relocating in the country, it appears more millennials are choosing smaller cities over larger cities, according to a new study from Ryerson University.
The report, which was prepared by the Centre for Urban Research and Land Development, says millennials — those aged 23 to 38 as of mid-2019 — are now the largest demographic cohort in Canada, with more than nine million of the demographic living in the country today.
---
READ: More Than 40 Per Cent Of Canadian Millennials Work In The Gig Economy
The study suggests millennials are looking to relocate to cities with more affordable homeownership options, such as Ottawa, Simcoe County and Waterloo – to name just a few.
According to the study, Ottawa was the number one destination for Canadian millennials moving within the country, with a net gain of 3,099 between July 2018 and July 2019, which was largely driven by migration between provinces.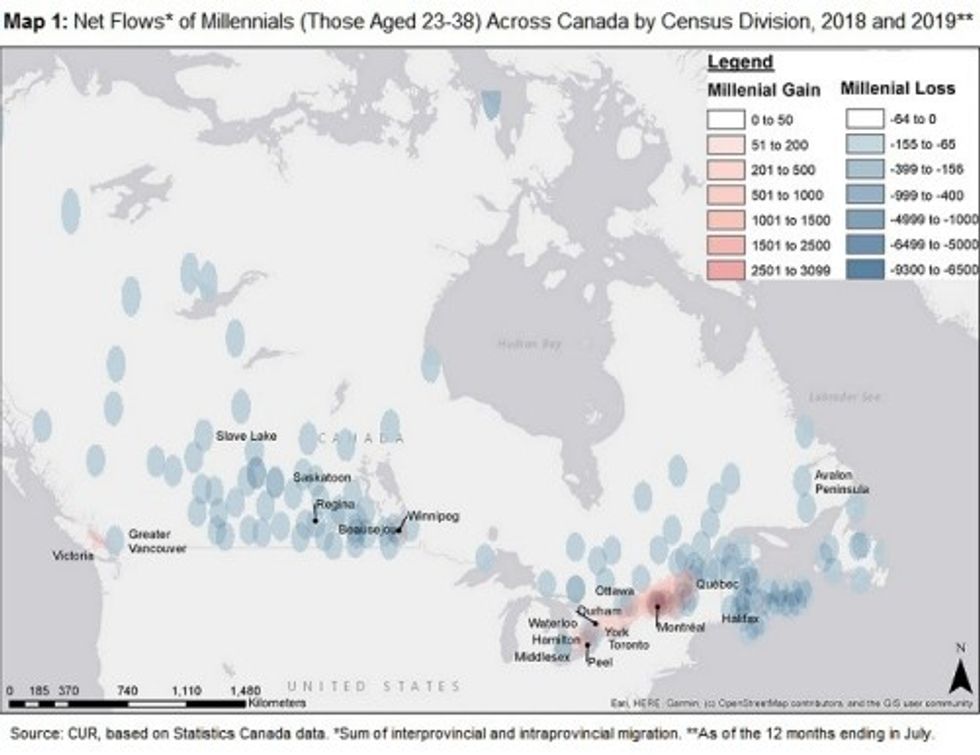 Ryerson
Five of the top six destinations for millennials moving within the country are in Ontario, however, Toronto is not one of them.
Simcoe country, which includes Barrie, Innisfil, Alliston, and Bradford, welcomed 2426 millennials during the study period, followed by Durham (1979), the Capital Regional District (1814), the Halton Region (1622), and Waterloo (1535).
Meanwhile, more than 5,000 millennials moved out of Toronto in that same period, while Montreal lost more than 9000 of the demographic.
READ: Population of GTA Expected to Break 10 Million in next 25 years
"The population estimates presented in this blog should be kept in perspective," reads the report. "While municipalities in the Toronto CMA lost Millennials on net between 2017 and 2019, these flows still represent a small share of its overall Millennial population. The region is still the fastest-growing region across the country, owing to immigration."
Considering how expensive rent has become in Toronto, with the average price for a 1-bedroom surpassing $2300 a month, it's no wonder why so many millennials are choosing to live elsewhere.
Real Estate News