For the third consecutive month in a row, the national trend in housing starts increased in August.
Based on a recent update from Canada Mortgage and Housing Corporation (CMHC), the construction of new homes was up month-over-month in August, with a total of 213,144 new starts reported in August, up from 204,597 units in July.
---
This trend measure is a six-month moving average of the monthly seasonally adjusted annual rates (SAAR) of housing starts.
CMHC says higher multi-family starts in Ontario, including in Toronto, drove the national increase after a total of 5,243 new housing starts were launched in August, up 67% from the same time last year.
Last month, there were also 491 new starts for single-detached homes, down 12% from the same time last year, and 4,752 starts for all other home-types, an impressive 85% year-over-year increase.
READ: 17 Toronto Condo Launches You Need to Know About This Fall (MAP)
While the recent push of housing starts is promising, following months of delays caused by COVID, CMHC believes that national starts will begin to trend lower by the end of 2020 as a result of the negative impact of the pandemic on economic and housing indicators.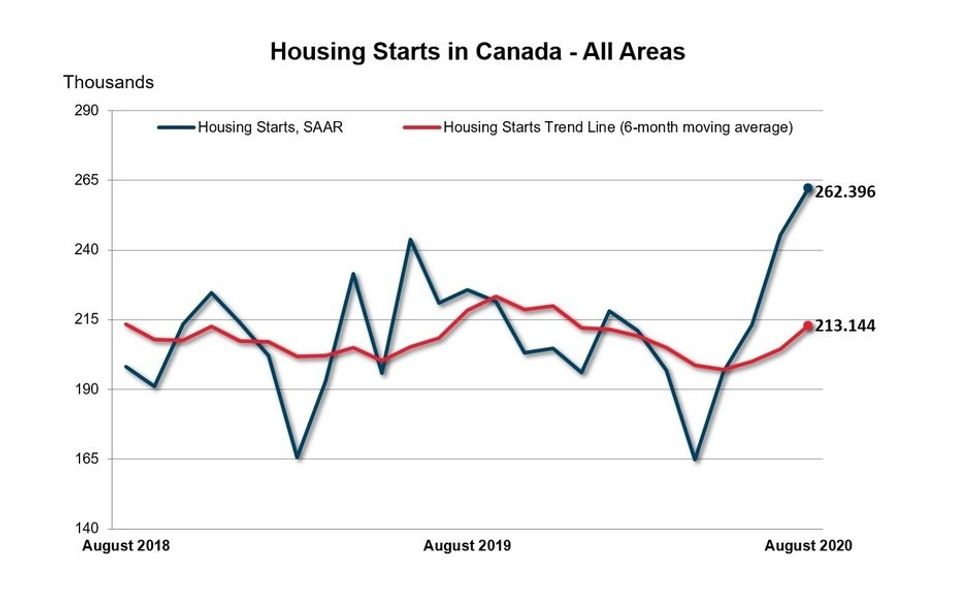 CMHC August 2020
CMHC also released an update on the Seasonally Adjusted Annual Rate (SAAR) of housing starts, which allows you to compare monthly levels to annual levels for different months of the year, while also giving you a sense of the relative strength of monthly activity.
In August, the standalone monthly SAAR of housing starts for all areas in Canada was 262,396 units, an increase of 6.9% from 245,425 units in July. What's more,  the SAAR of urban starts increased by 7.1% in August to 248,154 units.
Multiple urban starts increased by 9.1% to 201,214 units in August while single-detached urban starts decreased by 1.0% to 46,940 units.
Real Estate News