---
Canadian housing affordability continued to decline in the early months of the year, hitting its lowest level since the early 1990s.
New data from the Bank of Canada found that the country's Housing Affordability Index (HAI), a measure of a household's disposable income that is put towards housing-related expenses, jumped up to 42.8% during the first quarter of 2022. This is the highest percentage seen since the third quarter of 1991 when the previous real estate bubble peaked at 43.4%.
Affordability has steadily worsened since the second quarter of 2020, after seeing an initial drop in HAI at the onset of the pandemic. This year's Q1 HAI marks a more than 2% jump from the previous quarter and an 8.7% jump from the same time last year.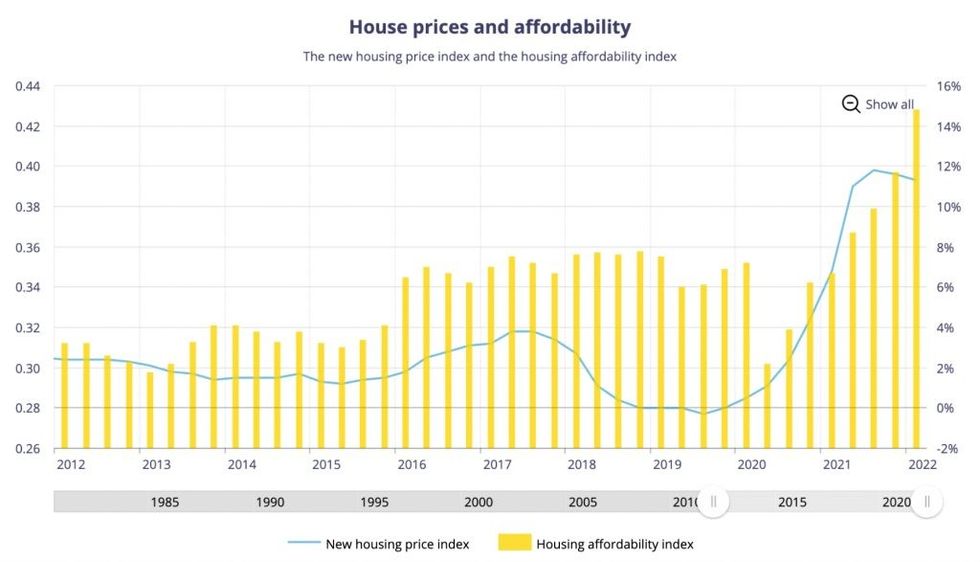 Bank of Canada
The first quarter of the year saw the Bank of Canada's first of many interest rate hikes, raising the overnight rate from its historic low of 0.25% to 0.5%. At the time, the marginal increase had little effect on affordability, but the major increases since then, including the surprise 1% hike that brought the rate up to its current 2.5%, have significantly restricted household finances. This means an even higher HAI is likely to be found during Q2.
Although housing prices began to slip more during the second quarter, it was not enough to balance rising rates and runaway inflation. But a recent report from RBC found that a housing correction "now runs far and wide across Canada," with the bank predicting further price drops as buyers remain wary of increased rates. In another report released last week, the bank projected that the Bank of Canada will raise its rate to 3.5% by the end of the year, despite a likely moderate recession that will come into effect in early 2023.
"While a 'mild' recession is likely in the cards, forceful action from central banks now is meant to avert a much more damaging recession in which wage and price inflation spiral out of control," the report notes.
Interestingly, the latest data from the Canadian Real Estate Association revealed a 3.1% drop in Canada's average national home price from June to July, which is the smallest of the month-over-month declines seen over the past five months. In fact, the MLS Home Price Index fell 1.7%, which is smaller than the 1.9% decline recorded in June. But it does appear an increasing number of buyers are staying out of the market, with home sales down 29.3% annually and 5.3% month over month.
Real Estate News