---
Tentative signs of recovery began to show in housing markets across Canada in March, with both home resales and prices inching up for a second consecutive month.
According to new data from the Canadian Real Estate Association (CREA), home sales rose 1.4% month-over-month in March, marking the fourth increase in the past six months.
Meanwhile, the average resale price increased by 2% to $648K, while the national composite benchmark price jumped 0.2% -- the first increase in 13 months.
"The year-long winter in Canada's housing market appears to be ending," said Robert Hogue, Assistant Chief Economist at RBC in a Monthly Housing Market Update. "We think developments in March are evidence that a cyclical bottom is now forming nationally and in many local markets...the trough won't be far behind in other areas."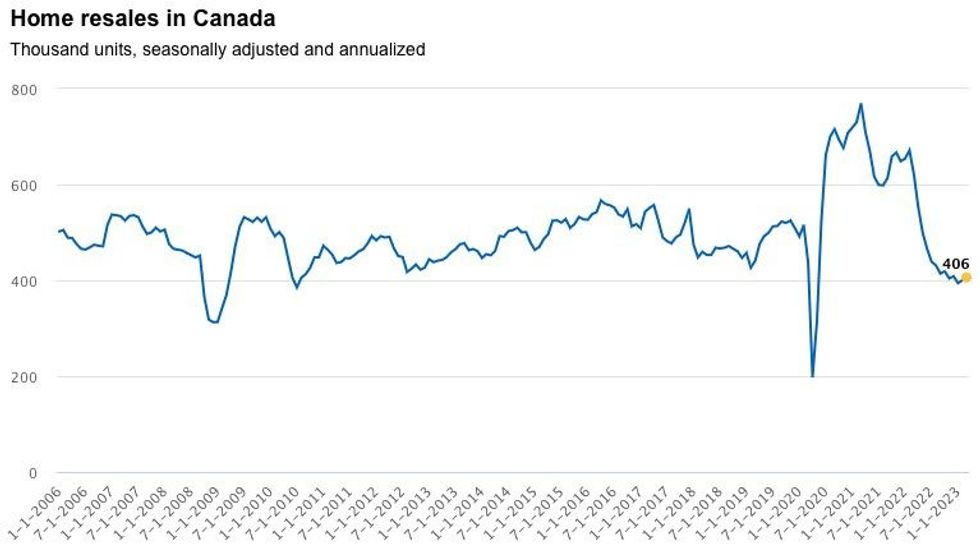 RBC Economics
Although buyers have returned from the sidelines, undoubtedly spurred by the Bank of Canada's decision to hold interest rates, sellers are still lying in wait. New listings dropped 5.8% from February to March, the fourth decline in the last five months.
As such, the housing market's "recovery" may be better described as a "reversal," noted Scotiabank economist Farah Omran, as the return of demand has not coincided with a meaningful increase in supply.
"With only one side of the ledger recovering, this would reintroduce imbalances to the market and reverse some of the improvements we have seen over the past year towards a more balanced and sustainable market and conditions," Omran said in a Housing News Flash.
"The needed improvement in housing affordability conditions will therefore be again delayed."
The sales-to-new-listing ratio edged up to 63.5 in March, returning the Canadian housing market to sellers' territory after nearly a year of balance. But TD Economist Rishi Sondhi believes sellers will need to see "more evidence of a sustained pickup" in both activity and prices before a marked increase in listings is to be seen.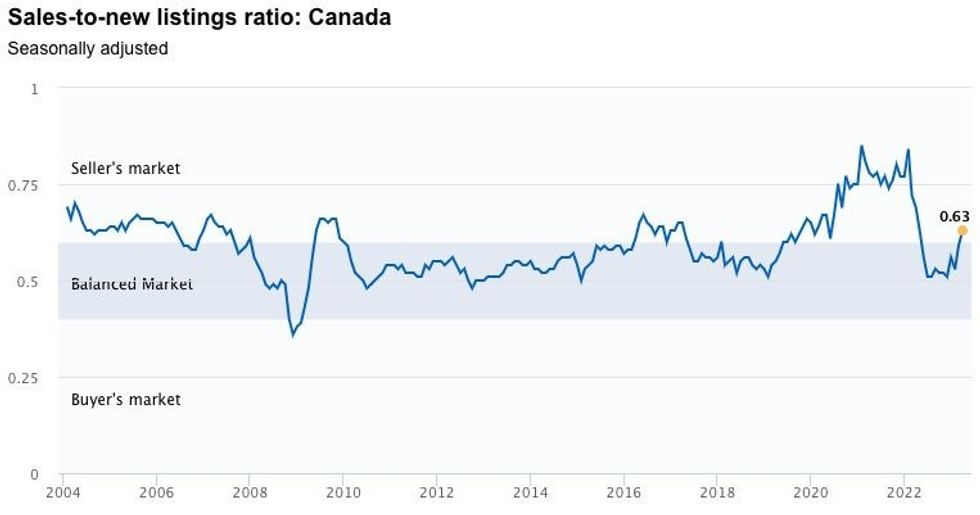 RBC Economics
The lack of supply, coupled with an expected decline in housing starts, will push prices higher going forward, predicts Randall Bartlett, Senior Director of Canadian Economics at Desjardins. The stance is shared by Hogue and Sondhi, and, cautiously, by Omran.
But, a "sharp" rise in prices is unlikely, as affordability issues persist, and new mortgage lending restrictions from the Office of the Superintendent of Financial Institutions loom.
"Reaching the cyclical bottom doesn't mean activity and prices are about to rebound sharply immediately thereafter," Hogue said, noting that the recovery phase should begin slowly later in 2023.
"The pace should progressively pick up in 2024 once the economy clears its soft patch, inflation returns to target and the Bank of Canada reverses part of the massive rate increases it's imposed since March 2020."
Real Estate News