Real Estate News
Canada's First 3D-Printed Homes an Exciting Start for the New Tech
Being able to build a house at the push of a button may seem like a far-fetched, futuristic idea, but with the launch of Canada's first-ever 3D printed homes on its way, that reality may be closer than you think.
As part of a new project from Habitat for Humanity, a group of four 500-sq.-ft homes are going up in Leamington, Ontario with wall structures that have been entirely 3D printed. To build the houses, located less than an hour outside of Windsor, Habitat contracted leading Canadian 3D construction printing firm nidus3D. Over the course of several days, the company's gantry-style printer methodically printed layer after layer of concrete walls, replacing what would traditionally be a manually-built wooden frame. The homes are currently being finished up and are expected to launch some time this summer.
Although it's just the frames that were printed for the Habitat project, nidus3D President and Founder Ian Arthur explained that this is just the beginning for 3D printed homes. In fact, they already have the capability to also lay the pads that homes are built on top of, and to do it much faster than it would take to do manually.
"We anticipate being able to touch on a much larger scope in the future," Arthur said. "The coolest part about this is it's just the beginning. It's the initiation of a process change that is going to allow people to innovate entire sections of the build process that the printing so far hasn't touched but absolutely will in the future."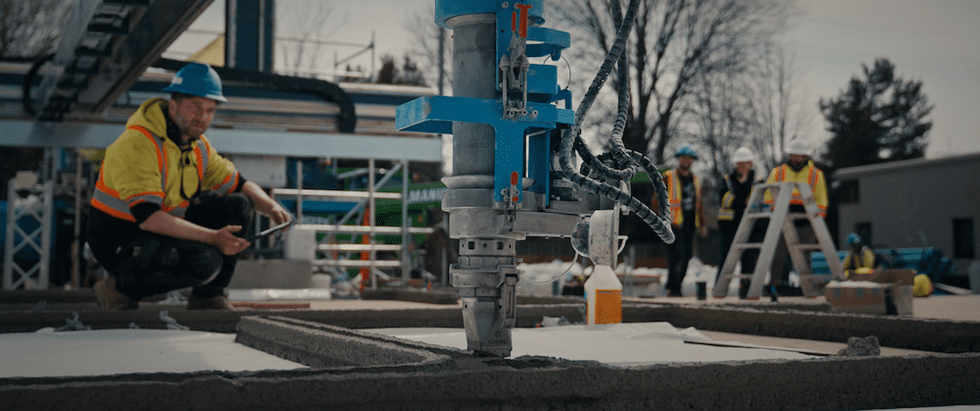 Currently steps like painting, plastering, building roofs, or placing ties between veneers are all done manually, but Arthur says could potentially be done by a robotic arm in the future.
When operating at full capacity, the concrete printer can produce half a storey to a full storey a day, depending on the complexity and scale of the printing job. Even taking into account time on either end to set up and take down the printer, 3D printing methods roughly halve the time it would take to construct the same home manually, Arthur notes.
Advancing Technology
As the technology progresses, Arthur anticipates being able to fully print a three-bedroom, single-storey bungalow in about two days. And printing won't just be limited to single-storey projects either. In fact, nidus3D is already working on building North America's first-ever two-storey 3D printed home on Wolf Island, located just outside of Kingston, Ontario.
"After that we're actually printing up a basement-plus-two, which I think will be a huge milestone because it's kind of the Canadian standard," Arthur said. "Then we're moving into a commercial property so we're printing a series of warehouses."
Nidus3D's printer — along with others around the world — may use concrete right now, but Arthur says the availability of printable housing materials is likely to expand as the technology grows.
"I think concrete is where it started because it's a known material, but I think we'll see some really innovative things being extruded in the future and taking advantage of kind of the automation approach that this provides to construction," Arthur said. "I think largely that's going to be driven by environmental concerns because concrete is not environmentally friendly. I think we'll start seeing different different materials, maybe wood fibre with some sort of binding agent or something like that. There are already folks working on it."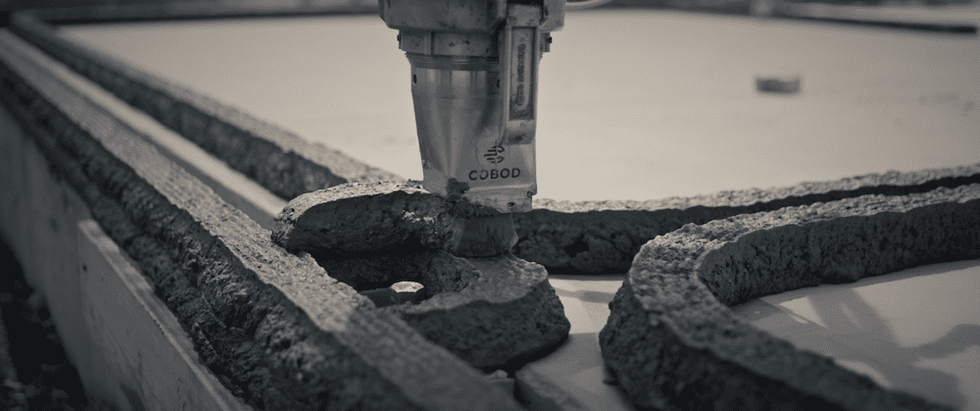 As to be expected, homes built with the 3D printer need to be specifically designed for 3D printing and may not have the exact same outcome as traditional methods. Crisp corners, for example, are hard to achieve with the printer, meaning if a builder isn't planning on adding drywall and wants to plaster directly onto the 3D printed walls, they'll have slightly rounded corners. But even still, the company has received significant interest from builders and architects alike.
"The design versatility of a printed structure is frankly unparalleled, and we've had a huge amount of interest from architects who are really excited about being able to execute, for instance, curved walls, without really incurring any additional cost," Arthur said.
Building More Homes For Less
Not only are 3D printing methods more efficient, but they can lead to major cost savings. Arthur notes that currently, they are already price equivalent to an Interlocking Construction System home, which are homes built with standardized, interlocking panels that can be easily transported and are particularly useful for rural construction.
"We're pretty pleased with that given that we're just launching and we only have one printer and we haven't really scaled yet, but we anticipate being able to build these houses for I think significantly less than what current building costs are," Arthur said. "We anticipate being able to do it at about 70% of the cost of traditional framing."
Arthur says they're also working on a system that will allow them to pour the pads using an accelerated placement, which would lead to a further reduction in cost. And for builders who aren't fussed about skipping the drywalling stage and want to plaster directly onto the concrete, that's another cost-saving option available to them.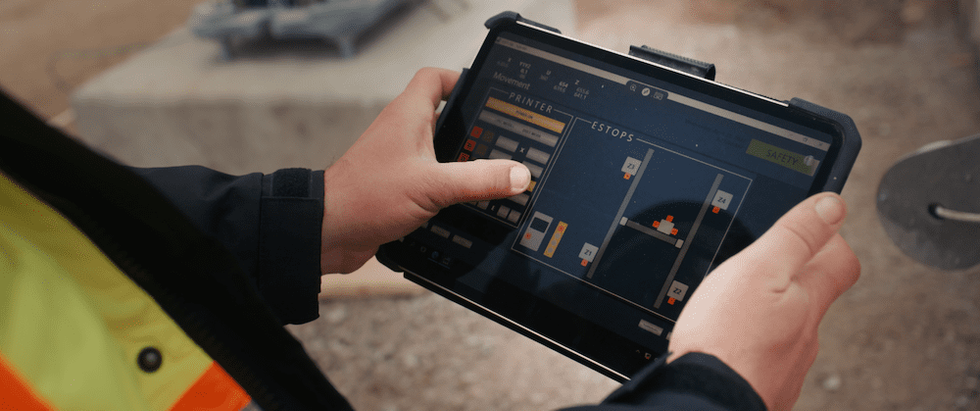 The issue of lack of supply in Canada's housing market and needing to build new homes quickly has been discussed at length across all levels of government. In Ontario in particular, the recently re-elected Conservative government has promised to build 1.5M new homes over the next 10 years — a number identified by Ontario's Housing Affordability task force as necessary to meet demand. But to achieve this, the task force has also said that Ontario would have to double its current construction capacity.
"I think that the challenges facing the building sector right now are almost impossible to overcome," Arthur said. "You have skyrocketing costs of materials. You have increasing costs of labor, which is only going to get worse with with inflation. You have a massive labor scarcity…. What 3D construction printing does is address the process side of the cost equation and putting up buildings. It's not the entirety of of a solution to sort of the problems facing the sector, but I think it's part of a solution."
As with most forms of automation, there have been some concerns about the potential loss of jobs. But with the number of homes Ontario is setting out to build, Arthur doesn't see that being a realistic issue.
"We've certainly heard [that concern] voiced a few times but Ontario alone is facing a 100,000 skilled labor shortfall between now and 2030, and when you have that much demand for labor, I don't think we're really going to have an impact on whether or not there's skilled trades jobs available to people at all," Arthur said. "We've spoken with developers who trimmed back the number of homes that they're building. They know that there's demand for more, but they actually scaled back their builds because they knew they couldn't find the labor to execute the builds."
Right now, there are no certifications or licenses in place to become a 3D printer operator, but nidus3D is working with trades colleges to develop a certificate program for exactly that.