---
The purchase of a property marks an exciting time for first-time buyers but often, the reward doesn't come without some strife.
Securing a first home -- especially when you're shopping the market of a major urban centre -- can indeed be a process that's ripe with barriers.
Whether the blocks are financial, locational, or physical (... or all of the above), first-time buyers are sure to face challenges as they embark upon their journey. But some of the stresses that are considered "just a part of the process," can be alleviated -- with the right team behind the project you're hoping to call home.
A solid place to start forming that team is with a developer who's intentional about making life easier for residents at every turn. This is where The Daniels Corporation -- in partnership with DiamondCorp and Kilmer Group -- comes into play.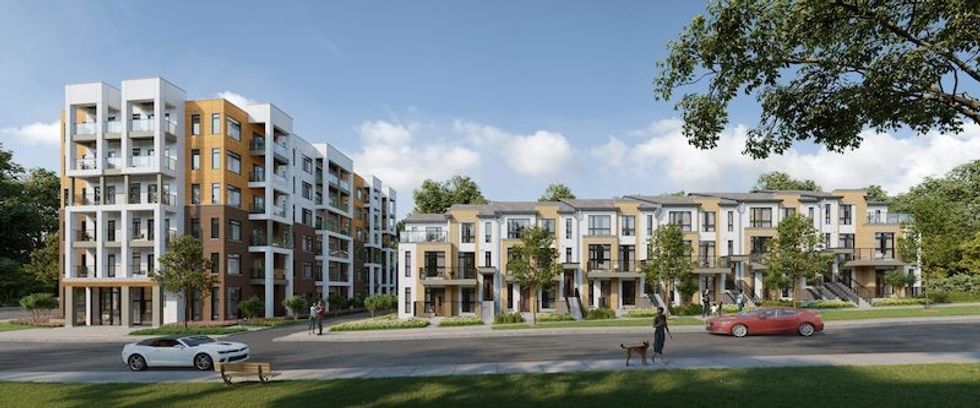 Keelesdale Rendering
For over 36 years, Daniels has been driven by a passion for creating vibrant and inclusive communities, which includes consideration of social, cultural, and economic infrastructures, alongside the more widely-understood processes of putting shovels in the ground. The corporation has crafted more than 35,000 award-winning homes, apartments, master-planned mixed-use communities, and commercial and retail spaces. 
DiamondCorp, meanwhile, boasts a reputation for exceptional planning and development; the corporation has a knack for achieving municipal approvals for complex sites that lend themselves to outstanding communities. And underpinning the project is Kilmer Group's heritage of excellence in operations, growth-oriented stewardship, and trusting relationships.
Now, together, these teams are directing their efforts towards barrier reduction for first-time buyers through the much-anticipated Daniels FirstHome™ Keelesdale. 
Described as "a new kind of urban village," Keelesdale is rising just 6-minutes from the forthcoming Eglinton LRT, boasting ideal access -- and removing roadblocks -- where traversing across the city is concerned.
While the development itself is tucked into the peaceful pocket of Strathnairn Avenue, Ingram Drive, and Keele Street, a short zip across the LRT to Eglinton West station will have the entire downtown core at your fingertips (or, more appropriately, under your feet) in no time.
Another would-be obstruction Daniels, DiamondCorp, and Kilmer are aiding first-time buyers in their efforts to tackle is financing: Suites at Keelesdale begin in the high-400's, with choices of condo units ranging in size from 850- to over 1,000 sq. ft., or modern townhomes extending from 1- to 3-bedrooms.
What's more, in addition to offering a range of units at a price that could certainly be called competitive (especially in Toronto), Daniels and RBC are working together to offer buyers a locked-in mortgage rate that won't budge until closing has come to pass.
A gradual deposit payment plan is also available, enabling buyers the opportunity to slowly (but surely) stake their claim on their new abode. More than just an alternative means of financing, the gradual deposit program empowers buyers by allowing them to secure their first home, in confidence, without sacrificing other priorities in their lives. Instead of seeing a lump sum leave their bank account at once, buyers can enjoy making smaller payments while they continue socializing with friends, visiting the farmer's market, and staying on top of other bill payments.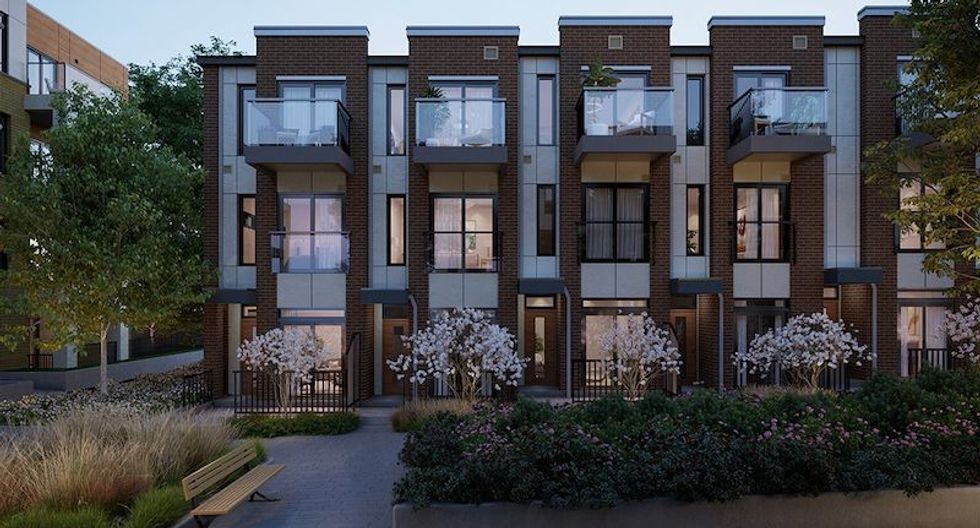 Keelesdale Rendering
And finally, Daniels' Keelesdale project will continue to uphold one of the corporation's most integral commitments: Inclusivity. This area of focus prioritizes the removal of physical obstacles from residential spaces, putting a tangible meaning to the term "barrier-free."
In alignment with -- and in many cases, surpassing -- standards set by the Ontario Building Code (OBC), Keelesdale will offer a higher standard of accessibility, and therefore living, for people with varying mobility needs.
At no additional cost to buyers, accessible suite layouts will be available for future residents to choose from. These designs include features such as roll-in showers and roll-out balconies, which will be served alongside OBC-set standards like a consciously-designed barrier-free path of travel from the suite entrance into (no less than) one bedroom, one bathroom, a kitchen, and a living room.
No fewer than 15% of the project's total suite count will offer barrier-free access throughout, and homebuyers can consult with the Keelesdale sales team to further modify their suites, so they can be sure their specific accessibility needs are met.
Meanwhile, the development itself -- surrounded by both active and passive outdoor spaces -- promises ample opportunity for fun in the sun, regardless of whether you're jogging the trails or relaxing under the rays with a read in hand.
Indeed, while the downtown core is accessible via the LRT, Keelesdale and its surrounding neighbourhood will meet all your needs in and of themselves. Spanning 12-acres, the master-planned community rests in a stunning ravine setting, and is complete with a themed public park, walking trails, and an elaborate children's playground.
Grocery stores, banks, shops, restaurants, libraries, and schools are all just a short jaunt in any direction from the development's doorstep, emphasizing access once again.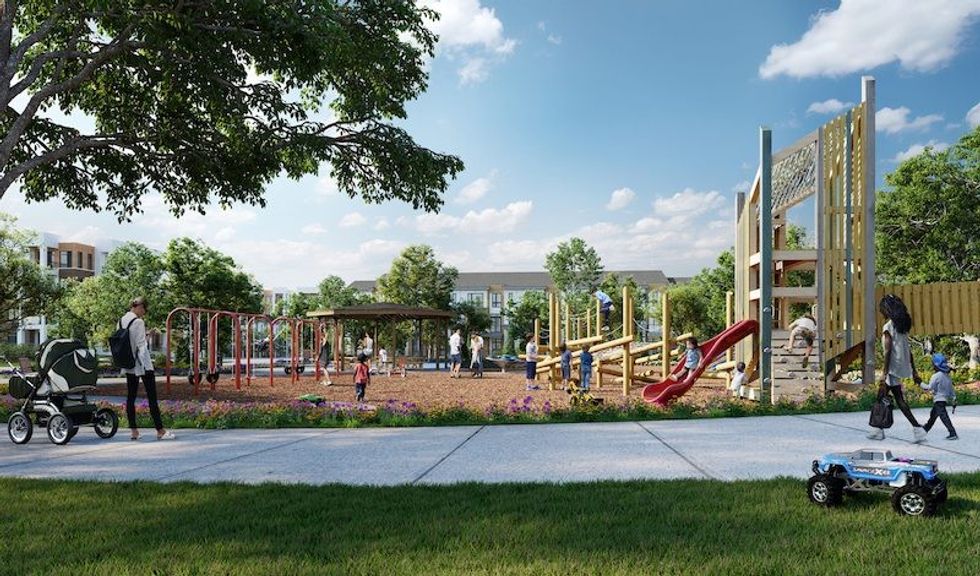 Keelesdale Rendering
Breaking into Toronto's housing market is a challenge in the best of times. It's unsurprising that first-time buyers are likely to come up against many barriers as they work to secure their first home.
But these barriers don't need to be insurmountable.
Looking to Keelesdale -- and the innovative and intentional corporation behind it -- proves that such obstacles can be overcome.
And when challenges are met at the developer's level with empathy, integrity, and a "people-first" philosophy, not only do individuals benefit, but communities thrive.
If Daniels FirstHome™ Keelesdale sounds like a place where you'd thrive, you're in luck: Registration for Phase ll of the project is open. Click here to learn more.
---
This article was produced in partnership with STOREYS Custom Studio.
Future Developments