---
Demand in Canada's rental market continues to heat up, pushing average rents up even higher across the country.
Last month, the average rent for all property types -- including single-family housing, townhouses, rental apartments, condominium apartments, and basement apartments -- in Canada was $1,800 per month, up 1.6% annually, $31 (1.8%) over September, and $125 (7%) from the April low of $1,675.
However, the current asking rents for all property types is still $154 lower than the $1,954 monthly average in September 2019, according to Rentals.ca's and Bullpen Research & Consulting's latest National Rent Report.
"The rental market continues to see increased demand and higher rent levels as the country returns to normalcy from the pandemic," said Ben Myers, president of Bullpen Research & Consulting.
READ: What Stigma? Renting in the City Isn't What it Used to Be
Myers said that most of Canada's major cities experienced rent declines of 5% to over 15% at this time last year, but most of those markets are now up 2% to 5% since then, but still well below 2019's market peaks.
"The domestic market could exceed those peaks in 2022 with continued strong growth expected," said Myers.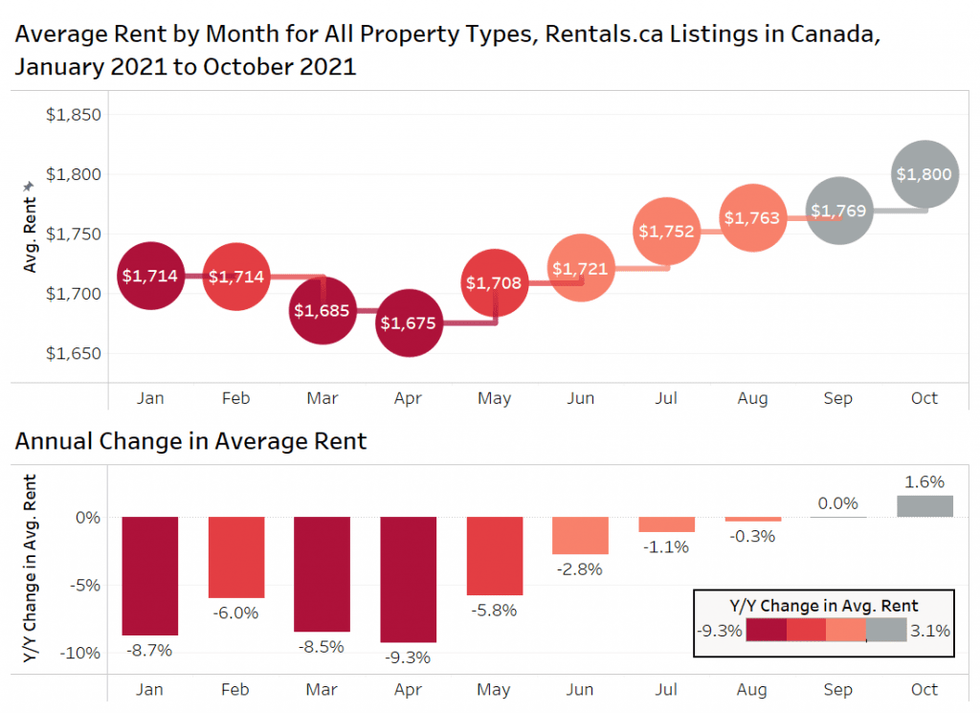 In October, average rents for one- and two-bedroom rentals increased monthly and yearly for a number of Canadian cities after being down the same month a year ago. 
According to the report, once again, Vancouver took the top spot for monthly rents, with one-bedrooms sitting at $2,216, up 2.8% month-over-month and 16.6% annually, while two-beds climbed even higher, up 4.3% from September and 12.7% from the same time last year to $3,057.
Likewise, in Toronto, average rents for a one-bedroom were up 3.5% monthly and 4.3% yearly to $2,006, while two-bedroom units were up 1.9% monthly and 5.2% yearly to $2,678.
The report noted that of all the 35 cities it monitors, Toronto had the biggest decline in average rents in October 2020 at 17%, but Canada's largest city has since bounced back to an increase of 4%.
Of course with average rents increasing, the prices for different units fluctuated as well. In October, a tenant in Toronto paid on average about $260 more in rent to go from a studio to a one-bedroom unit.
At the same time, a tenant looking to upgrade from a one-bedroom to a two-bedroom unit spent about $320 more on average, while a third bedroom cost about $380 more, and a fourth bedroom cost $640 more.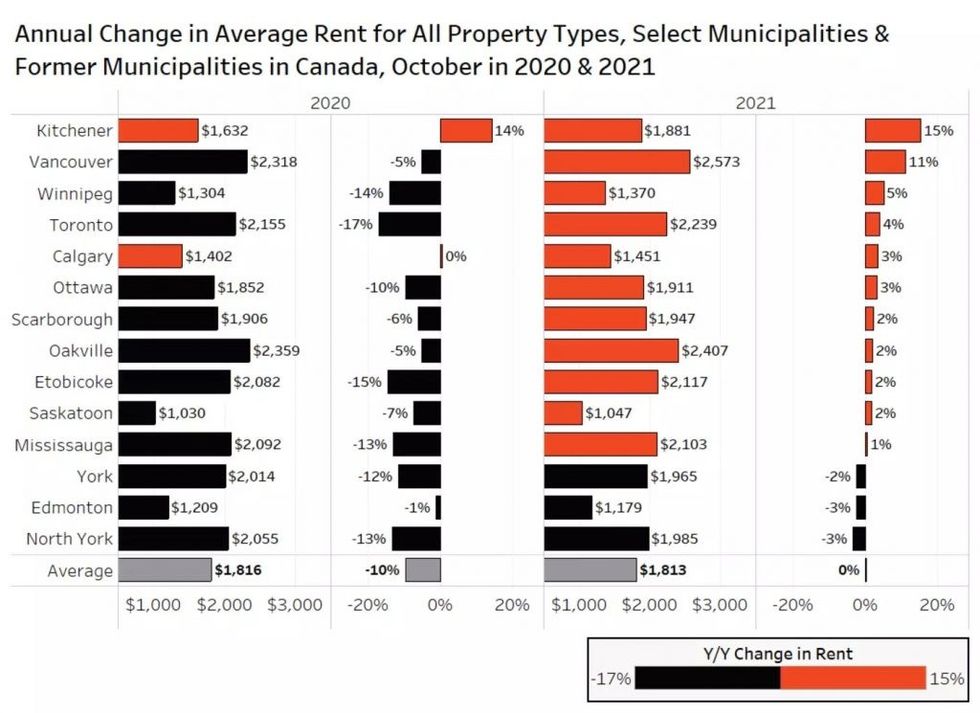 Sadly, those looking for more affordable rental options outside of the city won't find much relief.
Oakville finished third on the list for average monthly rent last month with a one-bedroom reaching $1,984 and a two-bedroom averaging at $2,346. Burlington followed behind, with average monthly rent for a one-bedroom hitting $1,888 and $2,244 for a two-bedroom.
As average rents continue to gradually increase, it's clear that Canada's rental market is well on its way to recovering from the tumultuous year of 2020.
While increasing rents is surely good for landlords, it's definitely not good for tenants or those hoping to start renting and already experiencing inflation.
Renting