Canadian rent growth slowed slightly last month, but rental market experts are attributing at least some of that moderation to "seasonal factors."
According to new data from Rentals.ca and Urbanation, average asking rent in Canada hit $2,178 in October, marking a record high for the sixth straight month. However, that figure is up just 1.4% from the month prior. That same month-over-month metric came in at 1.5% in September and 1.8% in August.
---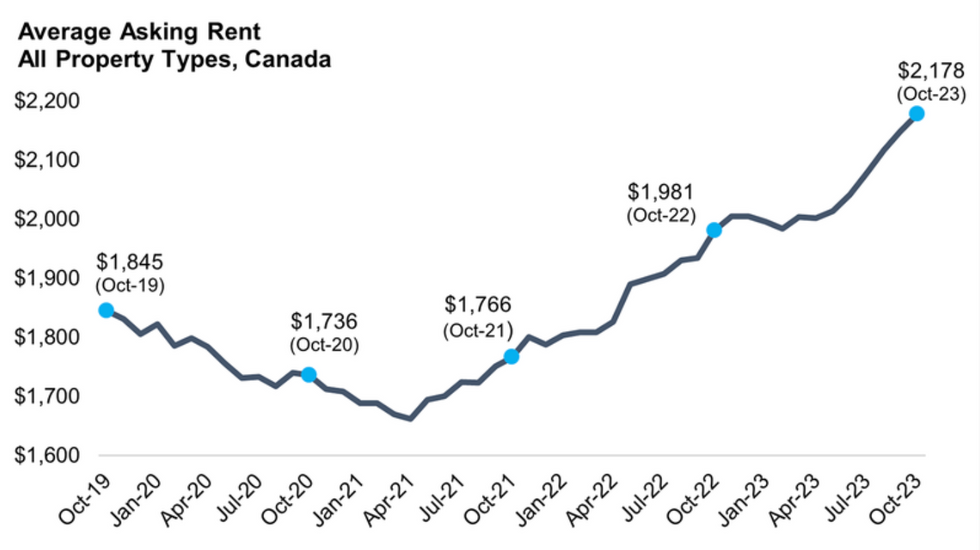 Urbanation Inc, Rentals.ca Network
Compared to October 2022, the national average was up 9.9% — but again, the annual pace of growth has slowed slightly from 11% in September. Even so, says the report, last month's year-over-year rise represents the "second fastest annual increase of the past seven months."
Even more notably, the report points out that Canadian tenants are now seeing their rents rise, on average, by 8.8% or $175 each month. That average is based on data from the past six months.
Although rent growth is being observed across all dwelling types, smaller units saw the largest year-over-year leaps last month, with rents for one-bedroom and studio apartments up 14.1% and 12%, respectively.
Roommate Listings Jump More Than 40%
Compared to October 2022, listings for roommate accommodations across Ontario, BC, Alberta, and Quebec have grown 42%, Monday's report also shows. As well, average asking rent for those same shared accommodations has risen 19% year-over-year to $964 per month.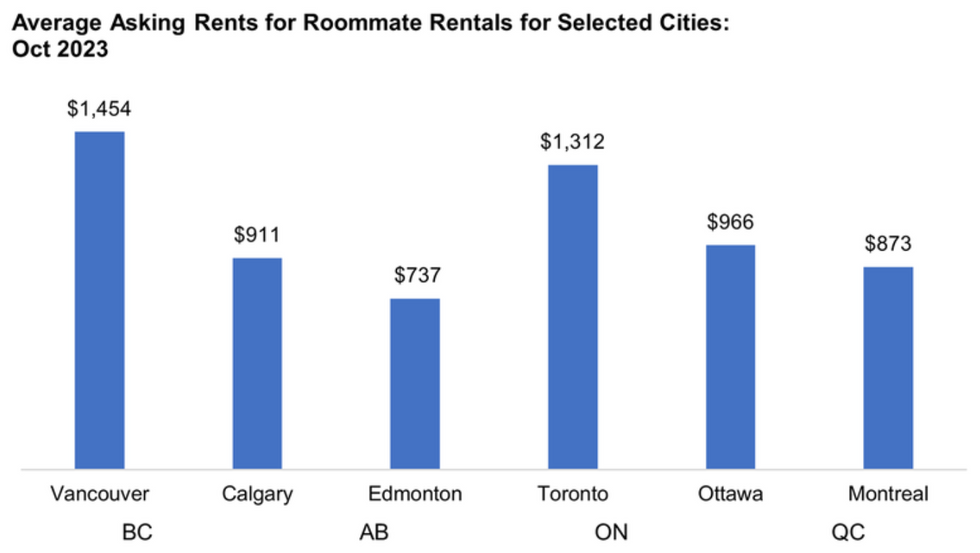 Urbanation Inc, Rentals.ca Network
Despite that rise, "roommate rents" in major Canadian cities saw little change between September and October.
In Toronto, roommate rents clocked in at $1,312 last month, up slightly from $1,308 in September. In Vancouver, they came down to $1454 from $1,590 in September. In Calgary, Edmonton, Ottawa, and Montreal, roommate rents saw not more than a $14 change on a month-over-month basis between September and October.
Rents Lose Steam In Toronto, Vancouver
Shaun Hildebrand, Urbanation President, notes that while rent inflation continues to "run hot" at a national level, Toronto and Vancouver's rental markets are in the midst of a "significant" slowdown.
In Toronto, for instance, average asking rent dipped downward last month for the first time since August 2021. This marks the continuation of a trend first observed in September when the annual rate of rent growth slowed to a two-year low. Month over month, Toronto rents grew by just 0.2%.
Meanwhile, in Vancouver, annual rent growth slowed to 4.4% in October (down from 7.7% observed in September). As well, rents in the coastal city slid 3.7% on a month-over-month basis.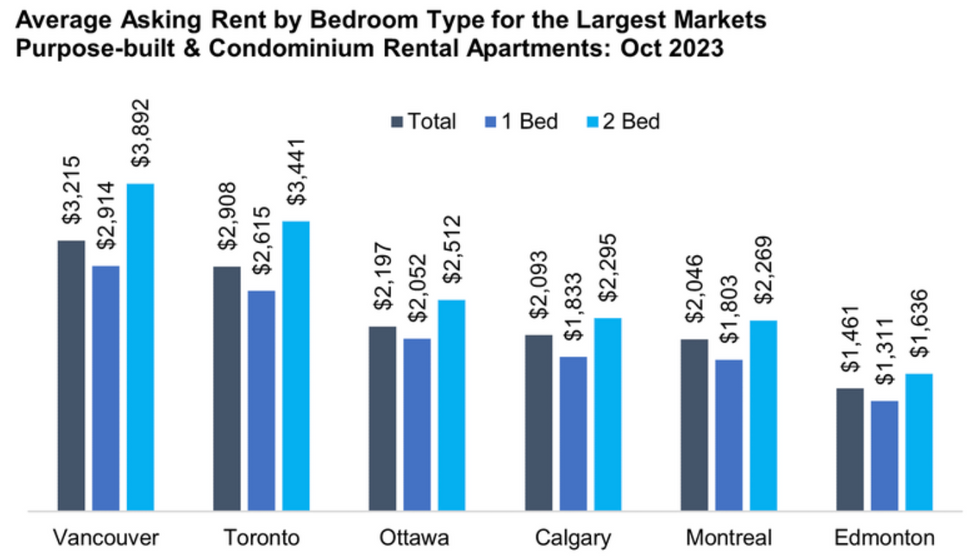 Urbanation Inc, Rentals.ca Network
Giacomo Ladas, Communications Manager with Rentals.ca, told STOREYS last month that a "period of cool-down" is not unexpected this time of year "as fewer listings are available and fewer people are looking to move."

But beyond seasonal nuances, Hildebrand says that ongoing affordability struggles are prompting renters to "shift" away from Toronto and Vancouver in favour of less expensive rental markets. As such, rent growth in a number of small- and mid-sized Canadian markets well outpaced what was observed in Toronto and Vancouver in October.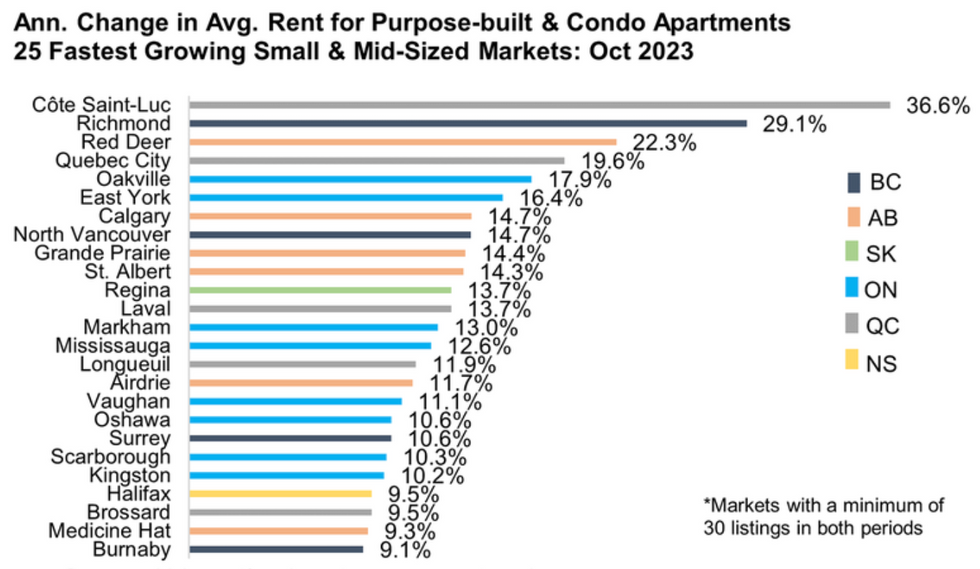 Urbanation Inc, Rentals.ca Network
Renting