---
Anyone with a current stake in the housing market has one question on their mind: is the floor in for real estate prices? The national average home price has plummeted since late winter -- thanks to the Bank of Canada's rate hiking cycle -- dropping 21% (a dollar value of $172,076) from February.
Whether that's cause for celebration or concern depends on who you ask -- lower prices are likely a relief for first-time buyers, while existing property owners are seeing their equity dwindle.
It's exactly this dichotomy that BC-based think tank Generation Squeeze has explored in their most recent analysis. Titled "Celebrating Stalling Prices for Canadian Homes", the report posits whether the Canadian housing market is "at a turning point" -- and how much further it has to go to be deemed truly affordable.
READ: More Rate Pain Promised in Last Bank of Canada Hike of the Year
The study examines the gap between local earnings and how average home prices have grown through 1976 to 2021 (based on the most recent data available from the Canadian Real Estate Association), for each province, and major cities.
"These data shed light on how much home prices have become disconnected from what typical Canadians can earn from their hard work," reads the report. "They also illustrate the astonishing amount of wealth that rising prices have generated for many homeowners, especially those who bought into the housing market decades ago."
The authors also point out that despite the deep price plunges recorded over the past year, national home values have only retreated to 2021 levels; "arguably a minor shift when viewed against the backdrop of decades of escalation."
In fact, according to the findings, average home prices need to fall $341,000 -- half of the 2021 value -- to make it affordable for a "typical young person" to qualify and carry a mortgage for an 80% loan-to-value on an average priced home, based on current interest rates. Alternatively, full-time earnings would need to rise to $108,000 per year -- more than double current levels -- for earning power to support today's home prices.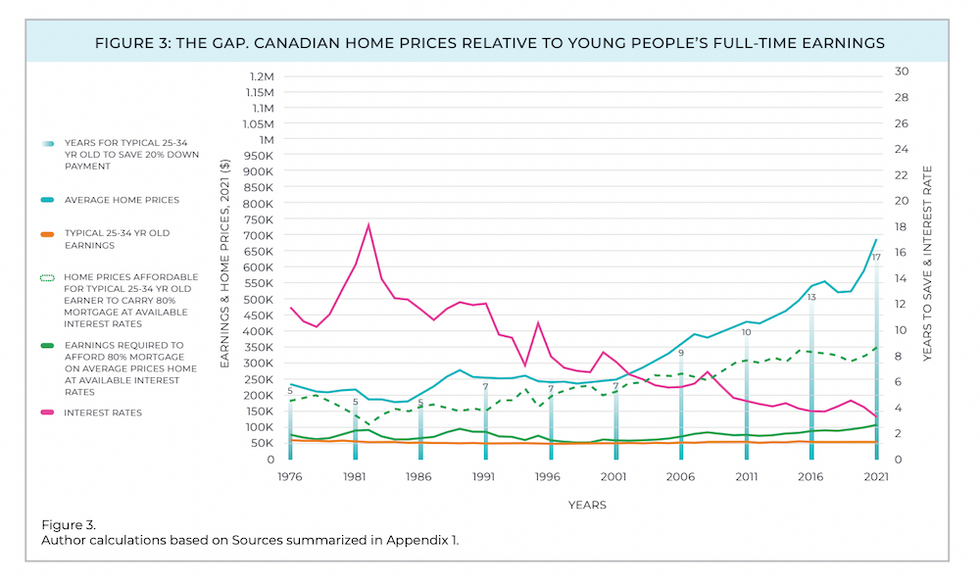 Generation Squeezed
"After analyzing these data, Generation Squeeze concludes that our primary goal for home prices should be that they stall for many years ahead -- or even continue to fall moderately," reads the report.
Under current conditions, it would take a young person 17 years of full time work to save the 20% down payment needed to purchase the average priced home -- 12 years longer than it took "today's aging population."
The report also points to the soaring cost of rents, as the average two-bedroom unit reached $14,004 annually in Canada. Compared to an average of $10,161 back in 1981, that puts today's renters in a more financially precarious position, and less likely to have the ability to save the funds needed for a down payment. Renters are also more likely than owners to live in housing that's unaffordable to them, at 33% compared to 21%. Among renters earning below median housing income, 56% live in housing that is unaffordable to them (based on CMHC's definition of affordability of spending 30% or less of income on housing). 
"This means that more people will be competing for our limited stock of market rental housing, especially if we do not build enough new affordable rental units," reads the report. 
"It's likely that increased competition in the rental market will worsen disparities in housing affordability, with particularly harmful impacts for racialized or otherwise marginalized Canadians."
Real Estate News