The average Canadian home price inched higher and sales increased to another new all-time monthly record in August, boosted by low mortgage rates and the number of newly listed properties in light of the COVID-19 pandemic.
The Canadian Real Estate Association (CREA), which represents more than 130,000 Realtors across the country, released its latest national housing report Tuesday, which revealed that average home prices jumped nearly 20% year-over-year and the number of homes sold across the country shattered the monthly record.
---
According to CREA, 58,645 homes were sold in August, up 33% more than the number that changed hands in the same month last year. It's also 6% more than the number of homes sold in July, which was also a record month.
What's more, so far this year, some 341,463 homes have traded hands over Canadian MLS Systems, up 0.8% from the first eight months of 2019.
READ: Canadians Deferred $1B Worth of Mortgages Per Month During Pandemic: CMHC
The number of newly listed homes posted a further 10.6% gain in August compared to July, with new supply up in close to three-quarters of local markets, led by gains in the Lower Mainland, GTA, and Ottawa.
CREA also reported that the average price of a Canadian home that sold last month was $586,000, which is up 18.5% from the same month last year. However, CREA reminds Canadians that the average price can be misleading because big sales in expensive markets like Toronto and Vancouver can skew the number. Excluding these two markets from calculations cuts around $122,000 from the national average price.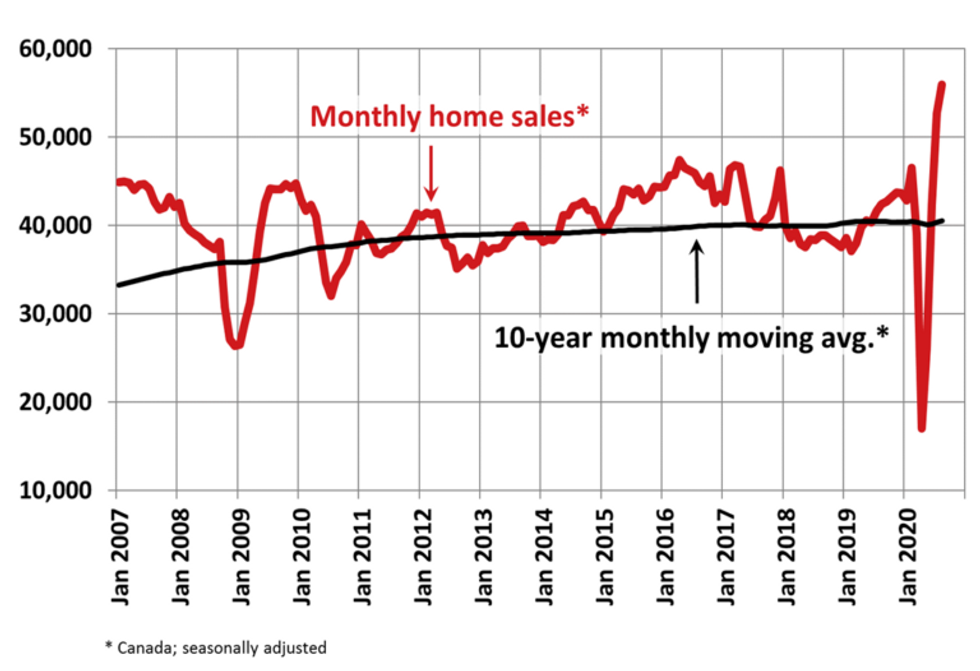 CREA National Home Sales August 2020
"It has been a record-setting summer in many housing markets across Canada as REALTORS® and their clients play catch up following the loss of so much of the 2020 spring market," stated Costa Poulopoulos, Chair of CREA.
"Many markets dealing with inventory shortages have been seeing fierce competition among buyers this summer; although, that was something that had been anticipated for 2020 prior to COVID-19."
Poulopoulos says as conditions evolve into fall, CREA will continue to make sure clients stay safe by "complying with government and health officials' directives and advice, including using technology to show properties virtually and to complete required forms and contracts."
Real Estate News