In the first three months of 2020, before all of the economic grievances brought on by the COVID-19 pandemic unfolded, a surge in residential property sales and higher sales prices at the end of 2019 resulted in an increase in Canadian mortgage originations. However, in the months to follow, the acceleration of the total outstanding mortgage debt continued to grow into April and May, despite the pandemic-induced shutdown.
In a report released Thursday, the Canada Mortgage And Housing Corporation (CMHC), says this is partly due to the trend in sales finalized before the shutdown for which closing dates were set into the spring months and mortgages were extended in the second quarter.
---
In response to the pandemic, many Canadian financial institutions offered relief to mortgage borrowers dealing with setbacks brought on by COVID-19, including deferring their monthly mortgage payments. As a result, CMHC says about $1 billion worth of mortgage payments were deferred each month during the pandemic. According to CMHC, most of those deferral programs were for six months at most, meaning those who applied early will need to start making up those payments soon.
READ: More Than $180 Billion in Mortgage Deferrals Made in Canada So Far Amid COVID: Report
The numbers, released in CMHC's annual residential mortgage industry report, is based on Equifax Canada's estimate that the average monthly mortgage payment in Canada is $1,333.
According to the Canadian Bankers Association, more than 760,000 Canadians either deferred their mortgage or skipped a payment.
"Given that many financial institutions have offered payment accommodations to their mortgage clients for up to six months, there continues to be a risk that a significant increase in mortgage delinquency will be observed in the third or fourth quarter of this year as these deferral agreements come to an end," the CMHC said.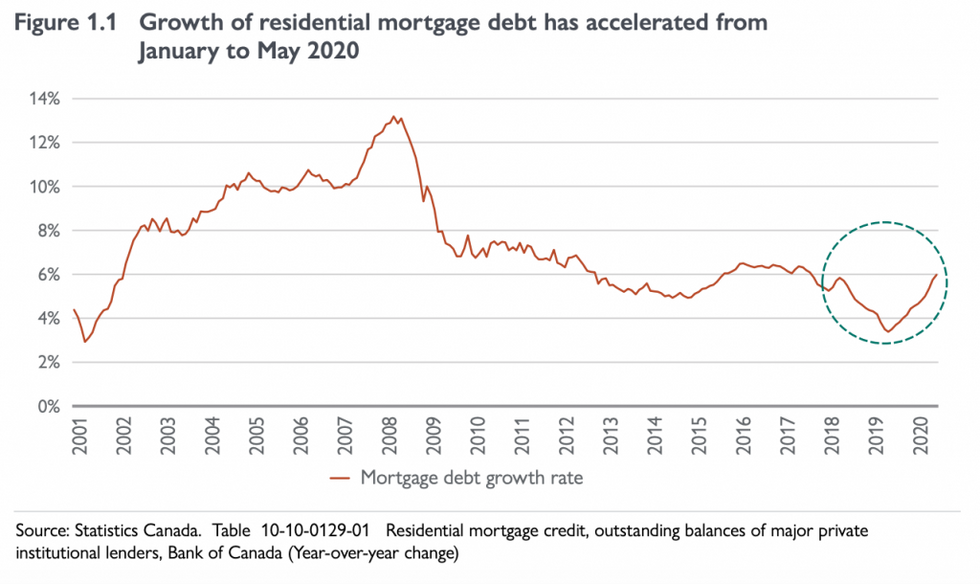 CMHC
According to CMHC's report, depending on how the lender accommodated them during the COVID-19 pandemic, about 20% of consumers said they were mulling moving their mortgages to a different lender. CMHC also said that after interest rates were cut this year, variable-rate mortgages gained popularity in April and May of this year.
Because of these deferred mortgage payments, plus the related additional fees and interest, CMHC says it saw overall Canadian mortgage debt rise. However, despite growing mortgage debt, a good portion of mortgage holders continued to make their mortgage payments on time and Equifax Canada data shows the shares of mortgage loans for which payments were delinquent for 90 days or more was still low.
Mortgages