While we love Toronto and the GTA, sky-high prices have left many looking outside of the centre of the universe to find a new home. Thankfully, there's more affordability in the province's real estate market than Toronto-area prices show.
If purchasing a shed near Trinity Bellwoods for $1.8 million doesn't appeal to you, trust that first: you're not alone, and second: you have options. While the city's rental market is making a case for tenants, average home prices are expected to continue to rise; for many homebuyers, lands beyond the GTA beckon.
---
According to a new report from RE/MAX, there are six notable regions across Ontario currently offering friendlier average home prices than what you'll see in and around Toronto.
READ: Muskoka Waterfront Property Sales Set All-Time Record in July
En masse, the province's real estate market is bouncing back from COVID-19-related dips, but the chance to snag a spot that's kind to your wallet hasn't yet passed. You just need to know where to look.
Six That Aren't The 6ix
Below are six of Ontario's most affordable real estate markets right now, according to RE/MAX. Home prices are set based on CREA's June 2020 year-to-date average price.
6. Barrie
Average Home Price: $570,612
Annual Income Required for Purchase: $73,654
5. Peterborough
Average Home Price:$505,998
Annual Income Required for Purchase: $69,072
4. Niagara
Average Home Price: $493,007
Annual Income Required for Purchase: $66,317
3. Windsor
Average Home Price: $383,521
Annual Income Required for Purchase: $52,192
2. Sudbury
Average Home Price: $297,938
Annual Income Required for Purchase: $33,749
1. North Bay
Average Home Price: $286,114
Annual Income Required for Purchase:: $39,893
Diving Deeper

Peterborough, Ont
According to the 2020 RE/MAX Housing Affordability Report, 75% of Canada's largest cities are undervalued. With that in mind, RE/MAX's report says first-time buyers, families, and newcomers can find a region that's affordable for them -- all that's needed is "a little bit of due diligence."
The range of what you'll pay and where you'll pay for it varies. For example, if you're hoping to stay close-ish to the city, you might seek something on the higher end of the affordability spectrum, in a place like Barrie, Peterborough, or Niagara.
Century 21's Cole Murray, based in Peterborough, says that where that region is concerned, he sees potential for a continued growth trajectory over the next couple years. The pandemic was a driver in increased interest in Peterborough property, but overflow from the Toronto-Durham region is a consistent reality, he said.
"Once we find that the Toronto listing markets go down and get very competitive, their agents start to fan out and come to our area. They're the ones in multiple offers that give X amount of dollars over a local buyer."
According to Murray, the competitiveness of the markets in Toronto and Durham take time -- a couple months, generally -- to reach Peterborough. But it does arrive, as the agents are fanning out, bringing more buyers north and east. And so, as the real estate market in the GTA continues to bounce back and prices are projected to keep rising, Murray expects to see phone calls regarding purchases in Peterborough's future. Particularly if people continue to be able to work from home.
"The houses are a little bigger, the yards are probably a little bigger. On water-frontage, one of the first questions asked is: 'What's the internet speed?'"
The promise of growth, and potentially higher prices, lingers in a place like Peterborough: more affordable than Toronto, relatively remote, but still close enough to the city that day trips are in the stars. But if you're looking for a significant change in price, you're going to need to accept a significant change in location.
"Windsor is one of Ontario's best-kept secrets," RE/MAX says, and it's far enough away from the city's impact that a large property can be purchased for the price of a two-bedroom apartment in Toronto. Reportedly popular among young couples, the housing market wasn't severely impacted by the pandemic. With the income required to handle a buy sitting at just over $52k, the city is undoubtedly accessible for those beginning their careers, and the benefit of crossing the border with ease lingers in the (COVID-free) distance.
And finally, for those craving a truly rural environment and a much more affordable selection of housing options, North Bay awaits. Greater infrastructure investment, improved land development, and lower taxation combine to make more northern regions of the province increasingly alluring in recent times. This, combined with deeply affordable home prices -- $286,114, on average -- means real estate sales are expected to keep climbing through the rest of 2020.  If you take the leap now, you could be calling a place your own in time to plant a spring vegetable garden.
Making the Move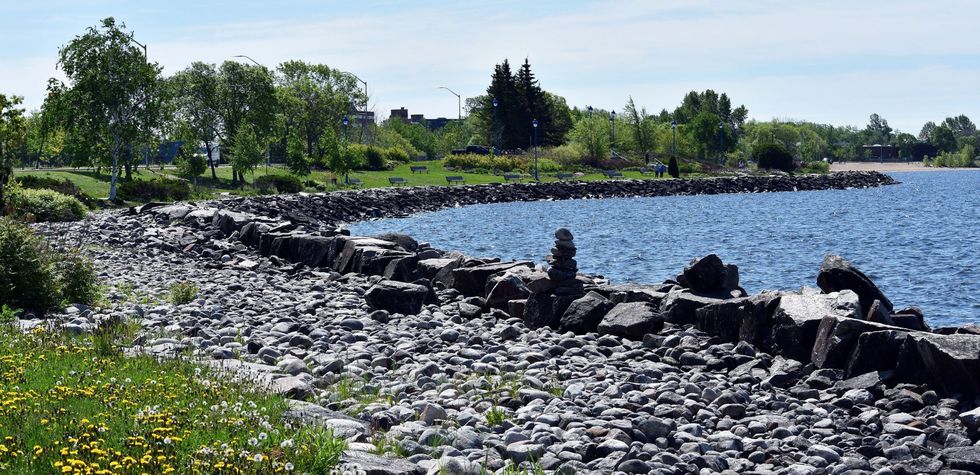 North Bay, Ontario
The pandemic has had varied impacts on city-dwellers. While some have been reassured in their love for urban living through easy access to food and beverage delivery services, strong senses of community connection, and the shining light of normalcy's return glowing in the distance, others have realized during lockdown that Toronto's not their dream.
If you fall into the latter camp, don't wait to embrace your truth. The city's average home prices are expected to keep climbing, and just outside Toronto proper, Durham is looking ahead to even higher projected jumps. It's possible the ripple effect of the GTA's growing prices will reach the above more accessibly-priced regions, but for now, there's still time. The province is vast, living options varied, and, to those fed up with condo prices, adventure calls. Ontario is "yours to discover," after all.
Affordable Housing