Real Estate News
September Sales for Every 905 Home Type Up Significantly Over 416
While September was a busy month for real estate activity in the Toronto-area, the "905" strongly outpaced the "416" on every count as buyers continued looking for affordable ground-related housing once again, according to a new report from researchers at the Centre for Urban Research and Land Development at Ryerson University. (CUR).
The 
report
, which was released Friday and analyzed
recent data from TRREB
, shows that sales activity in the GTA reached record levels again in September, urging the report's authors to suggest the market has moved past relying on just the pent-up demand that accumulated over the March to May period for its success. Overall, year-to-date sales were up 7.4% in September.
The market also moved back into a seller's market and, in turn, the MLS average sales price was up 14% year-over-year in the GTA. The price of all types of housing rose at this rate, with the exception of condos.
CUR researchers, Diana Petramala and Victoria Colantonio said that low mortgage rates, in combination with millennial demand, drove demand for ground-related housing in September. And, as homebuyers search for more affordable ground-related housing, they are looking beyond the 416 boundaries and moving into the 905-area.
What's more, the condo market has lost favour among homebuyers. "While prices are still rising in the condo market, they could change direction if listings continue to rise as they have been in the last seven months," wrote Petramala and Victoria.
READ: September Another Hot Month for Home Sales in '905' Region
But most importantly, the CUR researchers said that while activity was strong in Toronto, the 905 area easily outpaced the 416 area on every count.
Existing home sales for condos, detached homes, and townhomes were up more than twice as much in the 905, relative to the 416 area in September. Existing home sales were up 10% year-over-year in the City of Toronto and more than three times that much in regions in the 905 area.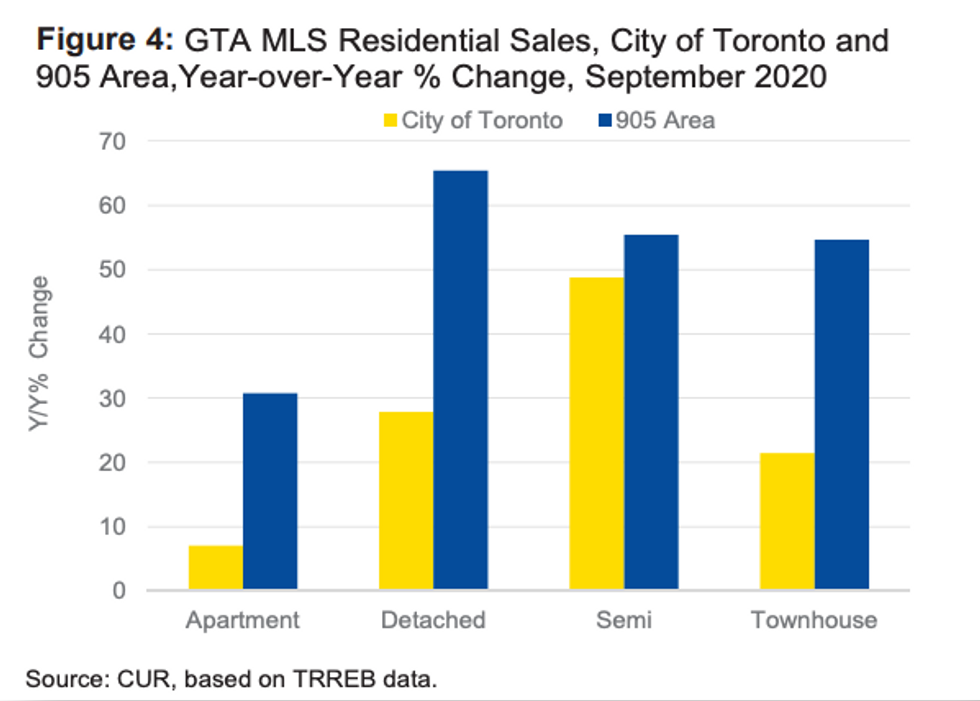 What's more, the MLS average sales price also grew significantly faster in the 905 area for all types of housing, with the difference significantly notable for detached and semi-detached homes.
The only area that the 416 did manage to outperform the 905-area was in the number of new listings, which rose faster in the 416 area than the 905. According to the report, the number of homes listed for sale rose more sharply in the city of Toronto — up 50% year-over-year — while the 905 area only saw listings jump 21% year-over-year.
Petramala and Colantonio noted that this was mostly due to the continued sharp increase in the number of condos listed on the 416 market, as active listings for condos in the Toronto-area reached a record level. Currently, there are enough listings on the 416 condo market to "mop up" 3.5 months of sales activity.