Toronto
Real Estate News
69-Storey Tower Proposed to Replace Trio of Front Street Office Buildings
A trio of office buildings on Front Street West could be demolished to make way for a 69-storey, mixed-use tower.
320 Front Portfolio Inc. recently submitted an Official Plan Amendment & Rezoning Application to City planners to redevelop the southeast corner of the block known as 310-330 Front Street West with the 69-storey, mixed-use building, consisting of a 10-storey base with a 59-storey tower above.
The site currently contains a three-level underground parking garage serving the three existing buildings located on the site. Though, the current parking garage is proposed to be maintained, and new vehicular and loading access would be found at the north end of the proposed building with access from Windsor Street and via a proposed public lane.
Located in Toronto's downtown business district, this 3-building interconnected complex was constructed in 1989 and is one of H&R Reit's legacy projects. Major tenants of the buildings include Toronto Dominion Bank, Royal Bank of Canada, and Penguin Random House Canada Ltd.
If approved, the proposed tower would replace the existing 8, 12, and 16-storey buildings connected with an enclosed atrium. The new tower would have a non-residential gross floor area of approximately 119,673-sq.ft and a residential gross floor area of roughly 463,375-sq.ft with a total of 560 residential dwelling units.
The proposed building would house retail uses at grade fronting onto Front Street West with office uses above in the base, along with a residential tower on top, with a total height of 226.3 metres (235.5 metres to the top of the mechanical penthouse).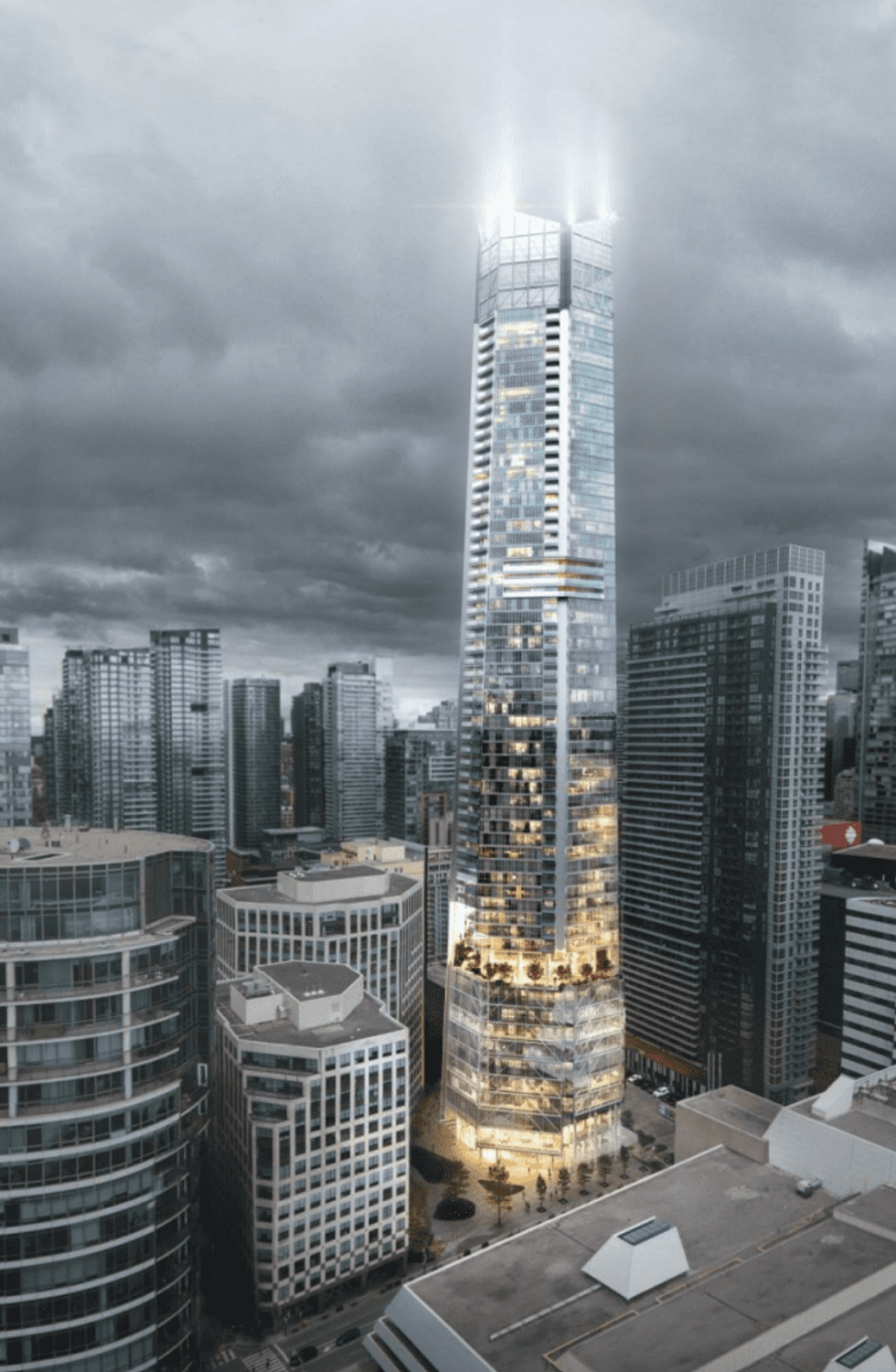 In place of the existing enclosed atrium, the developer plans to build a publicly accessible landscaped plaza that would feature a series of planters with large shade canopies.
The landscaped plaza area would serve as a focal point, a forecourt for the development, and a potential location for public art or a design feature providing weather protection.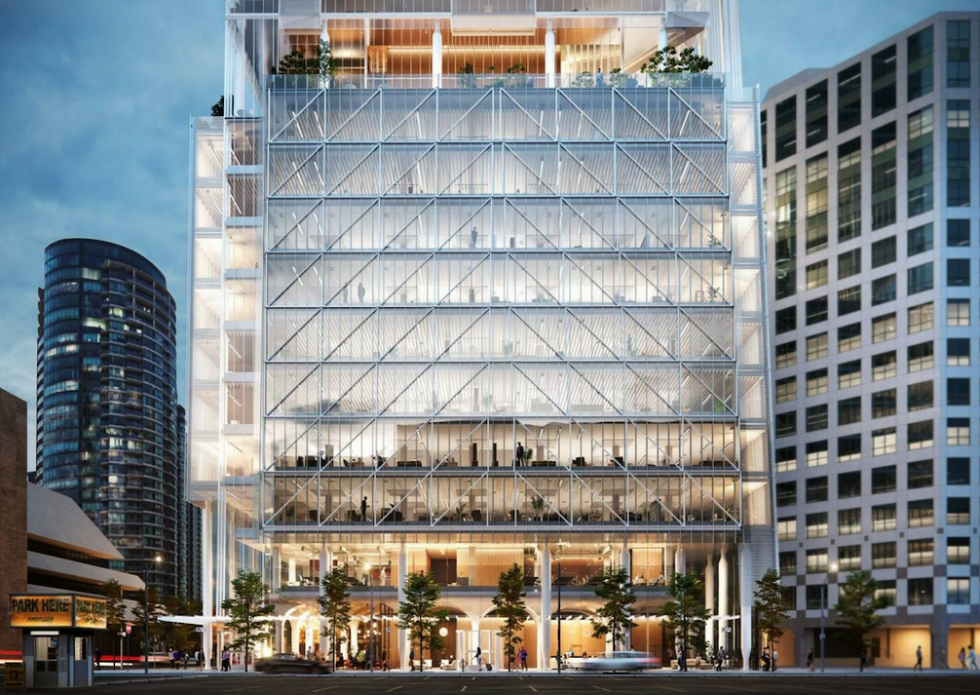 The ground floor of the base building would include active uses at grade, including approximately 2,303-sq.ft of retail space along Front Street, a 2,142-sq.ft office lobby, and a 3,153-sq.ft residential lobby entrance along Windsor Street.
On the 11th floor, there would be approximately 6,146-sq.ft of indoor amenity space, shared between the office and residential tenants, including access to an outdoor terrace. An additional 6,070-sq.ft of shared amenity space would also be located on the 12th floor.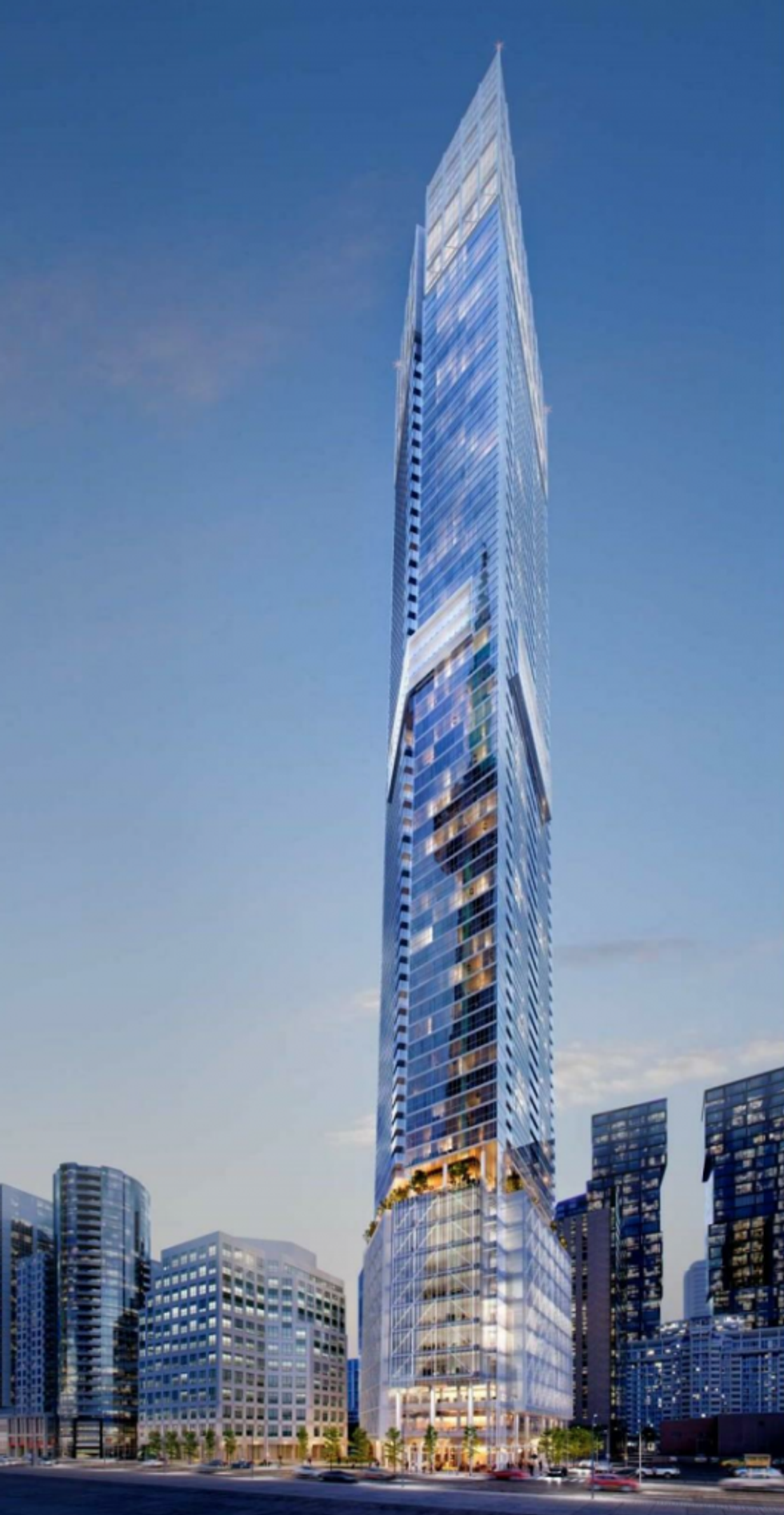 The floors above would house the 560 residential units, including 30 studio units (5%), 272 one-bedroom units (49%), 198 two-bedroom units (35%), and 60 three-bedroom units (11%).
The proposed building would also have room for 459 vehicle parking spaces, including 84 for residents, 373 for commercial uses, and two for car shares.
There would also be 599 bicycle parking spaces, with spaces dedicated to short and long-term residential, commercial, and retail uses.