---
Architectural Collective has filed a rezoning application with the City of Vancouver that would allow it to develop a 12-storey mixed-use building on West Pender Street in Downtown Vancouver.
The proposed site is located at 430 and 440 West Pender Street, about a block away from Vancouver Lookout, and the applicants are applying for the site to be rezoned from DD (Downtown) to CD-1 (Comprehensive Development).
The 12-storey building would house retail space on the ground floor and 80 secured market rental units above, including 60 studio units and 20 two-bedroom units. Studio units are between 300 and 500 sq. ft, while two-bedroom units are between 600 and 800 sq. ft, with eight units on each floor. Floor 12 will then house an artist studio as well as shared amenity space.
The two existing buildings on 430 West Pender and 440 West Pender, currently occupied by retailers, were originally built in 1913 and 1909, respectively. The latter is a registered heritage building called the Tiedemann Block, and the proposal would retain a portion of the Tiedemann Block building and integrate it into the new 12-storey building.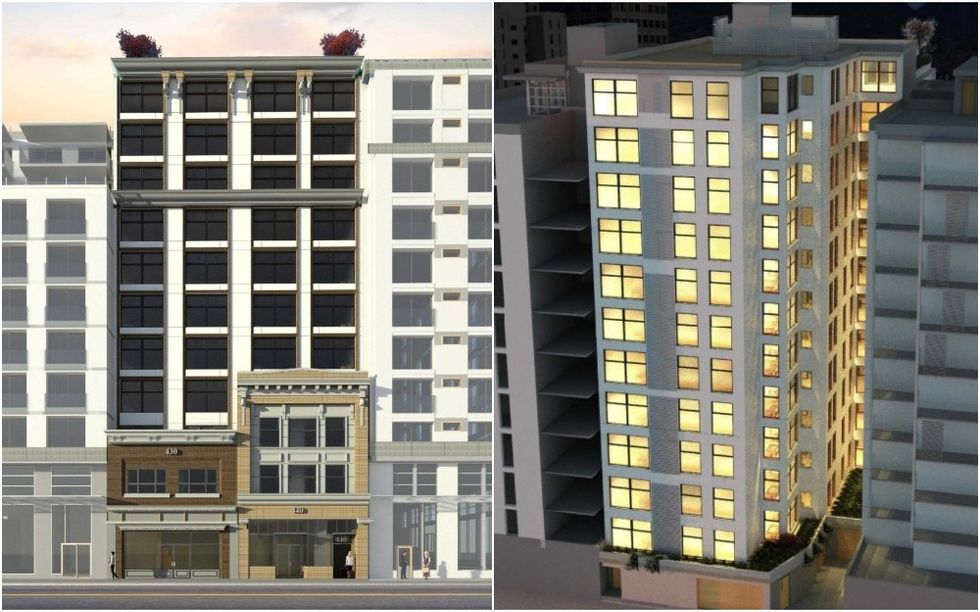 "The conservation of the north elevation Edwardian details of the brackets, pilasters, and upper dentils and lion profile bookend brackets are key to the Heritage B building's preservation and this development proposal," Architecture Collective said in its application.
Architecture Collective said only the façade of the building will be retained. "Due to the age and construction of the existing brick building structure, it will be extremely difficult and impractical to retain the remainder of the building. The heritage value of the exterior details and form with the scale of the windows and architectural details far outweigh the existing building footprint value that is underutilized and ill-planned with interiors that have long since been renovated that hold no heritage value," they added. "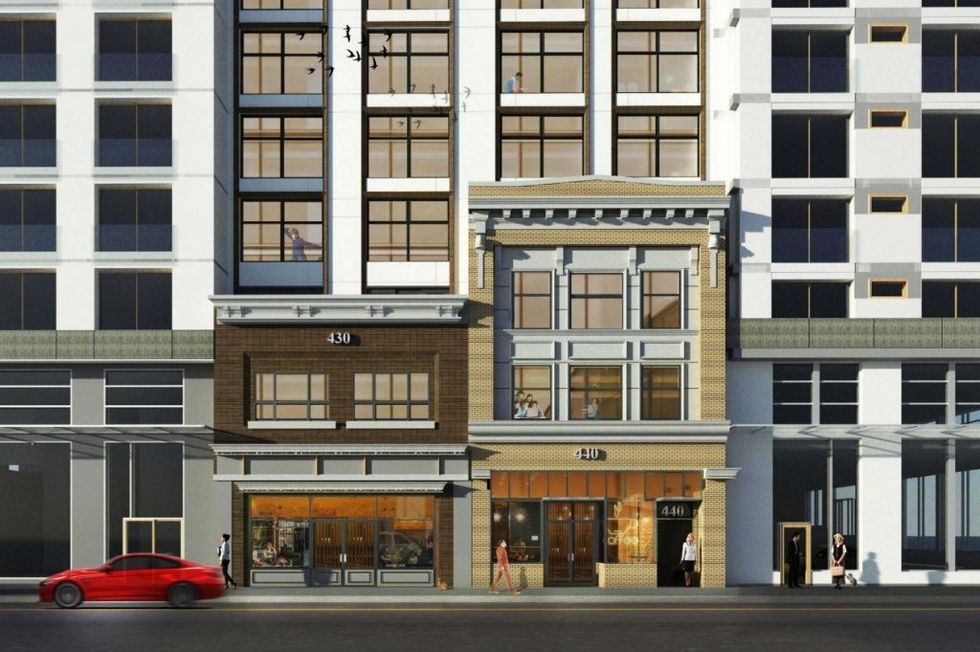 The applicants also note that 430 West Pender has previously been assessed by the City of Vancouver to have potential Heritage C class rating, but Architecture Collective noted that "the existing structural condition does not support a case of retention and the design proposal will include a reconstruction of the two-storey heritage elevation."
Similar to a development proposal filed a few weeks ago for 55 West Hastings Street, this site is subject to the Victory Square Policy Plan adopted in 2005, which mandates that heritage buildings be retained and emphasizes affordable housing. "The social benefits that are addressed in the development proposal include the key items identified in the Victory Square Policy: Heritage building rehabilitation and reconstruction with the juxtaposition of contemporary architecture, ground floor retail, and secured market rental housing including amenity and artist studio spaces," the applicants noted.
The City of Vancouver is hosting a virtual open house on the project from November 21 to December 11.
Future Developments