Toronto
Toronto
10 Pictures That Will Make You Say "Only On The ****ing TTC"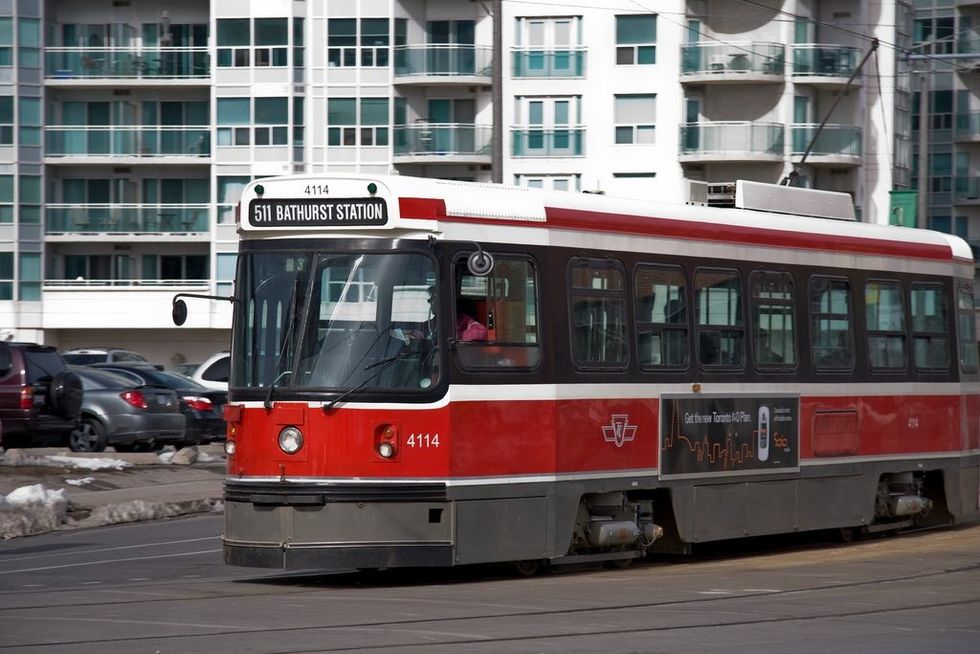 We have seen a lot of ridiculous stuff go down on the TTC. From the weird to the wonderful, Toronto transit is a veritable treasure trove of people watching.
Occasionally though, there are some moments that are just straight up, as the kids say, wack.
These are ten of the most insane moments we've seen on twitter of people doing straight up infuriating things on the TTC.
Try not to scream.
1. The number of cars that do this:
To the driver that thought it was okay to keep going: it wasn't. Also, taking the plates and cleaning the car just means we trace the #VIN. As per the TTC, it will be a number of hours before they are able to safely remove this vehicle from the tunnel. @TPSOperations @CityNews pic.twitter.com/yrJ6q0RWuh

— K.Tauro (@TPSTauro) December 31, 2017
Not only did the driver continue driving down a LITERAL STREETCAR TUNNEL, but he then tried to steal his license plates and run. Both decisions paint a strong picture of the driver.
2. This kid:
Entitled little brat. ?? #TTC
Also Justin Bieber circa 2010 wants his haircut back. pic.twitter.com/xwFTomAPiT

— Waheeda (@aurora_dawning) June 8, 2018
Not just him in particular, but this photo goes out to all the backpack wearers, manspreaders, and specifically people who cough without covering their mouth-ers.
3. What could possibly go wrong?
Some just got their haircut on a #TTC subway #Toronto pic.twitter.com/XHrbMe51UC

— blogTO (@blogTO) July 28, 2018
All it takes is a sharp turn and this guy is going to lose an ear.
4. Sadly, not the worst smell commuters have faced:
Horrible #TTC commute tonight. Peak rush hour with signal delays & alarm delays in a PACKED subway car, this lady busts out a can of tuna. #antisocialbehaviour pic.twitter.com/MMyqrTLynV

— emily sinclair (@emilysinclair) November 22, 2018
The person who blacked out this woman's face probably prevented a manhunt.
5. This accurate ad:
Hey @bradTTC why not wrap #TTC streetcars with PSAs pointing out how far behind @Bombardier's deliveries are? cc. @JohnTory @DenzilMW pic.twitter.com/0cH8ZnbSIX

— Mark Towhey (@towhey) October 12, 2017
How's the LRT expansion coming TTC?
6. When this dude became our mascot:
Toronto raccoon steals #GroundhogDay thunder by hitching ride on #TTC subway train https://t.co/lNlhwRQynk pic.twitter.com/kbnCA61fnd

— Global News Toronto (@globalnewsto) February 2, 2016
Ok so not exactly infuriating. But it's inFURiating.
7. This photo depicting normal train operation
This may be the best picture ever. #TTC pic.twitter.com/zfhLhAULNS

— Dave Fleet (@davefleet) June 8, 2015
There are just no words.
8. People who do this
what is wrong in this photo #toronto #ttc pic.twitter.com/XeM1Ioy1yx

— swaxed (@swaxed2) November 17, 2018
Give. Up. Your. Seat.
9. This one legitimately makes our stomach turn
Rude and gross right???!!!!!!
Shoes off and bare feet on the #TTC subway!
Make yourself at home! ???? pic.twitter.com/3v2xrTCfQW

— Maurie Sherman (@DamnitMaurie) October 20, 2017
Do you know how many times I've seen someone pee on the subway?!?
10. One man's trash is another man's hour-long delay
Someone threw garbage in front of a #TTC subway train https://t.co/aGV1xdTpF4 pic.twitter.com/KavYO3By91

— blogTO (@blogTO) February 21, 2018
Come on Toronto, get it together.