---
Canada's longest street is back in action.

On Thanksgiving weekend, more than half a million people walked along downtown Yonge Street -- a figure that's higher than during the same weekend in 2019, before the pandemic would turn the city into a ghost town.

This is according to the Downtown Yonge Business Improvement Area (DYBIA), which has a pedestrian counting system that it monitors and regularly posts statistics on their website.

"I don't think I was surprised is the right word; I think I'm pleased," Pauline Larsen, interim Executive Director of the DYBIA, told STOREYS. "We are beginning to see that recovery is not linear. We didn't know what was going to happen at the beginning of the year; it was still pretty quiet at the beginning. It wasn't until spring when we really started to see an uptick."
Larsen references the intro of new retailers into the area this year: IKEA opened its first urban format store in May, Congee Queen found new downtown real estate, and Uncle Tetsu also moved into the neighbourhood.
While the streets around downtown Yonge are alive and well again, we are not at pre-pandemic levels; Thanksgiving weekend was a bit of an anomaly.
"The neighbourhood foot counts are still tracking 10-15% below 2015," says Larsen. "It was significantly better than 2020 or 2021, but we weren't at pre-pandemic levels. So, when we got the Thanksgiving numbers back, we were really excited because we saw that the numbers were actually higher than they were for the same period in 2019."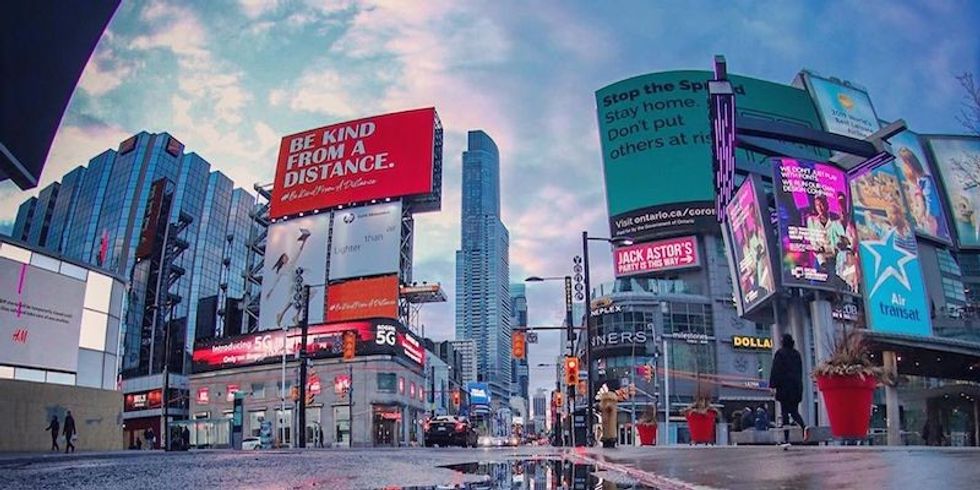 '@afterlife_photography/Instagram
While weekend tourists inevitably played a role in this, Larsen says that the foot traffic surge can be attributed to a variety of factors as well. For example, students have returned to Toronto Metropolitan University (formerly Ryerson University), workers are back in offices, the neighbourhood has a significant residential population, and conferences -- like the recent Green Building Festival held at the Marriott CF Eaton Centre -- have returned to neighbouring hotels.
"All these things combined have made a significant difference," says Larsen. "We have seen through the pandemic that a lot of the residents still shop in the area. In the downtown core, Toronto's offices are at 35% of their occupancy rate. It's not impressive, but it's way better than the 10 to 12% figures we saw before."
In terms of retail, the Eaton Centre -- one of the neighbourhood's crown jewels -- lost fewer businesses than street front retailers. "Several times a year, we have an audit of our retail vacancies and occupancies to try to get a handle on where to focus support, manage retail recruitment, etc.," says Larsen. "Based on the latest figures from the summer, there was a 14% retail vacancy rate, which isn't unexpected after a two and a half year pandemic. The street retail vacancy rate was 19%, compared to 9% in malls, so we've seen a greater hit from the pandemic on street level retailers. But 14% overall is better than they would expect, so we're grateful."
Larsen says she hopes the trend continues into the holidays. "We're seeing a lot of people embracing in-person events," she says. "And the Barbara Ann Scott skating trail is opening for the season on November 26. Our lesson is that recovery isn't linear; it's going to go in fits and starts. But we're happy to see upticks and think they're becoming more frequent. The holiday season will be proof of the pudding."
Retail