---
Virginia Munden needs no introduction in the Greater Toronto Area (GTA) real estate world. 
The Oakville-based powerhouse has made a name for herself as a successful REALTOR® and business figure in the GTA over the past three decades. She's also the well-known founder of The Buzz Conference, Canada's premiere real estate and proptech conference, and Buzz Digital Magazine. On top of it all, she's the co-founder of media agency Buzz Buzz Media Inc., which specializes in events, digital coverage, marketing, public relations, and promotions for the real estate and prop tech industry. 
But, if you're in real estate, you probably already knew all that.
Munden grew up in a traditional Italian family, and says real estate played a big role in the foundation of their life and lifestyle. "My Father worked with some of the greatest homebuilders of the time, and was an avid real estate investor; one would never know that, because he was very private about it," says Munden. "I grew up around real estate language and discussions all my life. This is where the foundation of hard work comes in. My father was a very hard worker." 
As far as her own career, however, Munden gravitated to the arts, fashion, and design. Her move into real estate came after what she calls a "terrible" first experience in real estate with an Oakville realtor. "I thought to myself, 'I can do this, but better,'" she says. "Then, my husband joined me and the rest is history. He continues to run his successful real estate practice in Oakville."
Now, Munden has taken her real estate expertise beyond buying and selling with the creation of Buzz Buzz Media Inc. It's a collective collaboration with her daughter Isabella Munden.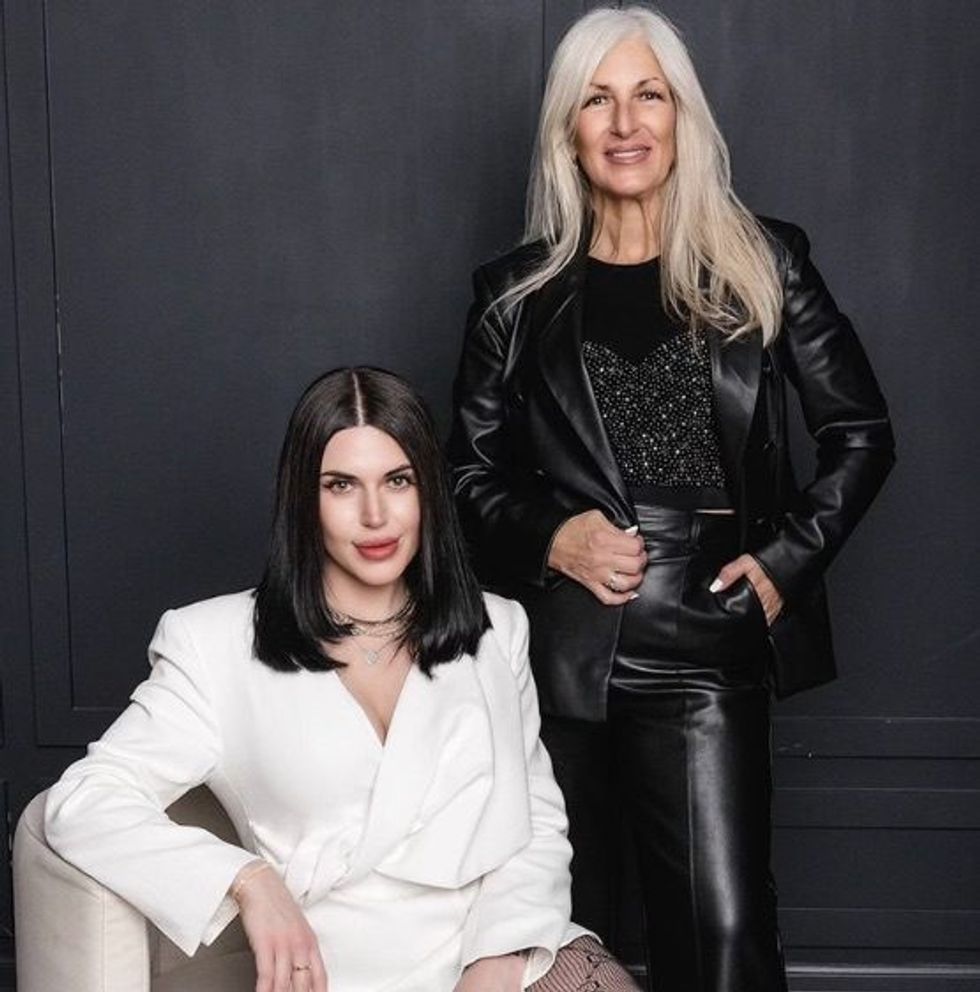 Isabella and Virginia Munden
"I have always been fascinated by media, since reading Vogue Magazine as a young girl and watching the news with my family each night," says Munden of the inspiration behind Buzz Buzz Media Inc. "I also remember receiving monthly subscriptions of National Geographic to our front door -- my parents loved that magazine." 
Inspiration also came from her mother, who was an event planner and ran a shop with her sisters that served weddings, bridal and baby showers, and other events. "I was always fascinated how special they made everyone feel from experiencing their events," she explains. "I guess combining the two led to an extension to our conference space, with Buzz Digital Magazine, and -- now -- industry public relations, which we have had so many inquiries on over the past year."
READ: These West Coast Realtors Are on a Mission to Preserve Midcentury Moderns, And It's Paying Off
Munden calls the Buzz Conference an evolution of the many years working within the real estate industry. "I have been a licensed REALTOR® for almost three decades," she says. "I've attended many global conferences, and spoken at many conferences around the world, from Canada and the United States, to Spain, Portugal, Turkey, Malta, Italy, Germany, Vienna, and the United Kingdom. Connecting with people has always been my passion and delivering relevant content was and still is very important. It's the 'why' of our company."
Taking place in Toronto on Thursday, March 30, the next Buzz Conference, DISRUPTION 2023, will unite professional thought-leaders, influencers, innovators, and disruptors who connect, share, and network to shape the Canadian real estate industry. 
"The Buzz Conference is a great space to learn new skills, improve knowledge and communications, meet new people, and build essential relationships with others in the industry," says Munden. "The purpose is to provide consumers with superior services when buying, selling, and investing in real estate."
Munden promises that this year's conference will be the best one yet. "We have many fascinating people participating, from our incredible and loyal sponsors and relevant speakers and special guests," she says. "DISRUPTION 2023 will facilitate the realities in Canadian real estate as it exists today. With new dialogues, discussions, and narratives of the future from some of the greatest disruptors and voices in Canadian Real Estate. Realtors will leave fully equipped and feeling inspired to work in this profession."
Munden at The Buzz Conference
In the Buzz Buzz Media Inc. community, people come first, with inclusion front and centre, highlights Munden. "A first in Canadian Real Estate that is truly inclusive, we set that bar and are proud of it," she says. "We have strengthened Diversity, Equity and Inclusion (DEI) in the Canadian real estate space and are the first in supporting the deaf community. We had the first ASL Interpreter at our events to support realtors from this community."

While Munden's career has been long, successful, and colourful, she says she doesn't get too caught up in defining career highlights, calling them all highlights, frankly.
"Our career is all about the consumer; their highlights are more important than ours," she says. "However, I think for me, it's forging respectful relationships with some of the most influential people in Canadian real estate. I do owe this all to my mentors over the past 30 years. They know who they are, including my husband. I am also very proud to volunteer on several Committees at MREB, Mississauga Real Estate Board, serving on the DEI Committee, Communications Committee and Women's Task Force. I love this real estate board."
While she may be known for all of this career success, Munden calls her family the biggest highlight of her life. "Watching my three awesome children thrive in their careers and seeing them grow as young adults is an incredible feeling," she says. "That is the biggest highlight of my life. We can never lose sight of what's really important and I think many do today."
Looking back, Munden says she'd tell her younger self -- and young realtors, for that matter -- to be open to opening a Brand Franchise or starting an Independent Brokerage in her 30s. "I asked one company probably 10 times, and there was never anything available for me, yet I still saw opportunities given to men," she reflects. "So, for me, my advice for my younger self would be to open up my own brokerage in my 30s and build my own real estate brokerage."
Munden says that young entrepreneurs in real estate can't get too caught up in "award levels, trips, and free stuff." Her best advice? "Build your own legacy," she says. 
She also reminds the younger generation that the real estate industry is about optimism and passion -- despite what may seem like an uncertain climate. "I don't see anything negative about our Industry right now," she says. "The media sees negative, yes, but there are opportunities everywhere. You have stay educated and informed, find opportunities, and learn how to facilitate these dialogues to consumers. Richard Silver, our conference co-host, spoke about this at our recent BLU35+ Summit (Buzz Leaders Under 35) and we are hoping he shares this in the Opening Welcome on March 30, 2023."
Industry Profiles