Vancouver
Real Estate News
Vancouver Far and Away the Least Affordable City in North America
As home sales continue to outstrip construction activity, keeping inventory low and property prices soaring, Canada is now less affordable than its neighbours south of the border, with Vancouver leading the pack in terms of unaffordability.
According to the latest North American housing affordability report from Oxford Economics, Vancouver is not only the least-affordable city in the country but also on the entire continent, followed by Boise (Idaho) and Toronto.
Based on the data, during the second quarter of 2021, Vancouver 'beat' 29 other analyzed major cities in North America when it came to poor housing affordability conditions.
The research also revealed that affordability deteriorated in nearly all US and Canadian metros in Q2-2021 as home price inflation outpaced income growth. Furthermore, Oxford Economics' cross-country framework points to more rapidly worsening affordability in Canada than in the US due to higher Canadian mortgage rates.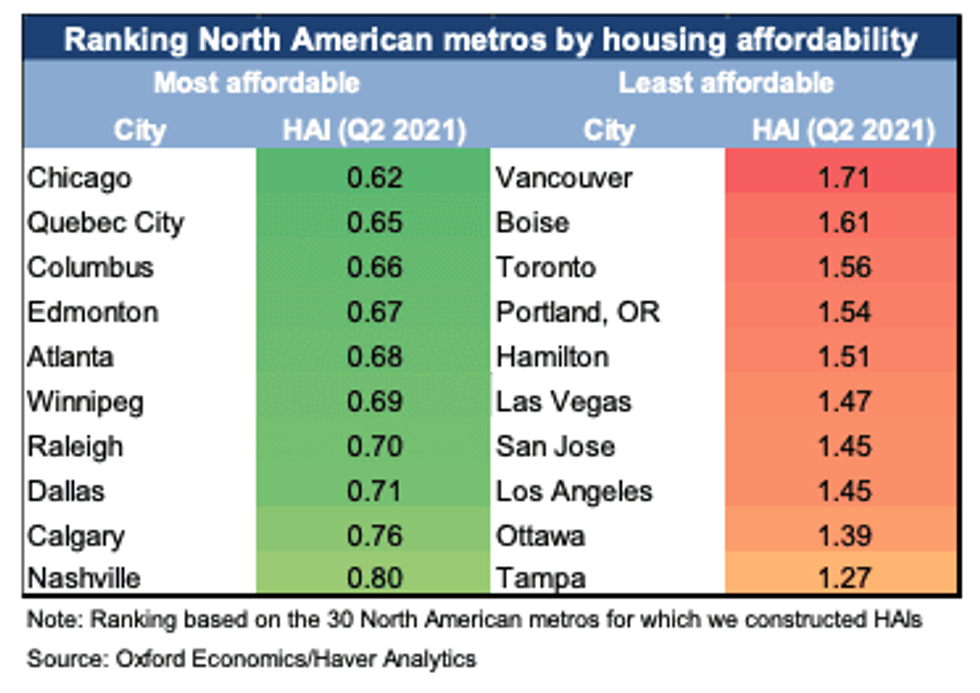 Calculations based on how home price inflation relates to income determine the analysis' ranking in the housing affordability indices (HAI) with Vancouver receiving an HAI of 1.71, the highest among all cities. The west coast city also recorded the most significant quarter-over-quarter increase of 3.4% and a 5% year-over-year increase.
READ: Toronto Ranked Second Largest Real Estate Bubble Risk in the World
Furthermore, another 6% increase in the HAI for Vancouver is forecasted between the second quarter of 2021 and the fourth quarter of 2022.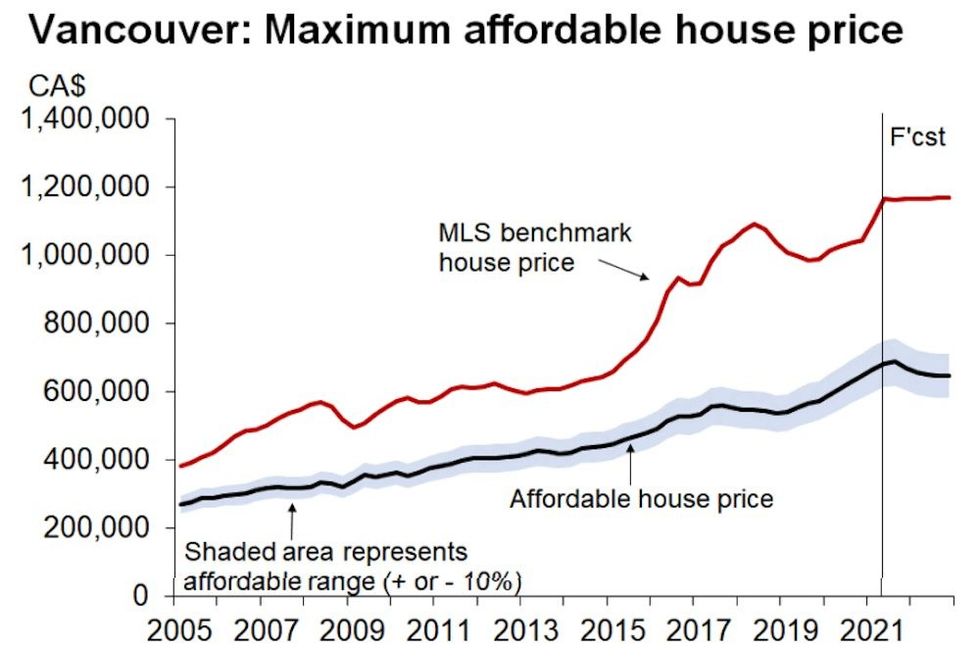 When looking at Canada as a whole, the country's HAI rose five points to 1.35 in Q2-2021, meaning house prices were 35% above median income households' borrowing capacity. What's more, eight of nine Canadian metros saw affordability worsen in Q2, led by Vancouver (+6 points), and followed by Montreal (+5 points), Toronto (+5 points), Ottawa (+4 points), and Hamilton (+3 points).
Potential buyers will find homes within reach at the local level in just four Canadian cities, including Quebec City, Edmonton, Winnipeg, and Calgary.
Oxford Economics says that affordability in Canada is "expected to worsen next year, despite our forecast for a plateauing of house prices, as mortgage rates rise from historically low levels." According to the report, Canada's national HAI is forecast to increase another 10 points to 1.45 by Q2-2022. This would put the entire country on par with the level of affordability the City of Los Angles is currently facing.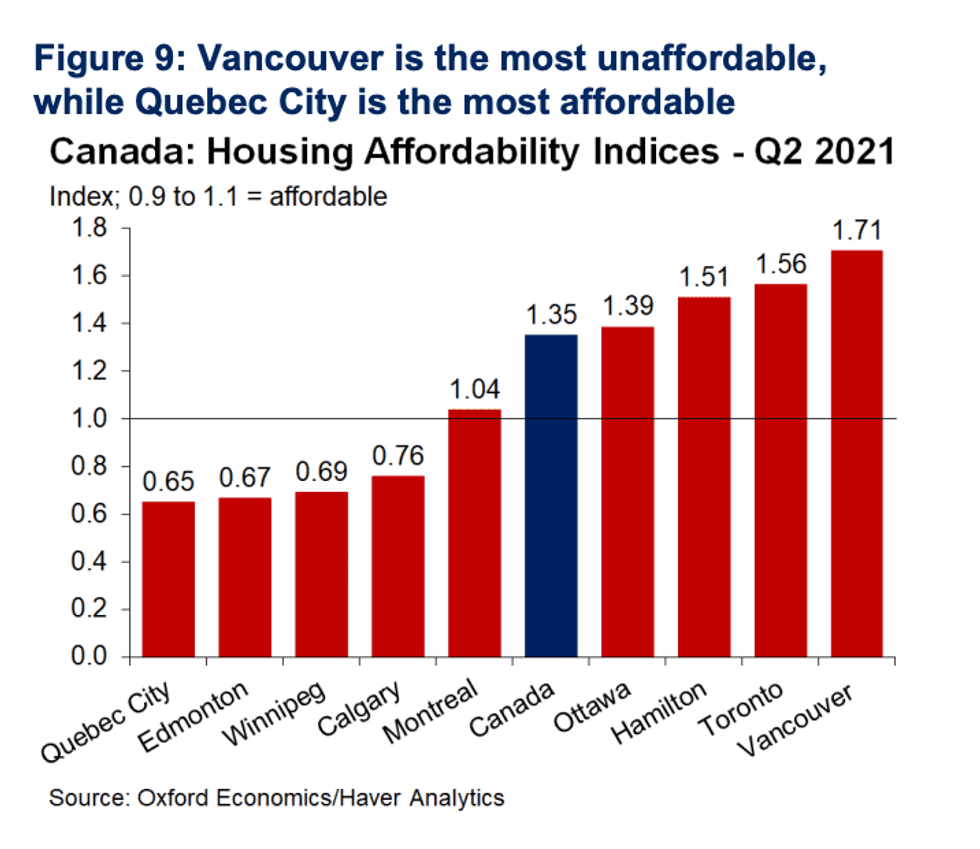 Oxford Economics says North American housing markets remain tight as the "robust US existing home and new home sales are outstripping homebuilder activity, keeping inventories low and causing house prices to defy gravity."
At the same time, Canada's hot housing market has shown some signs of cooling, but Oxford Economics says demand-supply conditions remain tight, and prices are at historic highs.
This report comes as Vancouver continues to face an affordability crisis as home prices maintain their steady rise across the Lower Mainland and demand continues to outstrip supply. According to the Real Estate Board of Greater Vancouver, the cost of buying a place jumped more than 13% last month compared to September 2020 due to the lack of homes on the market.