The City of Vancouver has acquired a vacant building in the Chinatown neighbourhood, and has submitted a development application to turn it into a social housing building.
The building sits at 41 W Pender Street, directly across the street from the International Village Mall and steps away from the Chinatown Millennium Gate.
---
The City acquired the site from Living Balance Investment Group for $9,500,000 in February, according to an Avison Young report published in July and BC Assessment.
The City of Vancouver confirmed the acquisition to STOREYS on August 1, and said that an announcement about what the site would be used for will come at a later date.
No announcement has been made yet, but a development application for 41 W Pender Street was published on Thursday, with details about the site proposal.
According to Corbel Commercial, who brokered the sale, the property is currently a four-storey building with attractive ceiling heights, a loading area, and a freight elevator. The height of the building is similar to an office building — and Avison Young listed the sale as a office property transaction — but the building's qualities are moreso those of an industrial space, and the interior was in fact used as a warehouse in the past.
A proposal to redevelop the site was made previously, with plans to turn the warehouse into a mixed-use space with residential, office, and retail uses, according to the listing.
The current proposal being made by the City, whose application documents were submitted on their behalf by Vancouver-based Carscadden Stokes McDonald Architects, is to add two additional storeys, and to change the building's use to residential, creating 40 social housing units.
According to application documents, all 40 social housing units will be studios between 457 sq. ft and 581 sq. ft.
The proposal also includes retail uses on the ground level, with the total floor space ratio of the proposal at 5.43; the additional height would match the building next door, according to renderings.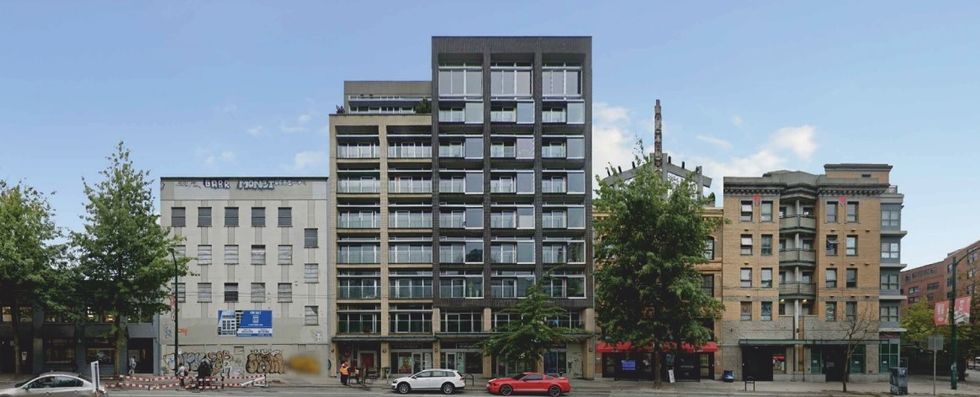 41 W Pender Street (Left): Currently.(City of Vancouver / Carscadden Stokes McDonald Architects)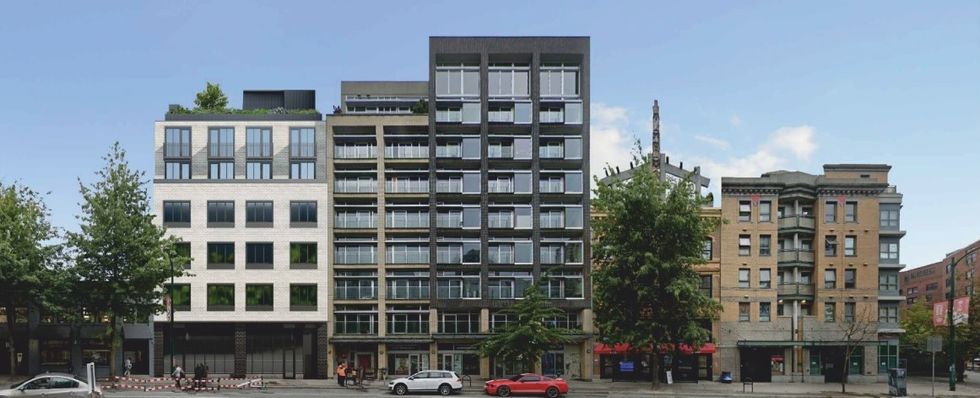 41 W Pender Street (Left): After.(City of Vancouver / Carscadden Stokes McDonald Architects)
The fifth level of the building will include an outdoor patio space with a fire pit, with additional outdoor space on the roof.
A grand total of three vehicle parking stalls (two accessible stalls and one loading stall) will be provided, along with 47 bicycle stalls.

The site is currently zoned as DD (Downtown District) and the proposal does not require a rezoning.
The City is currently accepting public comment on the proposal until Friday, September 29, before the project goes to the Development Permit Board for a decision on Monday, October 16.
Recently, STOREYS also reported that the Salvation Army Harbour Light facility on 119 E Cordova, just a short distance away, was acquired by BC Housing. Plans for that site have yet to be announced.
Vancouver