---
The University of Toronto (U of T) maintains its leading edge – and its alumni retain their bragging rights. 
The renowned university ranked first in Canada, second among public universities in North America, and among the top 15 public universities globally in the latest edition of the QS World University Rankings.
This marks the second consecutive year that U of T has held all three positions in the highly regarded annual ranking of the world's top 1,000 universities by London, U.K.-based analytics firm Quacquarelli Symonds. Overall, U of T ranked 26th in the world, dropping one spot from a year earlier.
"Our strong global standing has remained incredibly consistent over the years," said U of T President Meric Gertler on the University of Toronto website. "These rankings reflect U of T's continued excellence in research and scholarship, as well as our outstanding reputation worldwide among students and employers."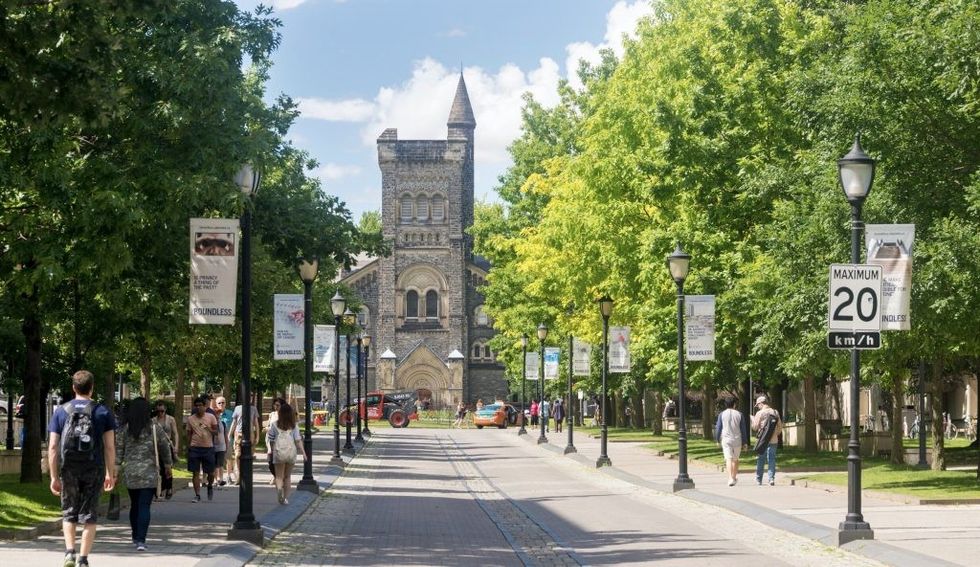 University of Toronto, King's College Road
The rankings take into account six different weighted measures: academic reputation (40%), reputation among employers (10%), faculty-student ratio (20%), citations per faculty (20%), international faculty ratio (5%), and international student ratio (5%).
Academic reputation is calculated using a survey of more than 100,000 individuals associated with academic institutions. For insight into employers' views, Quacquarelli Symonds reviews nearly 50,000 responses to its QS Employer Survey, which is the largest of its kind in the world. A university's research output is measured by citations per faculty. 
U of T scored notably high when it comes to academic reputation and reputation among employers, international faculty, and student ratios. As far as reputation is concerned, U of T ranks 13th in the world – a figure that's up two spots from last year. 
The celebrated university recently announced that its outdoor spaces will get a massive makeover in what's one of the largest landscape infrastructure projects in Canada in our time. With details like bike paths, car-free pathways, and landscaped plazas, this revamp will only increase the (highly regarded) university experience at U of T.
Toronto