We're going to kick off the first week of March with some scheduled evening TTC track maintenance that will cause six subway stations to close early.
Next week, subway service on Line 1 between Finch to Eglinton stations will end early at 11 pm nightly from Monday, March 2 through Thursday, March 5.
---
READ: Everything You Need to Know About the Upcoming TTC Fare Hike
As a result, there will be no subway service at six stations to accommodate track work. According to the TTC, regular subway service will resume at approximately 6 am each following morning. However, during the closure, shuttle buses will operate and customers requiring Wheel-Trans can speak to any TTC customer service employee to request the service.
Riders should also keep in mind that the TTC's latest fare hike will also be in effect.
As of March 1, most TTC fares will be increasing by $0.10. However, the adult cash fare will remain the same at $3.25. This also includes PRESTO pay-as-you-go payment and the cost of monthly passes will also be increased across all fare types.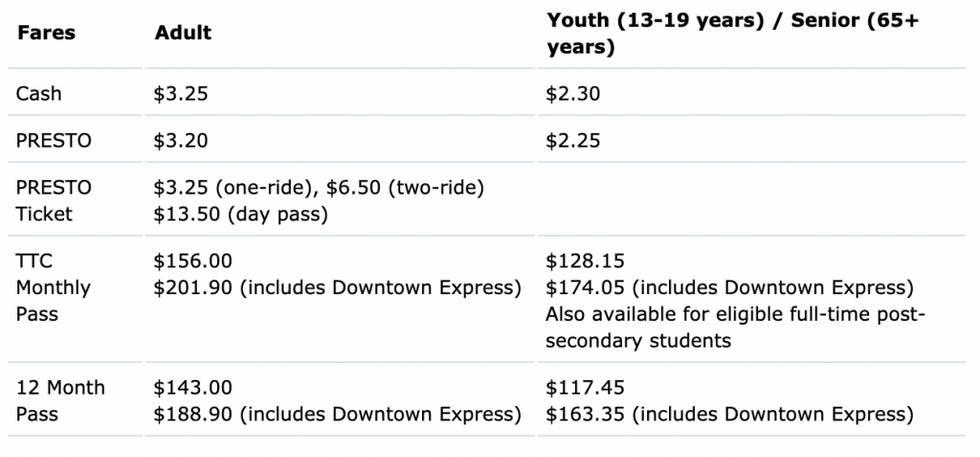 TTC Fare Increase
The new prices mean customers using their PRESTO card will pay $3.20, while cash fares will stay at $3.25, and the cost of a monthly PRESTO pass will rise by $4.85 for an adult, making it $156.
The monthly metro pass for post-secondary students would increase by $5.70 per month to $117.45. Children 12 years and under still ride for free.
Toronto