---
Rents continued to climb across the country in November, surpassing the $2,000 mark nationally with renters paying $224 more, on average, compared to a year prior. This is according to a new national rent report by Rentals.ca and Urbanation, based on data from RentFaster.ca.
November's national average appreciated 2.5% month over month, 12.4% year over year, 4.9% in the past three months, and 10.5% since November 2019, the report says.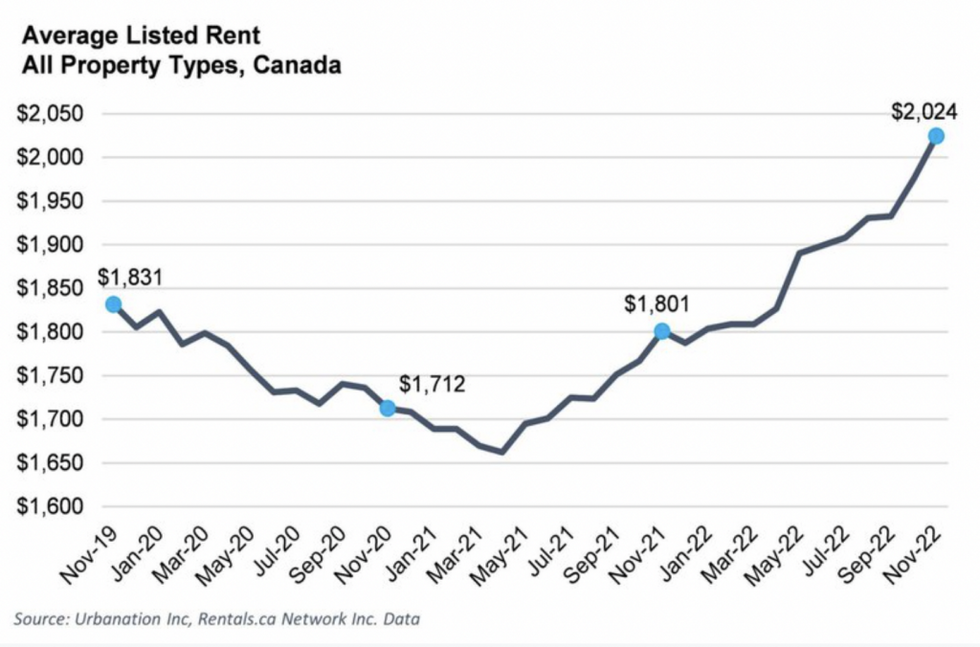 Of all unit types, rents accelerated the most for two-bedroom units (up 12.2% YoY), followed by one-bedrooms (up 8.9% YoY), studios (up 6.5% YoY), and three-bedrooms (up 5.6% YoY).
"Rents in Canada are rising at an exceptionally high speed, which is having a profound effect on housing affordability as interest rates continue to rise," said Shaun Hildebrand, president of Urbanation. "With the most expensive cities experiencing very low supply and the fastest rates of rent increase, regions with high population growth are seeing demand shift into more affordable areas."
On a local level, purpose-built and condominium rentals in major markets saw the most dramatic YoY increases, jumping 24.3% and 23.7% in Vancouver and Toronto, respectively. And continuing the trend from previous months, Vancouver and Toronto also topped the national rent rankings of 35 cities.

Although Calgary ranked 25th on the National Rent Rankings -- a testament to its enduring affordability -- it was the third fastest-growing rental market among Canada's largest cities, according to the report, posting annual rent growth of 21.9%. Meanwhile, Montreal, Canada's largest rental market, had the slowest annual rent increase of all major markets at 7.6%.
Mid-sized markets surrounding Toronto also saw notable annual rent growth, climbing 28% in Brampton, 25.8% in North York, 24.5% in Etobicoke, 22.9% in Scarborough, and 19.2% in Mississauga.
Provincially, British Columbia observed a 16% increase in annual rent growth, followed by Ontario at 15.3%, and Alberta at 15%. However, all paled in comparison to the annual rent growth observed in Atlantic Canada, which clocked in at 31.8%.
Renting