From delays to overcrowding, it's no secret that Toronto has a love-hate relationship with the TTC.
But to really ruffle some feathers, a recent report by Picodi found that Toronto's public transit is also considered one of the most expensive in the world, a notion that is sure to continue to frustrate some Torontonians.
---
To get a better understanding of how public transit costs differ globally, Picodi's analysis team examined the prices of monthly passes in some of the world's biggest cities and compared and contrasted them with average wages to measure their affordability.
READ: TTC Now Facing $520 Million Shortfall Due to COVID: Report
According to the results, Toronto residents who, on average, net $3,532 a month, would need to spend 4.2% of their salary on a monthly TTC pass.
The top five cities that have the most expensive transportation are Sao Paulo at 15.34% of average monthly income, followed by Istanbul at 9.26%, London at 8.23%, Dublin at 7.81%, and then Toronto rounding out the top five.
And while Toronto public transit definitely doesn't come cheap, it's not as costly as some other cities, as in London, where a monthly pass averages around $259 USD. While monthly passes in Dublin ($213 USD), and New York ($127 USD) also seem exorbitant. However, when taking into account the average monthly wage, the tables have turned for New York: it ranked 18th out of 24 cities, meaning that an average New Yorker could buy a monthly pass for bus and subway with just 2.4 percent of his or her net pay. (Not to mention, NYC's 472 stations make it the largest rapid transit system in the world and it offers 24/7 service every day of the year... Toronto, not so much.)
It is the residents of São Paulo who seem to have it the worst, though: they would have to spend more than 15% of their monthly pay to freely ride public transportation.
On the other side of the pay scale are residents of Zürich and Prague, who can enjoy affordable public transportation for less than 2% of their pay (1.37% and 1.84% respectively). But the real winners of this ranking are commuters in Tallinn and Luxembourg, who can ride all public transportation for free.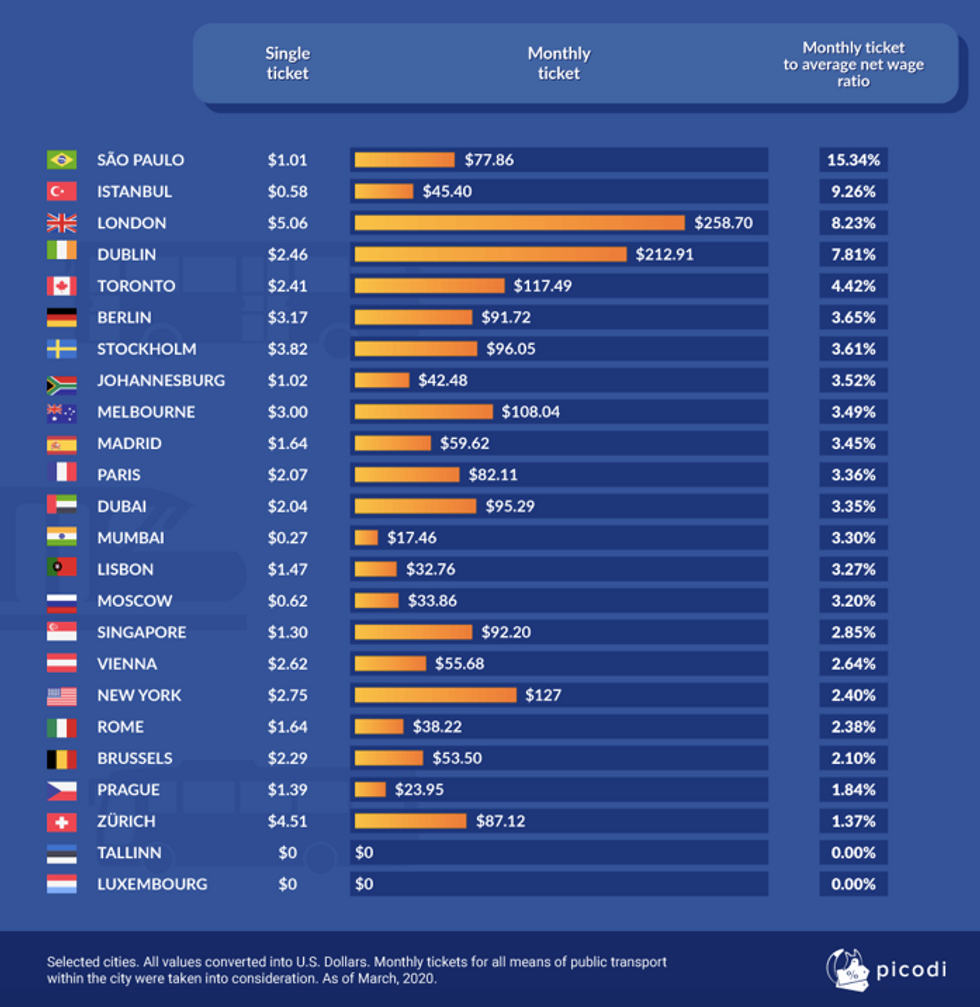 Picodi
On a national level, Toronto has the most expensive transportation with monthly passes costing residents $156, which gives transit riders access to streetcars, buses and subways. Coming in second place is Calgary, where the monthly pass costs $109 for unlimited access to buses and light rail service. In third is Winnipeg with $102, followed by Vancouver with $98. Montreal took fifth spot with a price of $86.50 per month.
If you're looking for affordability, head east to Charlottetown, as the city is home to the least expensive public transit at $58.50 for a monthly pass.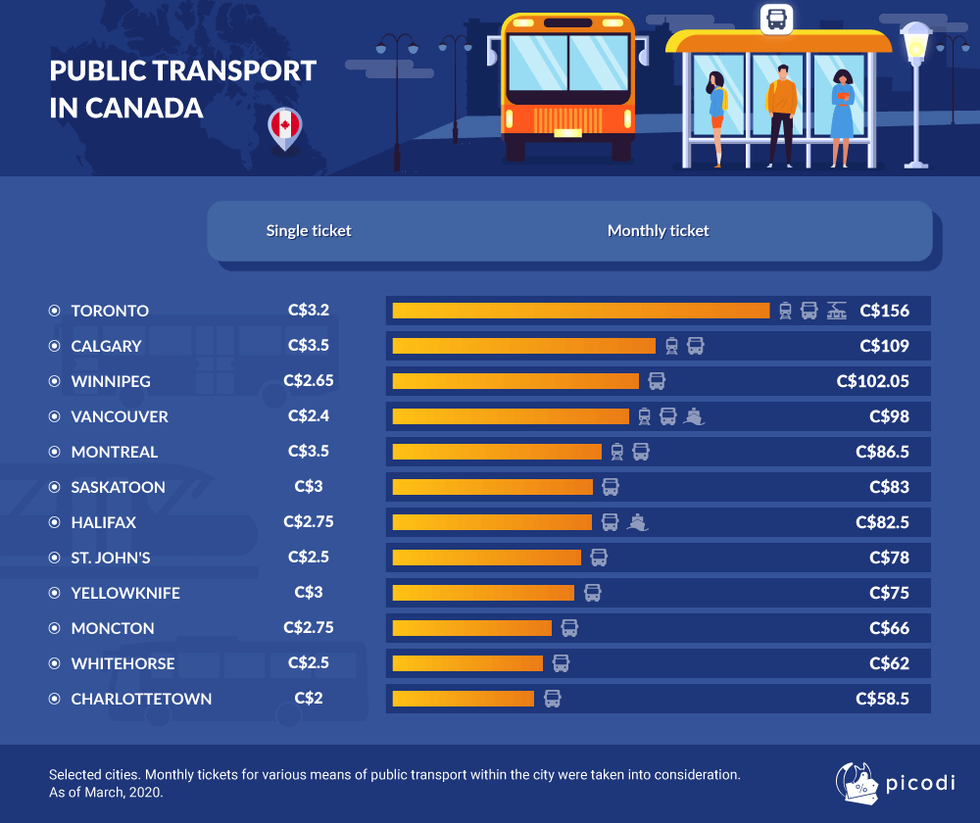 Picodi
That said, given how much ridership fees contribute to covering the cost of public transit for the City of Toronto, the steep decline in ridership due to COVID-19 has resulted in the current $520-million shortfall the transit agency is now facing. This is up significantly from the City's initial forecast that estimated $439 million in losses over nine months.
This spring, the City's transit agency released a preliminary report on COVID-19's financial impact on the TTC up until Labour Day. The agency says the financial shortfall being forecasted is driven by "the decline in ridership and the incremental costs associated with TTC's operational and service response to the pandemic."
According to the report, PRESTO Taps dropped from 1.72 million rides to 240,000 rides between Monday, March 2 (a pre-COVID-19 "normal" business day) and the end of April 2020, or approximately 86%, representing the average reduction over all modes. PRESTO usage on the subway declined by almost 90%.
The report also noted the TTC has experienced an "unprecedented" decline in fare revenue due to the pandemic and according to the report, the TTC saw a dramatic drop in weekly revenue of almost $18 million, or 75%, by March 31, 2020, compared to the first week of March 2020.
It's unclear at this point just how much TTC use will return to 'normal' if and when the pandemic subsides to a safe enough level to allow it, but one thing's for sure – no one will be happy to pay more than they were already paying in a pre-COVID world.
Toronto