With the long weekend finally within reach, Torontonians can look forward to some scorching temperatures and little relief from the heat.
---
And with hot and humid temperatures expected for all of Friday, Environment Canada has issued a special weather statement for the city.
The national weather agency says temperatures are expected to reach 31°C Friday, followed by an overnight minimum of 20°C. Though, slightly cooler temperatures are expected Saturday.
On Friday, a mix of sun and clouds is anticipated, with southern winds of up to 20 km/h expected later this afternoon. While a high of 31°C is excepted, temperatures will feel more like 33°C with the humidity.
On Saturday, temperatures could reach 29°C, though there is a risk of showers and thunderstorms in the afternoon. By Sunday, temperatures will fall slightly to 23°C with a mix of sun and clouds expected. On holiday Monday, temperatures will be less intense with a high of just 18°C expected.
Environment Canada says these conditions pose a health risk when you are not used to the heat, especially older adults, infants and young children, and people with chronic illnesses.
With condo amenities and splash pads/pools still closed amid the pandemic, residents are encouraged to drink plenty of cool liquids and to keep cool by dressing for the weather and spending a few hours each day in a cool place.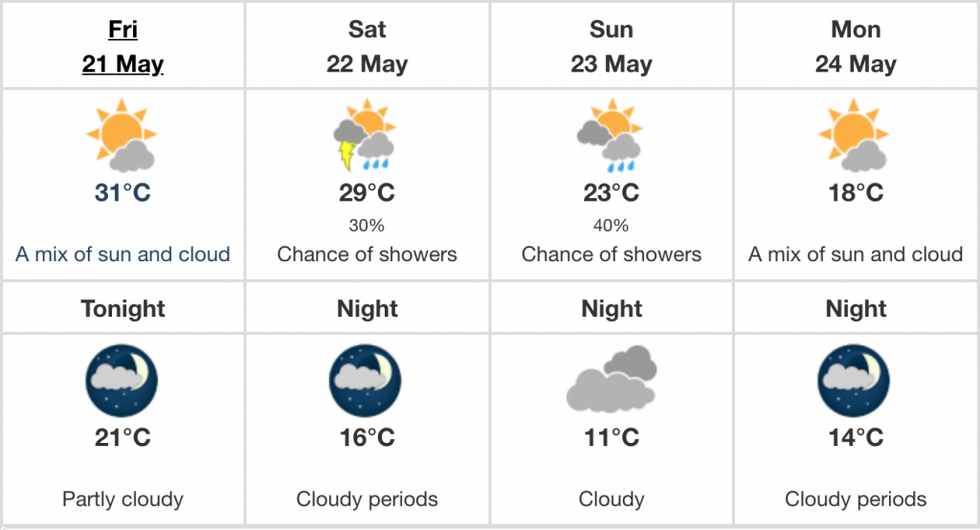 Environment Canada
Additionally, the City announced it plans to open seven Emergency Cooling Centres whenever a heat alert is issued from May 15 to September 30. 
The Emergency Cooling Centres provide air-conditioned resting spaces to the public to relieve residents, including those who live in apartment buildings without air-conditioning.
Whatever you get up to this long weekend, make sure to prepare for the heat and stay cool when you can.
Transportation