Listed Luxe
Toronto's "Schitt's Creek" Mansion Back on the Market for the 10th Time
Nobody wants to live like the Roses, it seems — or at least how they lived before losing all of their money — because the mansion featured in the hit TV show Schitt's Creek is back on the market for a 10th time.
In the show, the mansion was the Rose's family home before their business manager stole their fortune and they were unceremoniously forced to move into a small-town motel. In reality, the home, located at 30 Fifeshire Road, is known as "La Belle Mansion" and it's one of Toronto's most recognizable residences.
The property, which sits in the affluent St. Andrew-Windfields neighbourhood, last sold in 2008 for $1.6M. At the time, it was home to a modest three-bedroom bungalow but by 2012, its new owners had demolished the bungalow and built the French-inspired mansion. Then, just five years later, it came up for sale for the first time.
Between its 10 listings, the asking prices have ranged from as low as $1 to as high as $21,788,000. Granted it typically takes much longer for ultra-luxury properties to sell, the home unfortunately hasn't had buyers bite at any of the price points. The mansion's current asking price falls somewhere in the middle at $17,888,000. Interestingly, it's the exact same price as its ninth listing which went up in November 2021 before being pulled in February of this year.
Although unattainably pricey for the majority of people, the Versailles-esque mansion has everything you'd expect the ultra-wealthy Rose family to want. It spans a staggering 24,000 sq. ft and is filled with endless amenities from a home theatre to a golf simulator to a wine cellar to not one, but two, pools — one indoor and one outdoor, naturally. There's also a sauna, a fitness room, and a billiards room.
As far as getting a good night of sleep goes, there are 12 bedrooms to choose from — nine above grade and three below grade. There's no shortage of bathrooms either, with a grand total of 16. And for the car aficionado, there are a whopping 14 parking spaces.
Every design choice from the grand foyer with a marble staircase and balustrades — featured in the premiere of Schitt's Creek — to the opulent formal dining room with painted ceiling motifs screams palatial.
Specs:
Address: 30 Fifeshire Road
Bedrooms: 9+3
Bathrooms: 16
Size: 24,000 sq.ft
Lot Size: 110 x 220 FT
Price: $17,888,000
Taxes: $55,000 / yr
Listed by: Homelife/Vision Realty Inc.
The mansion isn't the only Schitt's Creek property to hit the market since the show's ending. The Orangeville motel used at the site of the Rosebud Motel was listed for sale in March 2021 with an asking price of $1.6M.
Although an imminent sale of the mansion doesn't feel all too likely, whoever does end up owning this property will get to have an experience that any Schitt's Creek fan would endure a dinner with Roland for.
EXTERIOR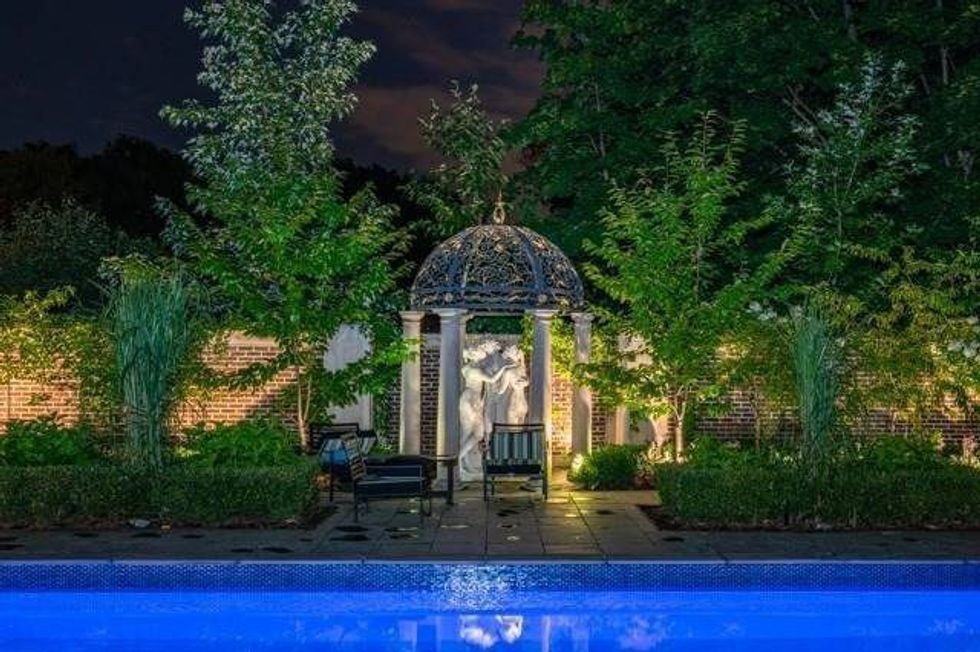 INTERIOR