Toronto
Real Estate News
Toronto Rental Market Hot as Average Rents Up 19% in Past 7 Months
The Greater Toronto Area (GTA) rental market shows signs that the pandemic's volatile days are well in the past, as average rents throughout the region have increased for the sixth straight month in a row in September.
While the month-over-month increase is minor, up just 0.9% to $2,116 from $2,097, it shows that the GTA rental market is making a comeback after hitting a two-year low of $1,971 in March, according to the latest Bullpen Research & Consulting and TorontoRentals.com Toronto GTA Rent Report.  
Despite the monthly increase, average rents are still down 0.7% year-over-year, but this is a significant improvement from just eight months ago when GTA rents were down a staggering 17% annually.
To put this into perspective, the report revealed that a prospective tenant will now have to pay between $80 to $120 more for a one- or two-bedroom unit in the GTA compared to the first couple of months of the year.
READ: 'Stage Has Now Been Set' for Rental Market to Return to Pre-Covid Levels
Ben Myers, president of Bullpen Research & Consulting, says that September's numbers show that the GTA rental market continues to slowly recover from the significant declines it recorded earlier during the pandemic. However, in light of this, he says average rent levels remain well below the pre-COVID levels.
"The fall market is typically one of the strongest periods for rent growth and leasing activity, and the condo rental market in Toronto is very hot, with average rent rising 19% between February and September of this year," said Myers.
Last month, the average monthly rent in the GTA for a one-bedroom unit in all property types was $1,834 — a 3.8% decline year-over-year. At the same time, the average monthly rent for a two-bedroom unit was $2,320 — a 2.2% annual decline, while a three-bedroom unit reached $2,765, a 0.8% yearly decline.
During this period, in both Toronto and the GTA, the average monthly rent of a condo rental was 21% more than the average monthly rent for an apartment.
During the pandemic, condo apartments experienced a significant decline in average rental rates in the GTA as more people moved home. However, this rental segment has seen its monthly rents recover quickly, heading into September. On the other hand, apartments did not experience as drastic a decline and have slowly increased heading toward the end of 2021.
The September numbers revealed that average rents for a condo apartment in downtown Toronto reached $2,446 in September, a 10% increase year-over-year. Throughout the rest of the GTA, the average rent for a condo rental was $2,373 per month, an annual increase of 8%.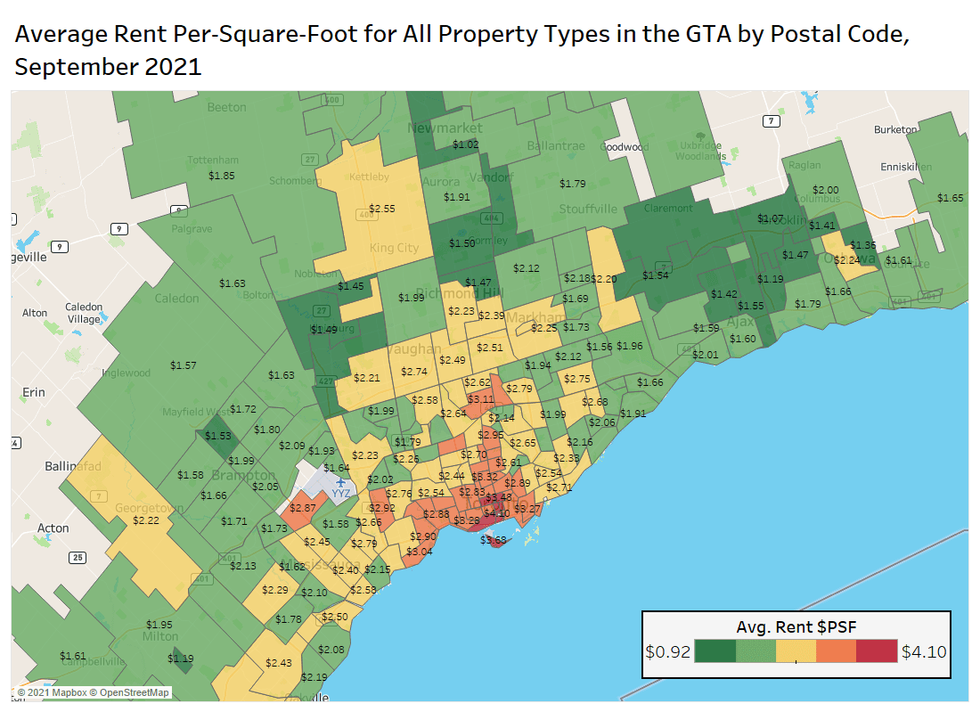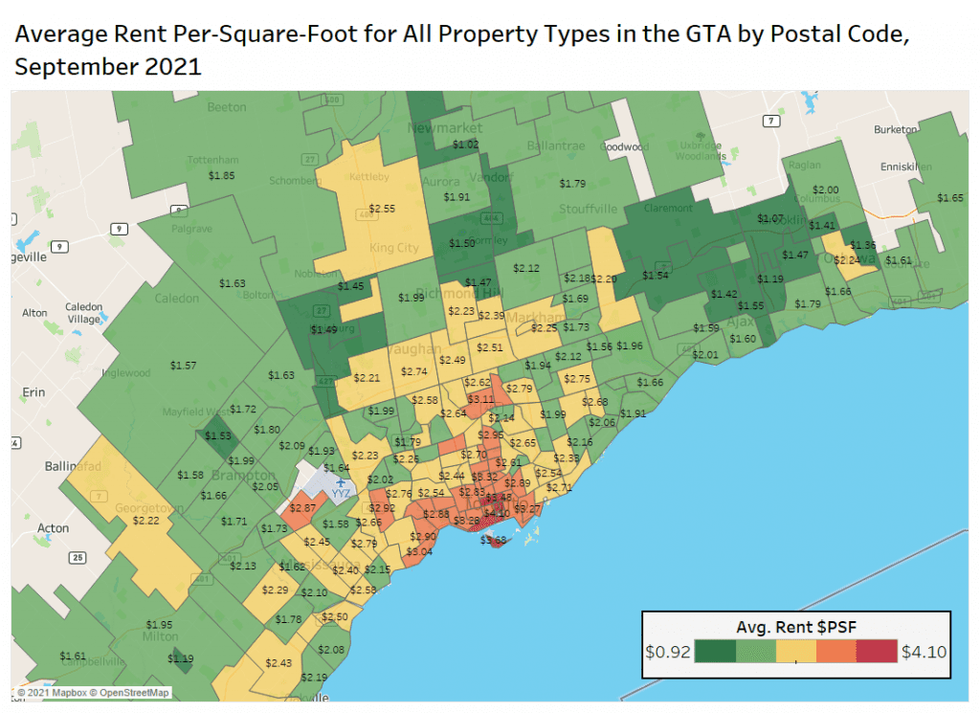 Not only did monthly rents vary by unit type, but also by size and location. Toronto had the highest average rent per square foot at $3.34 for all property types in September.
The nearby suburbs, including Oakville, Mississauga, North York, Markham, and Richmond Hill, have average rents per square foot ranging from $2.10 to $2.75.
However, the further away you get from the city to suburbs like Caledon, Whitby, Brampton, Aurora, Pickering, Oshawa, and Ajax, rents per square foot fall the furthest, ranging from about $1.50 to $2.
As for what's to come, the monthly price momentum is expected to continue through the fourth quarter, with demand for four-bedroom units remaining high, as many employees continue to work from home.