Real Estate News
'Stage Has Now Been Set' for Rental Market to Return to Pre-Covid Levels
Let's call it a comeback. The Greater Toronto Area's rental market is on track to recover from its pandemic slump –as vacancy rates, monthly average rents, and leases continue to show signs of improvement.
As more residents continue to return to city centres, vacancy rates in the GTA climbed 3% at the end of Q3-2021, falling from 5.1% during the previous quarter in Q2-2021, according to new data from Urbanation. Q3-2021 vacancy rates were less than half the high of 6.4% recorded in Q1-2021 and reached a level that is considered balanced.
In the former City of Toronto — which largely represents the downtown market — vacancy rates fell to 3.8% in Q3-2021 from 6.6% in the second quarter and a high of 9% in the first quarter of the year.
As vacancy rates improved, average rents in newer buildings completed since 2005 rose 3.8% from the second quarter and up 1.7% year-over-year to $2,389, $3.30 per square foot. Urbanation said this marked the first annual rent increase since the start of the pandemic.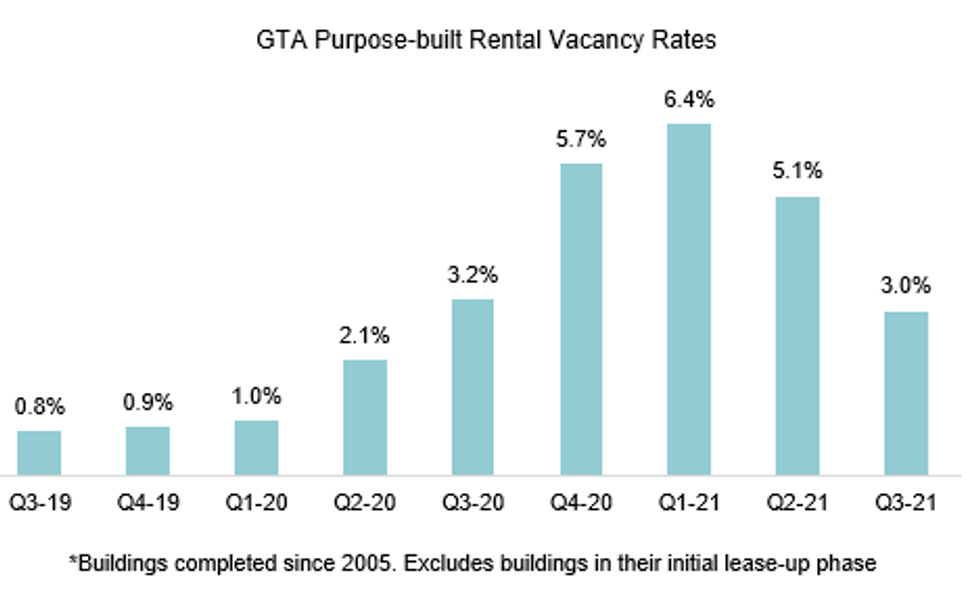 Interestingly, Urbanation says the annual growth in rents was tied to several relatively more expensive buildings completed during the past year. Excluding these new buildings, rents were down 1.8% year-over-year in Q3.
READ: Average Rents Up Across Canada, Now Within 10% of Pre-Pandemic Highs
As demand for rentals improves, landlords are reversing course and are offering fewer incentives to attract potential renters.
According to the data, a 57% share of surveyed buildings offered incentives in Q3-2021, down from 88% in the second quarter, with a month of free rent remaining the most common (60%) incentive. Additional incentives included up to two months' free rent (18% share of buildings reporting incentives), move-in bonuses (8% share), and various others.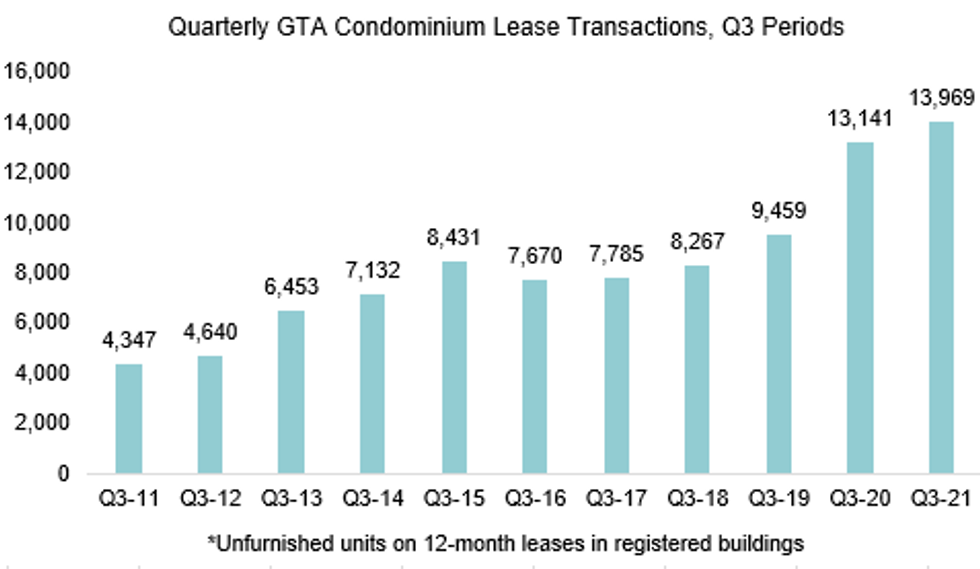 Another sign that the GTA's rental market is treading in the right direction is that the number of leases signed for condominium rentals totalled 13,969 units in Q3-2021 — increasing 6% from last year's record Q3 to reach a new market high.
As life returns to normal, competition for rentals is becoming stiffer in response to recovering demand, and Urbanation says market conditions "tightened considerably" during the third quarter. The ratio of leases-to-listings grew to 82%, the highest level since Q3-2019, while the average days on the market fell to 16, the lowest since Q3-2019.
What's more, active quarter-end listings dropped 69% from a year ago and equalled 0.7 months of supply based on lease volumes averaged over the past 12 months, which Urbanation says was the lowest amount of inventory on the market since Q3-2018.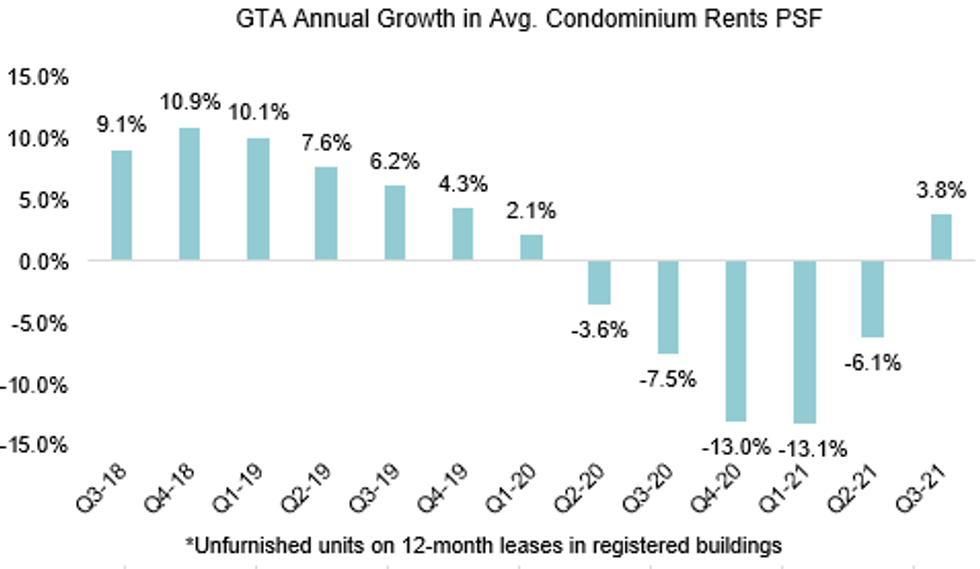 At an average of $2,304 ($3.31 psf), condo rents in the GTA rose 8.2% in Q3-2021 from the previous quarter, pushing rents up 3.8% year-over-year. This growth indicates that rents are almost fully recovered to pre-COVID levels, coming within 4% of the Q3-2019 high.
Toronto saw the most significant rent increases, posting an 11.4% quarter-over-quarter and 6.2% year-over-year increase to $2,405 ($3.62 psf). However, when compared to two years ago, rents in the former City of Toronto are still down 6.9%.
Shaun Hildebrand, President of Urbanation, says, "the rental market recovery heated up considerably during the third quarter as economic restrictions continued to be lifted and the population began returning back to the core."
"The stage has now been set for the GTA rental market to return to pre-COVID levels in short order," said Hildebrand.
That being said, with the GTA rental market now sitting on the lowest amount of inventory since Q3-2018, if you've been thinking about entering the rental market, you may want to act before available listings deplete even more and, as a result, prices creep even higher.