Renting
Average Rents Up Across Canada, Now Within 10% of Pre-Pandemic Highs
It appears the days of vacant apartments and landlords offering incentives to attract tenants are well behind us, as average rents across the country increased for the fifth month in a row in September.
Recent data from Rentals.ca and Bullpen Research & Consulting shows that average rents for all property types are still going up, pandemic or not. But after five straight months of increases since April's low of $1,675, rents are still 9.5% ($185) below the pre-pandemic peak of $1,954 from two years ago — months before COVID-19 became a part of our everyday lives.
However, September still marked the first time in 2021 that average rents in Canada didn't cost renters less than what they did a year ago after slowly bumping upward to $1,769 — increasing 0.3% over August and equaling where they were a year ago.
"September marked the first time this year that the average rent in Canada wasn't cheaper than last year, as rental rates continue their upward trend," said Ben Myers, president of Bullpen Research & Consulting.
"Despite the increased demand nationally, rents remain well below 2019 levels. Canada's ten largest municipalities all experienced quarterly rent growth, showing the recovery is not regional but nationwide," said Myers.
READ: Canada is the Most Desirable Country for International Students… Expect Rent Hikes
The data revealed that average monthly rents were down annually for one- and two-bedroom units but up for three- and four-bedrooms.
In the third quarter, which ended in September, three-bedroom units rose 3.9% over the second quarter, while four-bedrooms were up 8.2% during the period. Although down for the year, one- and two-bedroom units saw slight increases in the third quarter over the second quarter of this year.
According to the data, the minor (yet notable) increase suggests that demand for smaller rental units — especially around downtown cores and universities — is improving as offices, schools, and businesses reopen and the economy rebounds.
This is a significant shift from last year when many residents were forced to work from home and there was increased demand for larger units that fit a home office or workspace.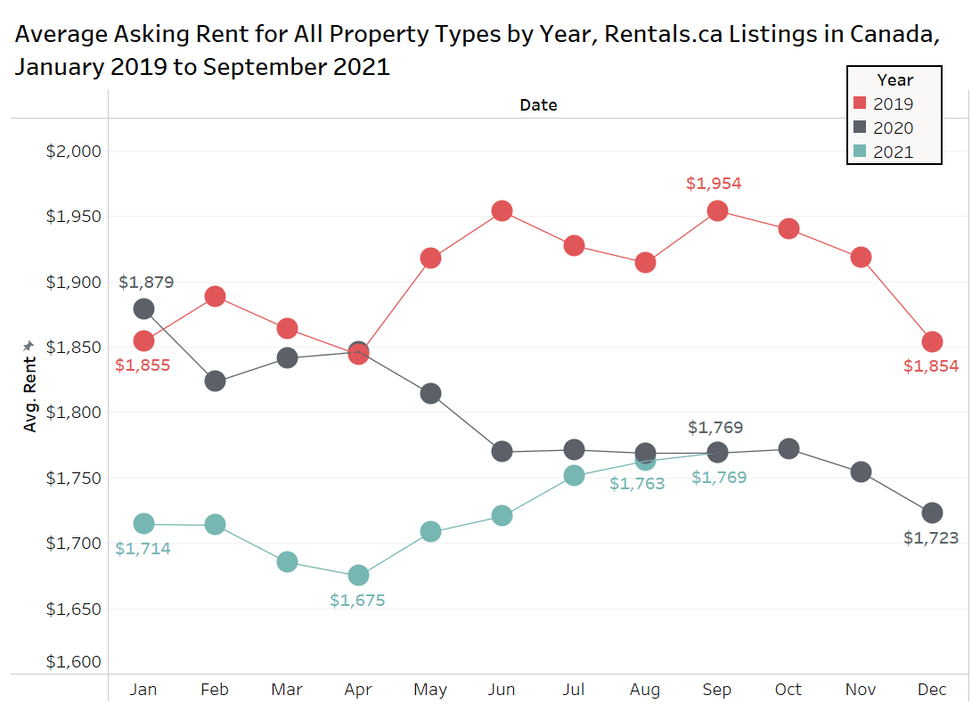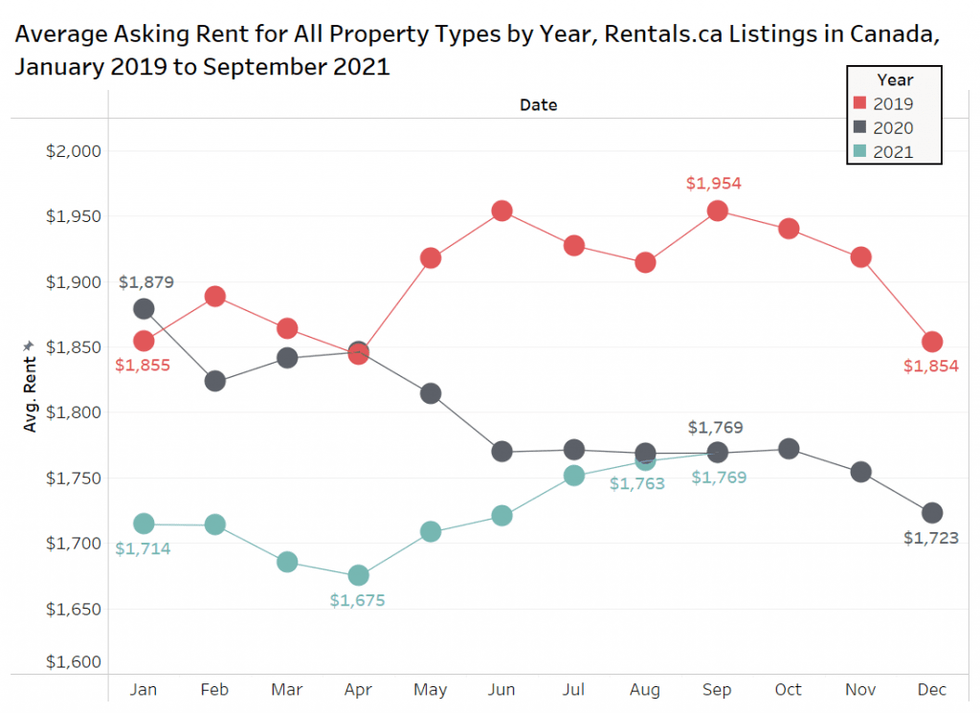 When dialling in on Canadian cities, Vancouver kept its top spot as the priciest city to rent, for both one- and two-bedrooms. Toronto finished second on the list of 35 cities for average monthly rent in September for a one-bedroom at $1,938 and a two-bedroom at $2,628. Average one-bedroom rents were down both monthly (-2.6%) and yearly (-1.5%) and were down (-3.7%) month-over-month but up 2.1% year-over-year for 2-bedroom units.
Third-quarter average rents in Toronto were $2,181, an annual decline of 2.3% year-over-year, but an increase of 6.7% over the second quarter of 2021. Third-quarter average rents were down almost $390 compared to the same period in 2019.
While rental rates are slowly improving in Toronto, they were still down annually in September by 3.2% for studios, 2.9% for one-bedroom apartments, and 1% for two-bedroom apartments.
Due to the high cost of renting in Toronto, many residents are moving to areas outside the city. For example, if a tenant decided to move to Windsor, a unit in the 500-square-foot range would be $500 cheaper than Toronto, while a unit in the 800-square-foot range would be $900 cheaper, and a unit in the 1,000-square-foot range would be $1,300 cheaper.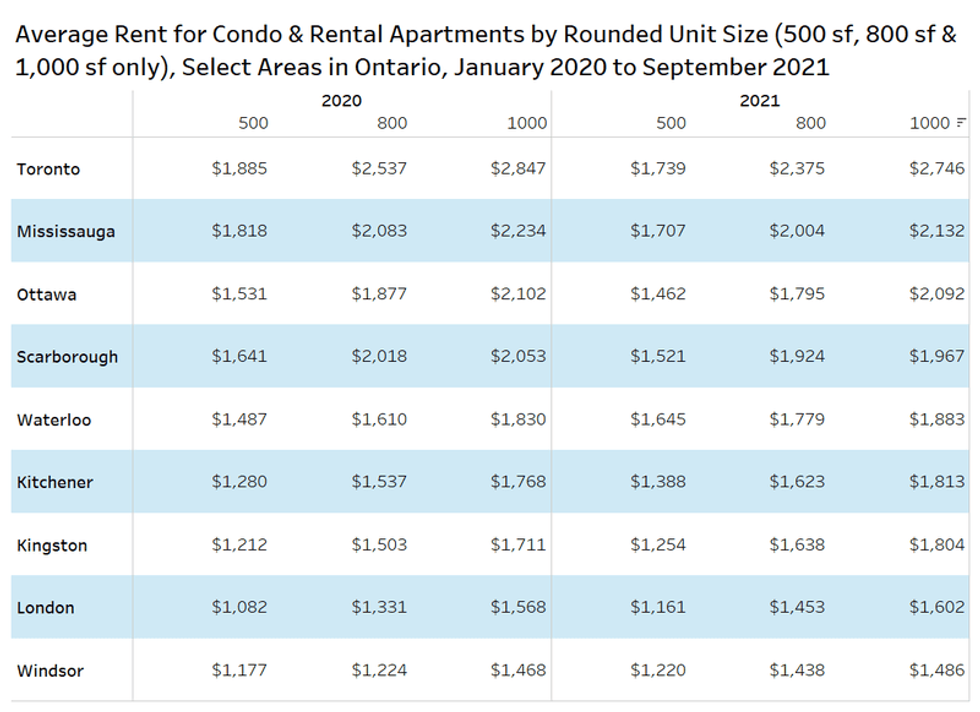 Following an unprecedented 2020, it's clear that Canada's rental market is stabilizing, but, as residents continue to return to work in person, the need for larger rentals with space for home offices is decreasing.
However, as employment continues to return to pre-pandemic levels and immigration picks back up, Myers expects that rental rates will proceed to slowly climb over the next 18 months.