The old saying "what goes up must come down" is definitely ringing true in Toronto's rental market right now, as prices for all property types continue to decline after months of seeing some of the most expensive rent prices in the country.
What's more, the latest rental report from TorontoRentals.com and Bullpen Research & Consulting found that the average monthly rents in the top 14 cities and former municipalities in the GTA also declined in May.
---
According to the report, average rents declined by 6% to 10% annually in North York, Markham, Mississauga, York, Oakville, and East York. But there are a few areas where the average rent is still up year-over-year including Brampton, up 3.5%, Richmond Hill, up 2.8%, and Milton, up 0.3%.
Here in Toronto, rent fell 0.3% month-over-month from $2,387 on average in April to $2,380 in May, following a steeper drop of 3.9% in April, the first full month COVID-19 pandemic emergency orders were enforced.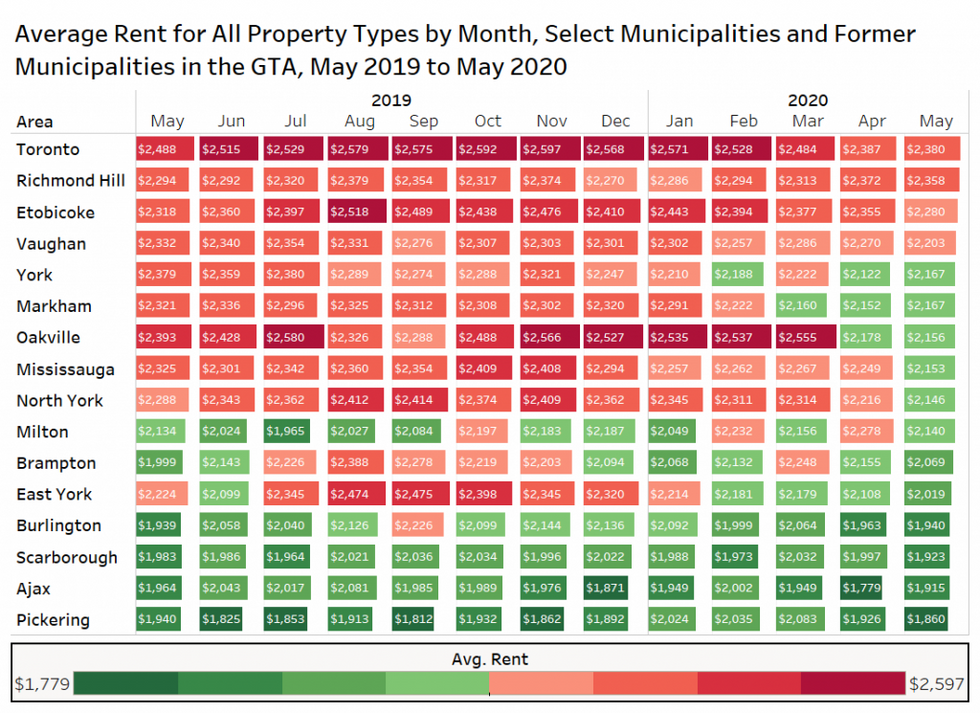 READ: Detached Home Sales in Toronto Recovered to 87% of 2019 Levels in June
However, as the province continues to reopen and more people are going back to work, the report revealed that there is evidence that tenants are starting to look at apartments online and doing their research again, though, demand is still weak as health risks trump current rental rate declines, and there are fewer people moving right now.
M5V is the most popular code in the GTA, and page views increased by 20% month-over-month. In M5A, the second most popular postal code by total page views, there was an increase in online activity of 29% in May over April.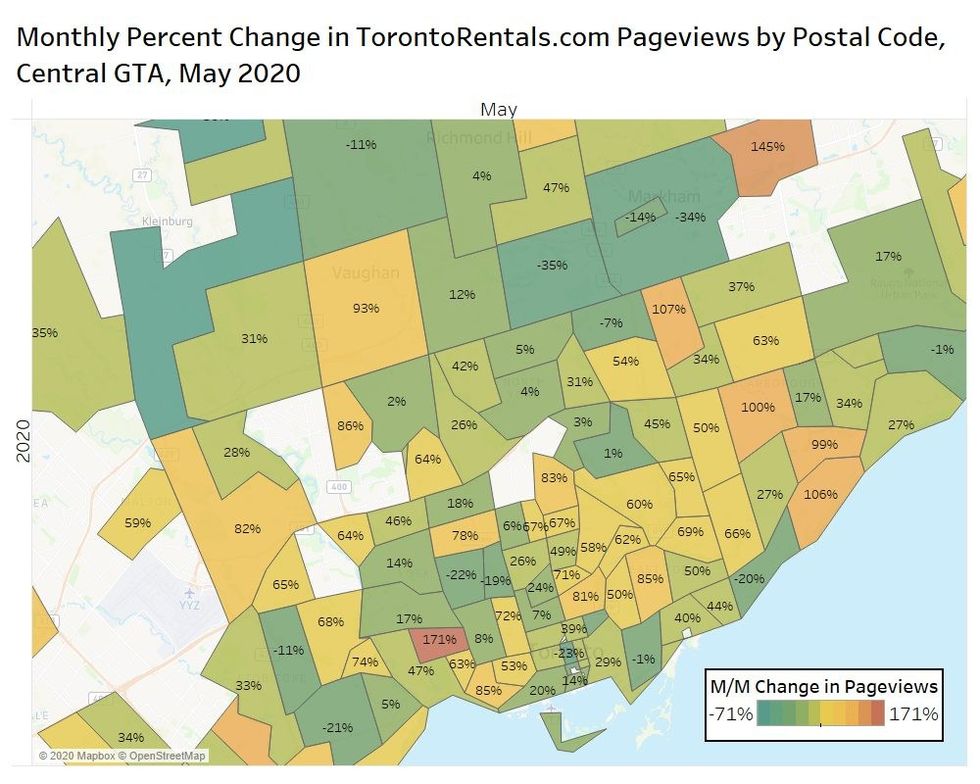 Torontorentals.com
"It's likely that there is significant latent demand from young adults living with their parents, 30-somethings living with roommates, and retirees looking to downsize to an urban apartment," said Matt Danison, CEO of Rentals.ca.
However, Danison said rental rates may not fall further, because the demand for rentals is expected to pick up once the lockdown ends, recent graduates start their careers, people cooped up with family or roommates look for their own place, and the border opens up to foreign students, temporary residents, contract workers, and immigrants.
What's more, when the province's temporary ban on evictions is lifted, more supply could hit the market as landlords remove "delinquent" tenants, while others choose to leave voluntarily due to financial hardship.
The economic consequences of the pandemic have hit tenants harder than owners, with unemployment reaching record losses in May, particularly in the services, retail and manufacturing industries. However, as the economy opens up, many of those jobs will not come back, and those tenants will look for smaller, cheaper suites, creating upward rent pressure at the bottom of the rental market.
Renting