---
Average rents in Canada continued to recover in November following months of unprecedented declines felt amid the height of the pandemic. The price momentum is expected to continue into the new year, with average national rents forecast to rise above 2019-peak levels in 2022.
In November, the average rent for all Canadian property types reached $1,817 -- up 3.6% annually and 1% monthly -- to mark the seventh straight month of rent increases since April when average rents hit $1,675, following a year of COVID-19 pandemic-induced declining rents, according to Bullpen Research & Consulting's and Rentals.ca's latest National Rent Report. 
While Canada's rental market is returning to levels seen at the start of 2020 prior to the onset of the pandemic, monthly rents still remain $137 below the peak average rental rate of $1,954 set back in September 2019. 
Once again, Vancouver is the most expensive city to rent in Canada, with the average rent for all property types rising 12% year-over-year to $2,492 in November. This comes after the annual average rent in Vancouver fell by 12% to $2,216 in November 2020. 
Out of the 35 cities included in the monthly report, Toronto had the second most expensive rents, with average monthly rents hitting $2,040 for a one-bedroom and $2,764 for a two-bedroom last month. 
READ: A Quarter of Ontarians Have a Disability: How is This (Not) Changing Housing?
Year-over-year, the average monthly rent for a one-bedroom in Toronto rose 8% and 11% for a two-bedroom. Month-over-month, average rents in Toronto were up 1.7% for a one-bedroom and up 3.3% for a two-bedroom. At the same time, the average rent in Toronto for all property types increased 10% annually in November to $2,300 after dropping 20% in November 2020 to $2,082 per month.
With many Canadians still continuing to work from home, larger units continue to experience stronger annual increases in average rent, with some tenants putting their "commuting" money toward higher rent for the extra workspace, according to the report.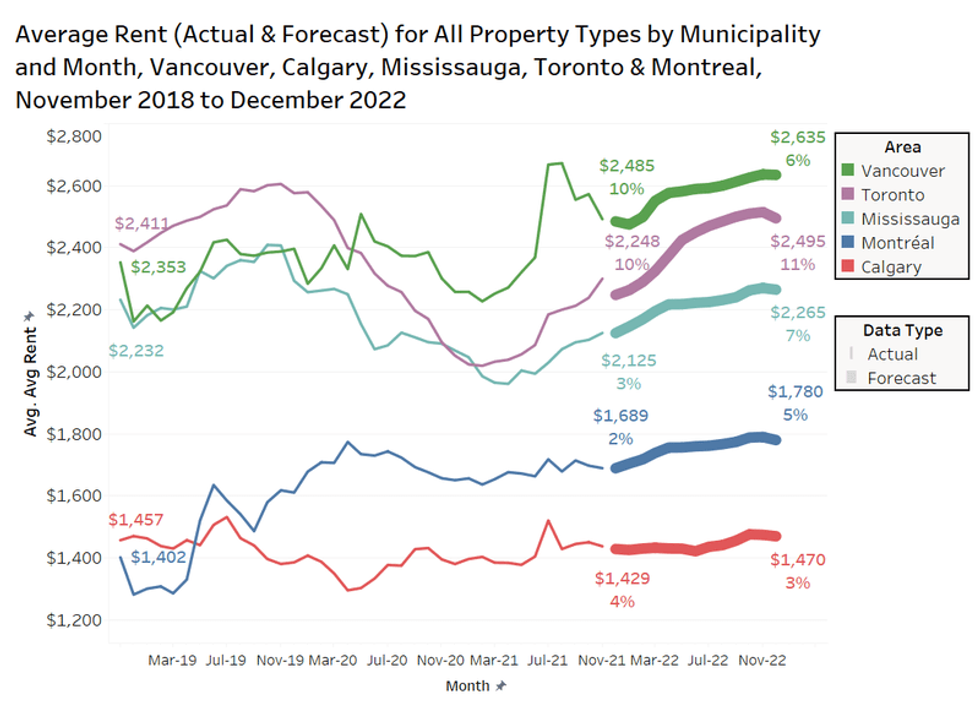 According to the report, it's expected that average monthly rents in Toronto will bounce back 11% for all property types next year, while neighbouring Mississauga will see monthly rents up 7% by this time next year. In Vancouver, average rents are forecast to increase 6%, while Montreal will post an annual increase of 5% and Calgary rents will rise up to 4% annually. 
The 11% increase in Toronto would take average one-bedroom rents to $2,495 in December 2022. This rise would be similar to how the Toronto market performed throughout 2021 with rents up 10% to $2,248 in November, following major declines in 2020, the report said.  
"The forecast prepared by Bullpen and Rentals.ca for 2022 sees continued growth in the rental market following the unprecedented declines experienced from April 2020 to April 2021," said Ben Myers, president of Bullpen Research & Consulting.
"Despite the continued upward trend next year, Toronto, Mississauga, Montreal, and Calgary are expected to finish next year below their peak rent levels from late 2019 and early 2020," added Myers.
However, while the ever-changing pandemic landscape makes it difficult to forecast the direction of Canada's rental market, we can expect that the overall trend for the new year to be one of recovery. And, with average rents continuing to rise each month, Bullpen Research & Consulting says it expects this trend to continue as we close out 2021 and start 2022.
Renting