---
A centrepiece in the revitalization of historic midtown. A Canadian debut from a globally renowned architect. A tower that looks like nothing else in the city -- or possibly anywhere.
With all these elements in play, One Delisle earns STOREYS' Project of the Year title, a collaborative feat developed by real estate investment firm Slate Asset Management and world-class architect Jeanne Gang and her Studio Gang firm.
Asked to pick three words that describe this project, Brandon Donnelly, Slate's managing director of development, consulted with his team and came back with the consensus: "Iconic. Ambitious. Thoughtful."
Let's start with "iconic." Slate was committed to an architectural spectacle for Yonge & St. Clair -- a midtown neighbourhood with a renaissance underway, an intersection where Slate owns all four corners and a total of 13 buildings in the immediate area.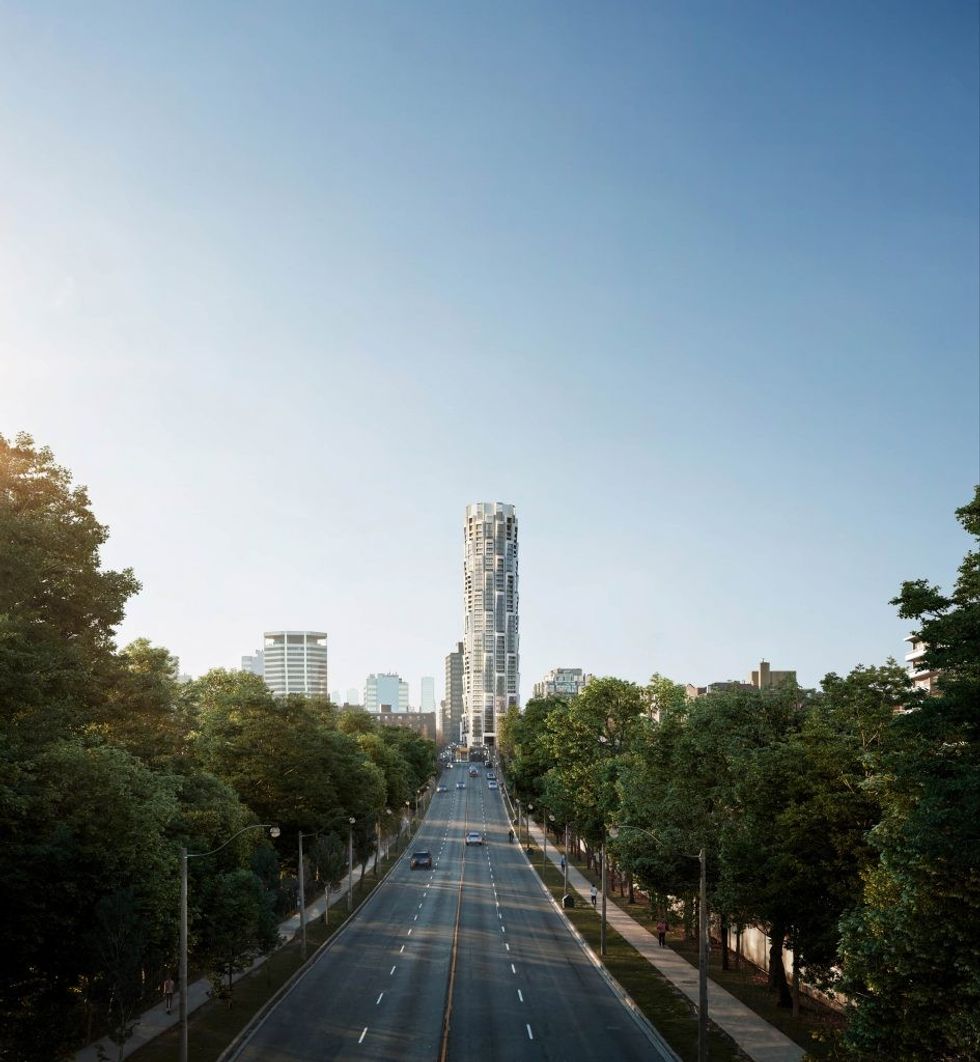 One Delisle
"We basically made a list of our favourite architects around the world," Donnelly says. "We reached out to [Studio Gang] and started visiting some of their offices. We went down to Chicago and met with Jeanne and her entire team, we toured her studio, we toured [their famed project] Aqua Tower in Chicago.
READ: STOREYS' 2021 Real Estate Issue of the Year: Inclusionary Zoning
"And it was really funny because we met with them and I remember leaving that meeting, and turning my partner and saying, 'What do you think of that meeting? We weren't interviewing them. They were interviewing us.'"
Attracting 'starchitects' to Toronto -- who have their pick of global projects -- is how iconic skylines are made, and how a city becomes recognizable worldwide.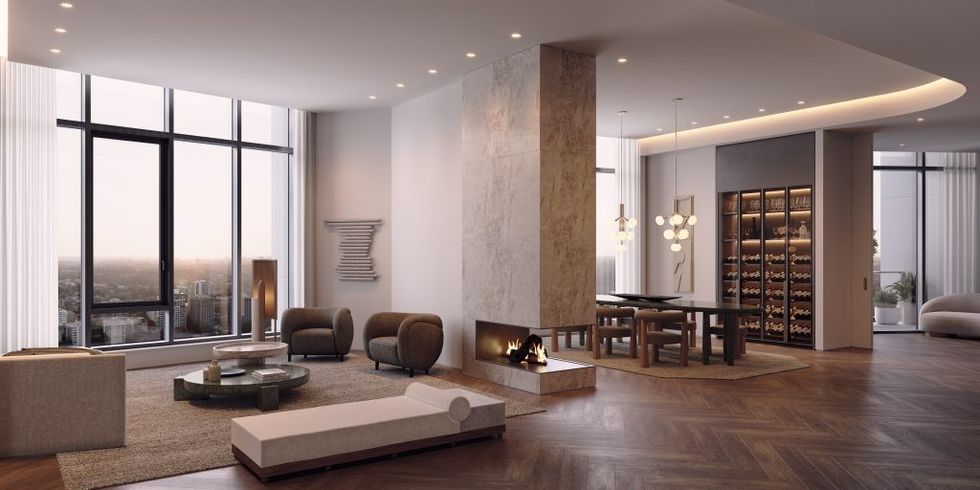 Example of a penthouse living room at One Delisle
And Slate felt midtown Toronto was due for a bold statement, Donnelly says, a landmark for the future of this community.
"I think what ultimately convinced [Studio Gang] was that we were committed to great architecture, doing something special, we were committed to a sustainable building," he says. "And also it's just the broader Yonge & St. Clair story. We've always thought of this project as being not just an individual building, but a broader city-building initiative. And I think that's what got them excited -- this was an opportunity to transform a neighbourhood."
Slate and Studio Gang are working in collaboration with WZMH Architects as the architect of record.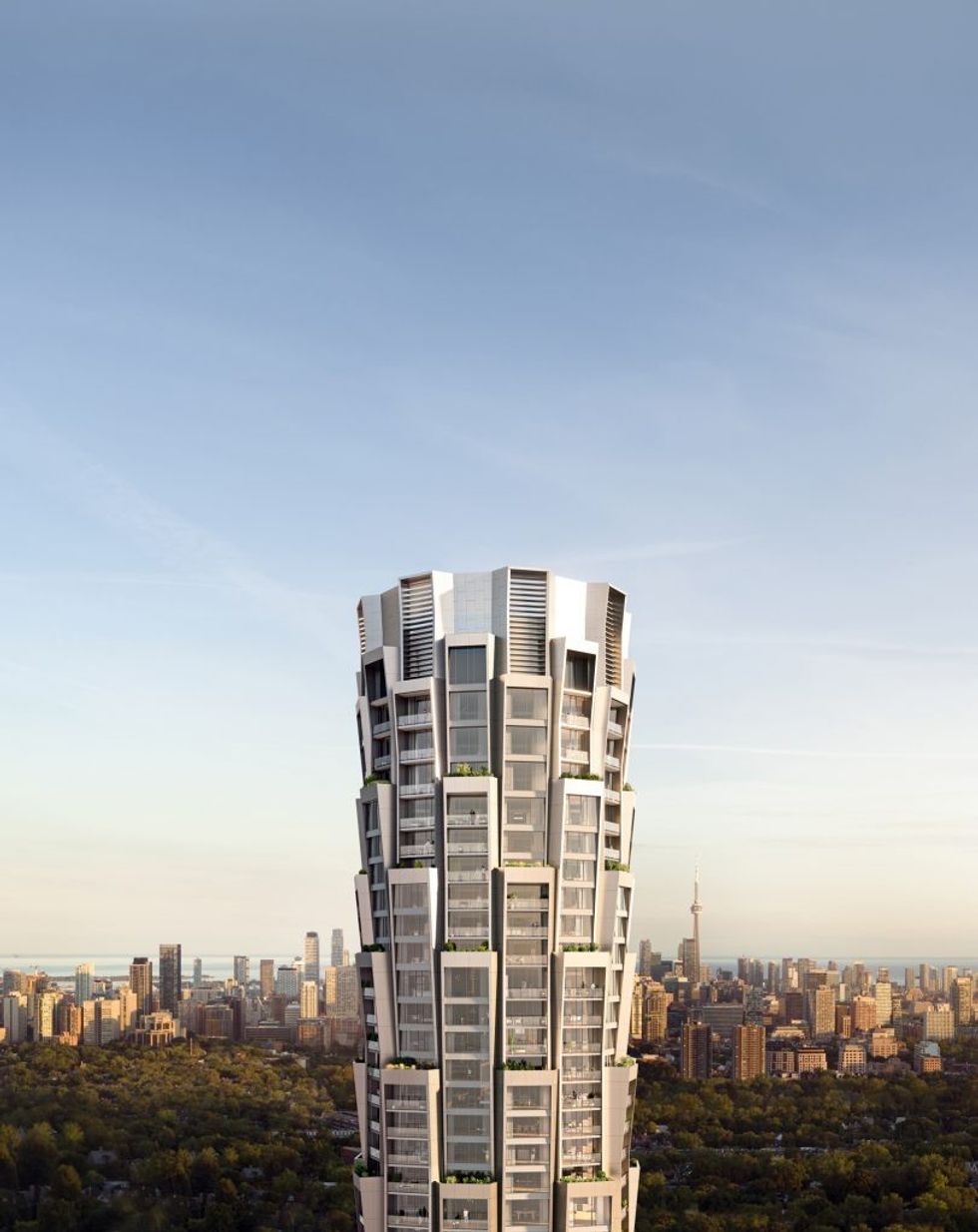 The 'Crown' at One Delisle
Even the site itself was a springboard for an unforgettable tower, says Riz Dhanji, president of RAD Marketing, exclusive sales team for the project. The land around it simply falls away.
"You're really at the peak of that top part of Yonge & St. Clair, right?" Dhanji says. "And so when you're driving on Yonge, whether it's north or south, you'll always see this building — you'll see it from Yonge & Bloor. And the crown portion of the building will also light up. It's got so many great attributes that I think it's going to be a standout, signature building for all of Toronto, and all of Canada."
It's easy to describe One Delisle as "ambitious." At its base, the design starts as a square and slowly expands upwards, unfolding itself into a 16-sided facade covered in terraces -- generous outdoor spaces shielded from Toronto's cruel winds with, of all things, a design inspired by German beach chairs.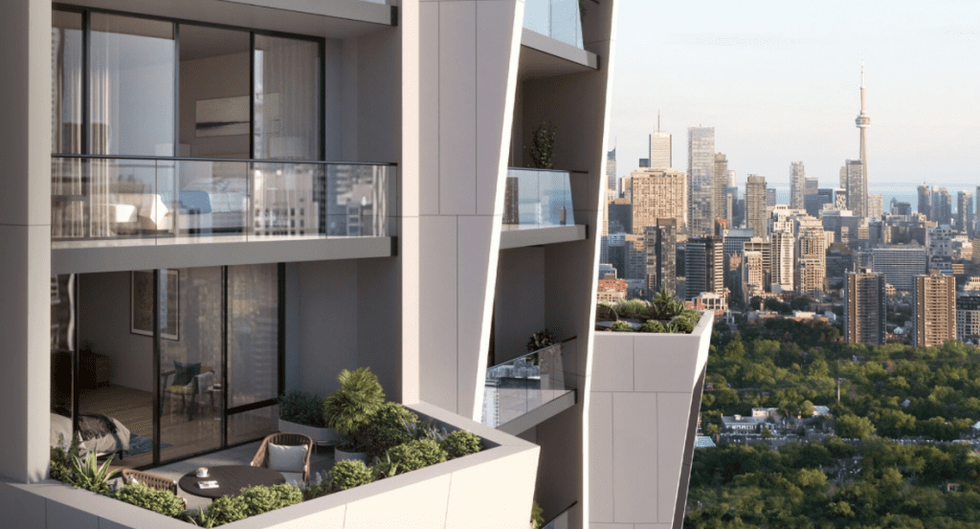 One Delisle's generous outdoor spaces shielded from Toronto's cruel winds with, of all things, a design inspired by German beach chairs.
And, in a North American first, the 47th floor will feature a Japanese-style bath and zen space for the penthouse suites, perched high above the city but completely sheltered from the elements.
"If you look at Toronto today -- most of downtown Toronto -- because of the tall building guidelines, most of these projects don't have balconies or outdoor spaces," Dhanji says. "We're going to see a very New York-look and -feel for towers in the downtown core. And, you know, this project is completely opposite of that — it's embracing the outdoor space."
"There's definitely not a comparable look in Toronto," he adds, "and I don't think I've seen a comparable look elsewhere."
This design focus was shared by Slate and Studio Gang, merging priorities and expertise in One Delisle.
Bringing together inside and outside life "in a vertical dimension" is a longtime interest for Studio Gang, says Weston Walker, partner and design principal of the firm. But it's a commitment newly challenged by Toronto's cold.
"This indoor-outdoor connectivity in tall buildings is something that our studio is really interested in, and something that we've been working on in a lot of our tall building projects," Walker says. "The second part of this was: how do we take this concept and make it specific for Toronto? Obviously the climate is challenging. So that's really where the design starts to become specific to Toronto, and it's about sculpting exterior spaces on a tall building that are responsive to environmental criteria."
As for "thoughtful": One Delisle is a carefully considered contribution to midtown's Yonge & St. Clair, where Slate is also developing new retail offerings, a nearby park in partnership with the city, art projects and streetscape improvements. Slate has spent nearly a decade investing in the community, Donnelly says, amping up the urban energy in a neighbourhood that is at once both historic and up-and-coming. One Delisle is the crowning jewel in their vision.
Infinity pool at One Delisle
On Studio Gang's side, the design is attentive to every detail: wind tunnel testing and facade adjustments to prevent a "downwash" on the tower, reducing winds for pedestrians at its base; widened sidewalks to give space back to the public realm; sensitivity to the neighbourhood character on all frontages on the ground; even opting against a multi-storey podium at the base -- typically a condo staple -- to reduce shadows at street level.
It's a 360-degree, top-to-bottom thoughtfulness that makes One Delisle both hyper-aware and attentive to its surroundings, yet boldly distinct.
"It's not a tower that is addressing one direction more prominently than another, it's meant to be seen and appreciated from from all sides, but then it becomes more square as you go lower in the tower," Walker says. "And that is really a response to the urban grid and the configuration of the streets.
"So the interesting shape of the tower is actually literally coming out of this idea of blending between the different considerations lower in the building, and higher in the building. And how you have a building seen in certain places up close, and then certain places from far away."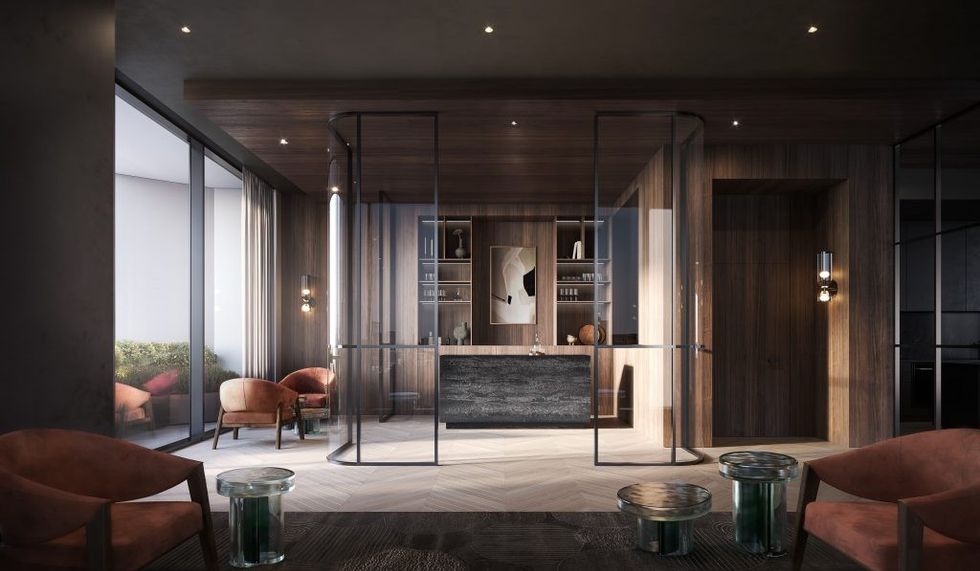 A wine lounge at One Delisle
Covering the tower in terraces brings "texture and relief and light and shadows to the facade" -- satisfying another priority for the designers, to be visually rich. But these wind-sheltered spaces also bring the human lives inside out into the sun and air, offering a second home atop the midtown skyline.
"It's much more human scale," Walker says, "which is a reflection of the apartments inside, and people that live inside of them."
Future Developments