Toronto
Rad Thoughts
"Starchitects" are Taking Canada's Urban Skylines to New Heights
Frank Lloyd Wright once said that "the mother art is architecture. Without an architecture of our own, we have no soul of our own civilization."
Widely considered the world's first "starchitect," Wright's legacy is that he infused an incredible amount of soul into cities and landscapes. His iconic Guggenheim Museum masterpiece in New York was even criticized for being so spellbinding it would overshadow the art inside.
Canada's own love-in with the modern "starchitect," or celebrity architect, kicked off with Moshe Safdie's Habitat 67, a visionary model community developed for Montréal's 1967 World's Fair.
Comprised of over 350 identical apartment units, Habitat 67 is visually-striking for its identical concrete boxes, seemingly stacked in a random and whimsical fashion along the shore of the St. Lawrence River.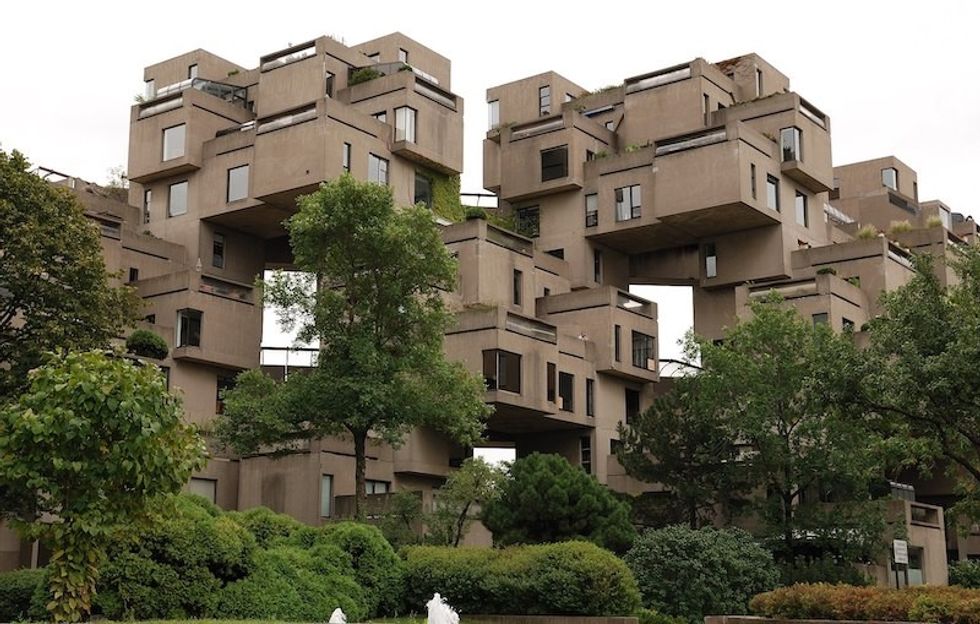 It was a daring undertaking that kickstarted Safdie's jet-setting career, from imagining other recognizable Canadian landmarks such as the National Gallery of Canada in Ottawa, to the world-renowned Marina Bay Sands in downtown Singapore and the Khalsa Heritage Centre in Punjab, India.
Safdie's influence is evident on another of the world's foremost starchitects, Ole Scheeran, and his exciting "Jenga Tower" that is currently under development in downtown Vancouver. In Scheeran's own words, this 43-storey tower consists of "a system of vertically shifted apartment modules [that enable] dynamic yet rational layouts for residences."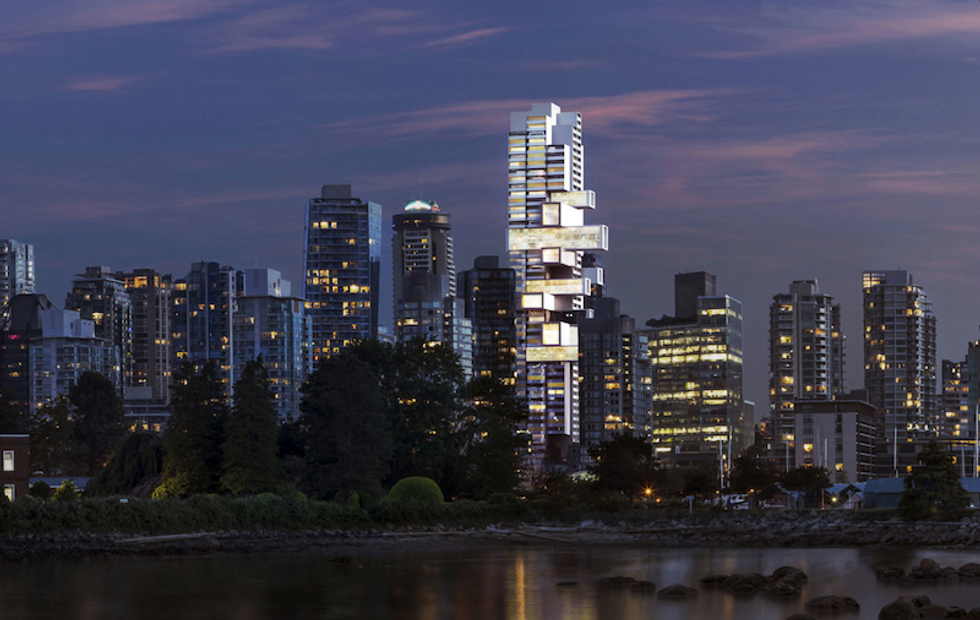 It's an ambitious concept, but when you have the star-power of Scheeran behind the project, it's easy to see how the Jenga Tower not only stands out but has the ability to elevate luxury living and improve the quality of life (and property values) for the community at large.
Another world-renowned starchitect who will be leaving a lasting imprint on Vancouver's skyline is Japanese architect, Kengo Kuma, and his 43-storey "curved" Alberni tower that is being developed in collaboration with Westbank Corp, in Vancouver's West End neighbourhood.
"I have always wanted to have a project in Canada because of its closeness to nature," said Kuma, which could be a wake-up call for other world-class architects interested in expanding their design palette.
Denmark's Bjarke Ingels is yet another international starchitect that has recently landed on Canadian soil. Ingels and his firm, Bjarke Ingels Group (BIG), were thinking big with the majestic Telus Sky Tower in Calgary city centre – another collaboration with developer Westbank Corp.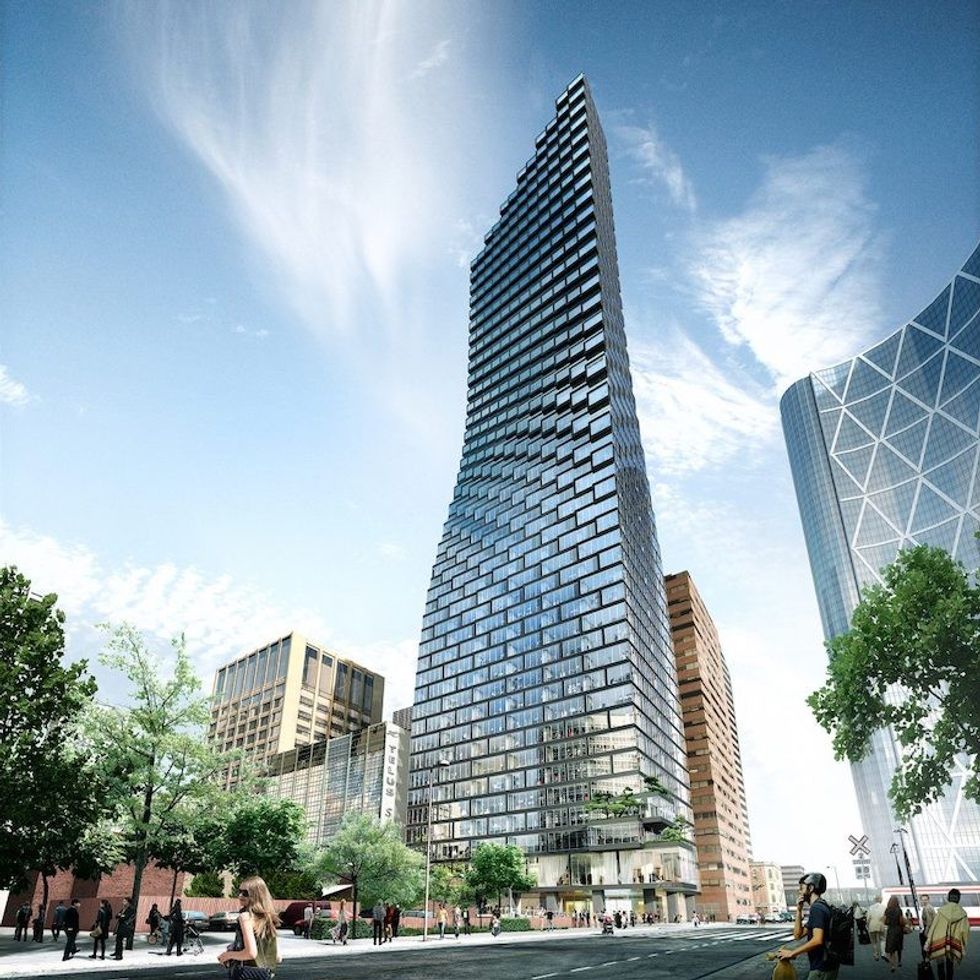 "Downtown Calgary has developed as a typical North American city centre with a cluster of corporate towers surrounded by a periphery of low-density suburban homes," Ingels said. "The Telus Sky is an attempt to create a lively mixture of living and working…in the heart of the centre, to help create a more varied and walkable city centre for Calgary."
It's globally recognized projects such as Telus Sky which have an opportunity to create luxurious and dynamic cities that actually change the way people want to live.
Ingels and BIG have also touched down in Toronto with KING Toronto, a condominium RAD Marketing is blessed to be involved with at King and Brant. Amidst one of the city's most densely populated areas with towering condominium communities everywhere you look, KING Toronto will stand out for its daring composition. Located on almost 600 feet of frontage on King Street West, KING Toronto took almost 10 years for developers Allied Corp. and Westbank Corp. to acquire and then years to convince city planning to approve. Its resemblance to Safdie's Habitat 67 is immediately apparent, featuring a collection of stacked cubes arranged into four building forms resembling mountain peaks.
"New urban development seems to tirelessly repeat the same limited range of typologies," Ingels said. "In Toronto of late, the tower-on-a-podium seems to be the one size that fits all. Yet Canada has a rich and previously-untapped history of urban innovation."
Another starchitect RAD marketing — alongside developer Slate Asset Management — is working with is Jeanne Gang, founding principal and partner of Chicago's Studio Gang. Her One Delisle project at Yonge and St. Clair will bring a fresh, new look to a community that has never fully realized its urban potential. One Delisle's design concept revolves around an intricate 16-sided organic form that sprouts a series of columns spiralling up the façade, allowing for larger terraces and balconies in a city that is moving away from the concept.
In a world where it's easy to blend in, the starchitect's passion for creativity and stubborn refusal to accept the status quo allows them to not only rise above as individuals, but to elevate neighbourhoods — even entire cities.
With an ongoing commitment to raising the bar on design, these masterworks have the power to bring Canadian cities into the epicentre of world-class design, mentioned in the same breath as powerhouses like London and New York.
Safdie threw down the gauntlet in Canada. Others have followed in his footsteps. Let's hope this innovative spirit continues to grow through the generations.
This article was produced in partnership with STOREYS Custom Studio.