---
Toronto's long-awaited, Valentine-themed green space, Love Park, held its grand opening on Friday, welcoming city dwellers to walk its winding paths and take in an abundance of heart-shaped decor.
Sat at the southeast corner of York and Harbour Streets, the park has completely revamped what was once the drab site of a Gardiner Expressway offramp. Anchored by a giant heart-shaped pond, it's a park that's quite unlike anywhere else in Toronto.
"In all the work that we do, we always have the notion of optimism, whimsy, and bring[ing] something that is on the edge of not fitting, but fitting -- and then over time, to develop it and we make it something amazing," Landscape Architect Claude Cormier told STOREYS.
Cormier's firm, CCxA, worked in collaboration with architects at gh3* to design the park -- a process that began back in 2018, after which their design was selected following an international competition held by the City and Waterfront Toronto.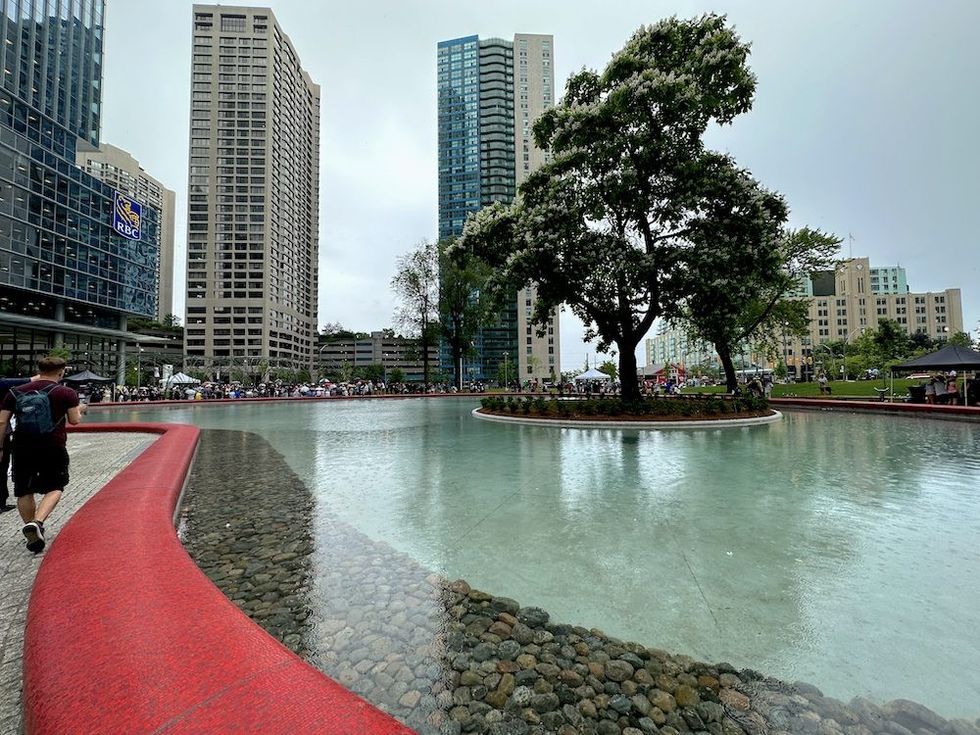 STOREYS
There's plenty that will draw your eye in Love Park, but what stands out above the rest (quite literally) is a towering Northern Catalpa tree right in the middle of the pond. Cormier says the tree was an existing feature of the site that they wanted to incorporate into the design.
"That was a keeper, but it was in the middle of the pond, so we turned that into an island," Cormier said. "Constraint became a powerful element in the design."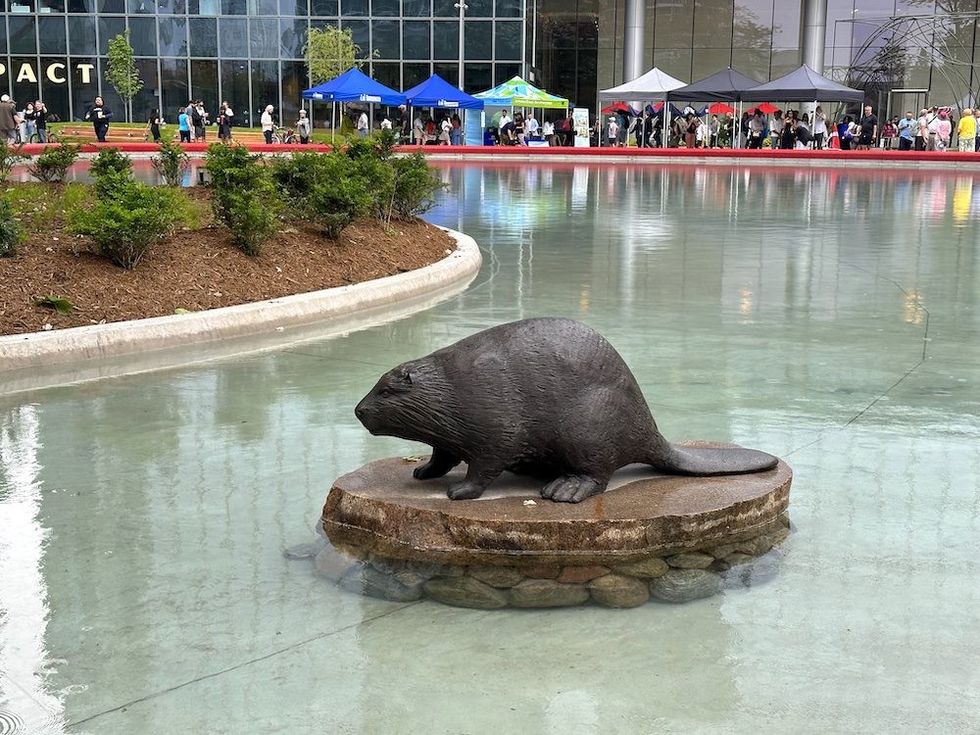 STOREYS
Nine bronze cast statues of Canadian animals are scattered throughout the park, including a beaver appropriately placed in the water.
For the real-life four-legged friends at the park, there's a grassy dog run to enjoy.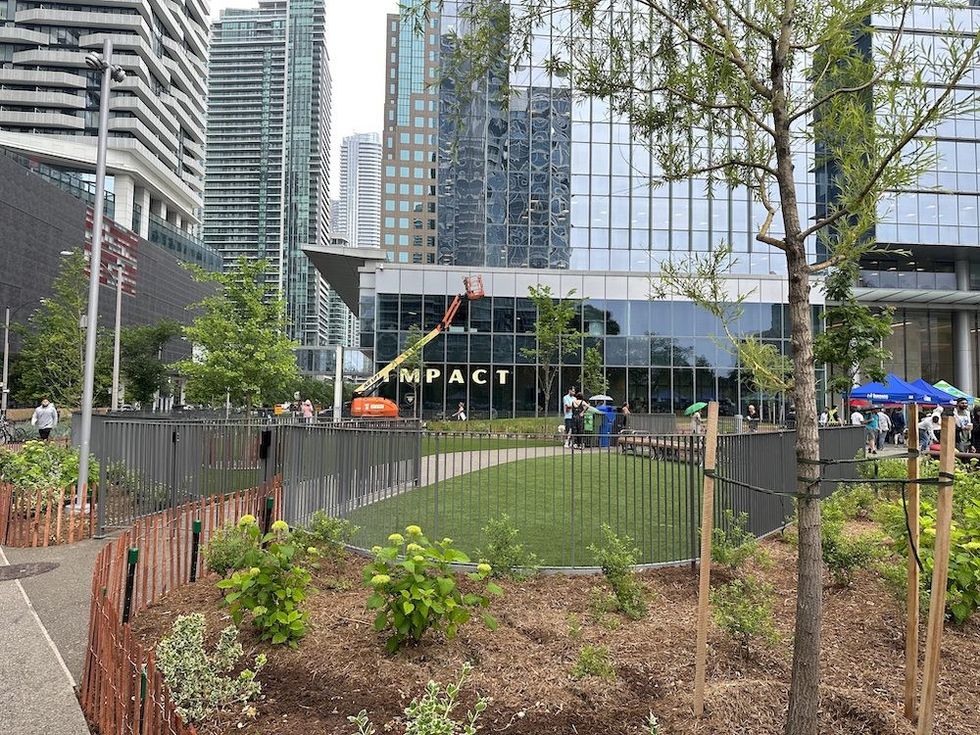 STOREYS
Cormier says the process for completing the park didn't come without its challenges, and with a limited budget for the project, the team had to learn to adapt without giving up the -- pardon the pun -- heart of the park.
"We just took one step -- you crossed one river a day, and that's how we made it," Cormier said.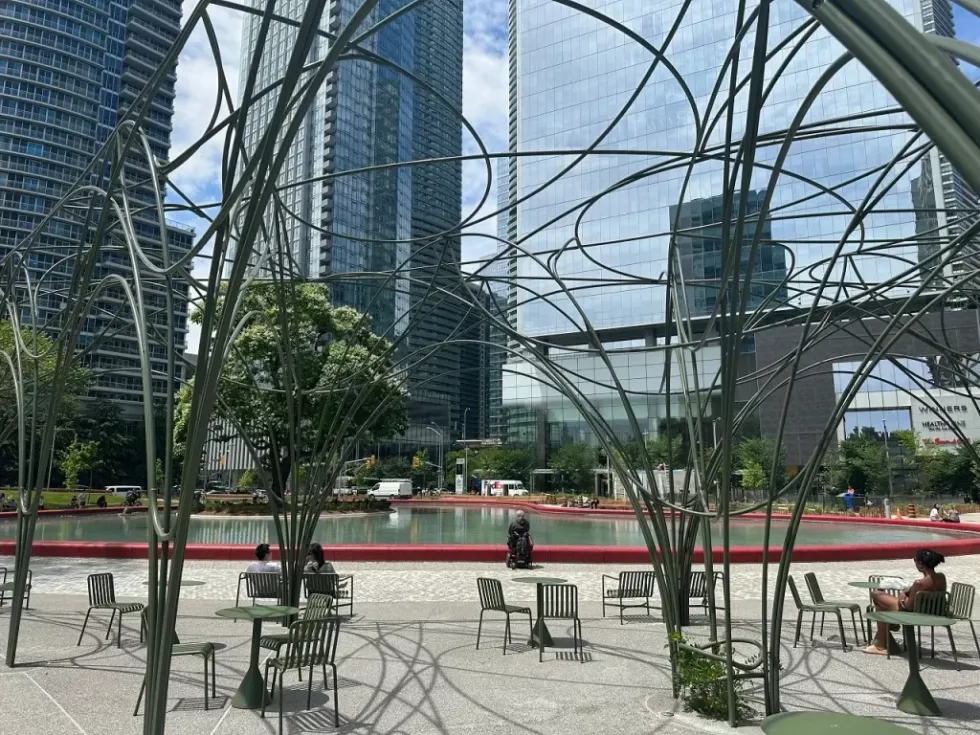 Waterfront Toronto
City Councillor Ausma Malik (Spadina–Fort York) joined in on the opening day festivities, hailing the new park space as a much-needed addition to the downtown core.
"The idea from the very start was to make sure that we could reclaim and expand the public and green space that we have along the waterfront, and as our downtown continues to grow, [it] has become even more important of a priority and more urgent for us to do this," Malik told STOREYS. "So what I'm excited about is along our waterfront, there is a very desperately needed public and green space that is so beautiful, and is inviting more people to gather."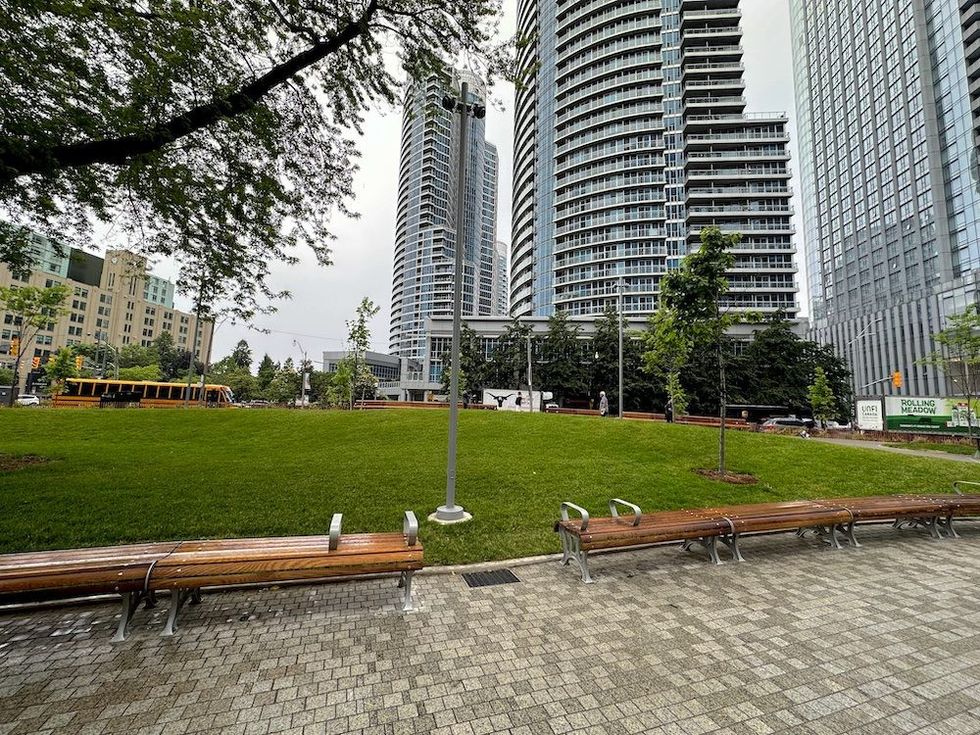 STOREYS
As for those places to gather, cafe-style moveable chairs and tables are spread out beneath a trellis, adding more seating options to the space besides the traditional park bench, of which Love Park has many.
Malik says she hopes to see the park become a year-round destination to be enjoyed during all seasons, "and also for visitors to be able to make this one of their favourite places in Toronto."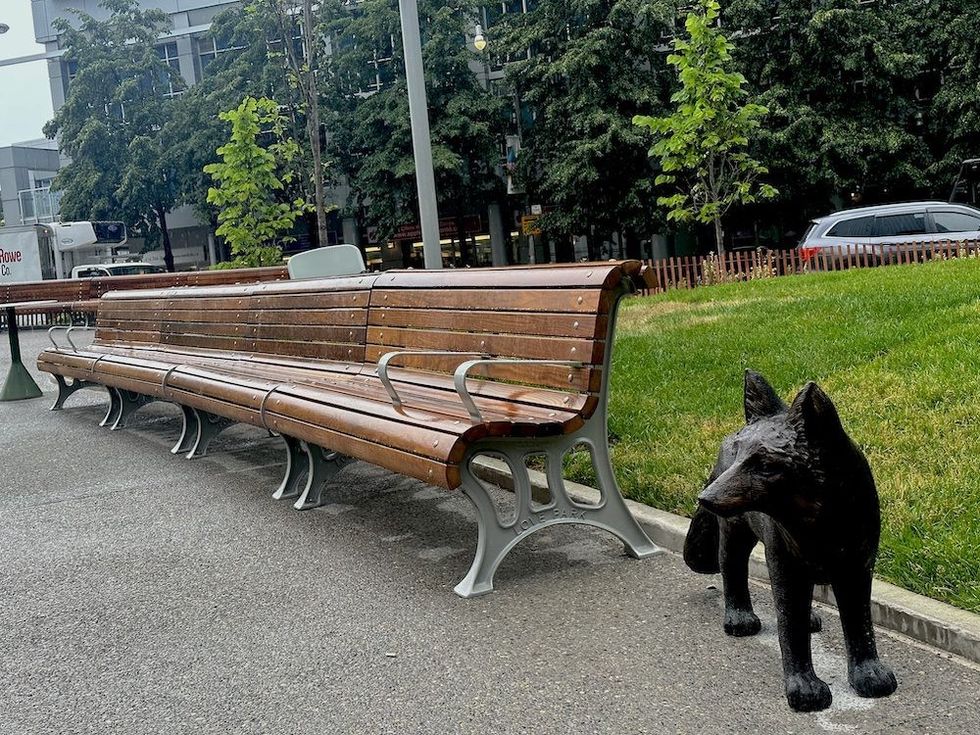 STOREYS
Toronto