---
Two major downtown Toronto intersections are fully closing, making getting around the core even more difficult for the next month.
According to the City, on Friday, May 14, a clay pipe sewer, which dates back to 1878, partially collapsed under Bay Street at Elm Street.
City crews immediately responded and closed the above roadway to make the area safe and start repairs. Initially, workers anticipated the repair would take a few days. However, they now expect that it will take approximately one month to finish.
As a result, Bay Street, between Dundas Street West and Gerrard Street West, will remain fully closed for approximately one month, as crews continue ongoing emergency repairs to the underground sewer.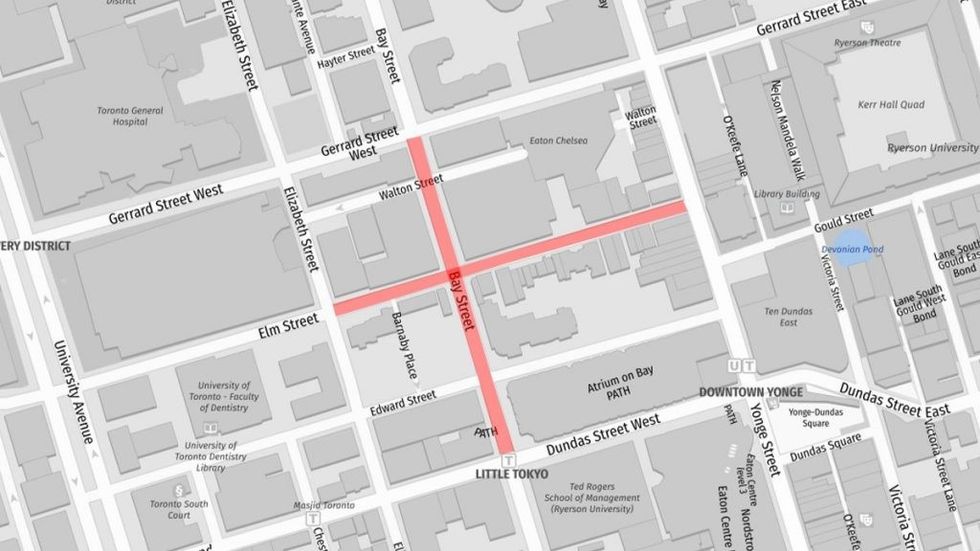 City of Toronto
READ: Four Major Downtown Subway Stations Closing for 10 Days
The City says the repair is particularly challenging due to the extensive network of underground utility infrastructure that must be carefully navigated, such as water cooling energy systems, gas, hydro, and telecommunications lines.
Crews have difficulty accessing the damaged site due to high water and debris. They need 15-metres of tunnelling to help create additional access points under the roadway to bring repair materials to the site.
The following full closures will remain in place to keep members of the public and crews in the work zone safe:
Bay Street between Dundas Street West and Gerrard Street West
Elm Street between Elizabeth Street and Yonge Street
TTC buses running on the 6 Bay route will be diverted during the closure, and drivers and pedestrians are asked to plan alternative routes.
Transportation