Toronto's appreciation for its local heroes will be displayed loud and proud through a series of eye-catching (and double tap-worthy) wall murals throughout the city.
As part of the City of Toronto's StreetARToronto's (StART) Frontline Heroes Art Project, Toronto's talented street, mural, and graffiti artists will create the series of wall murals to celebrate the city's local heroes. Frontline workers, first responders, and volunteers and their perpetual efforts amidst the ongoing COVID-19 pandemic are highlighted through the vibrant creations.
---
Some are already gracing walls in city streets and alleys, adding pops of colour and character to otherwise drab buildings.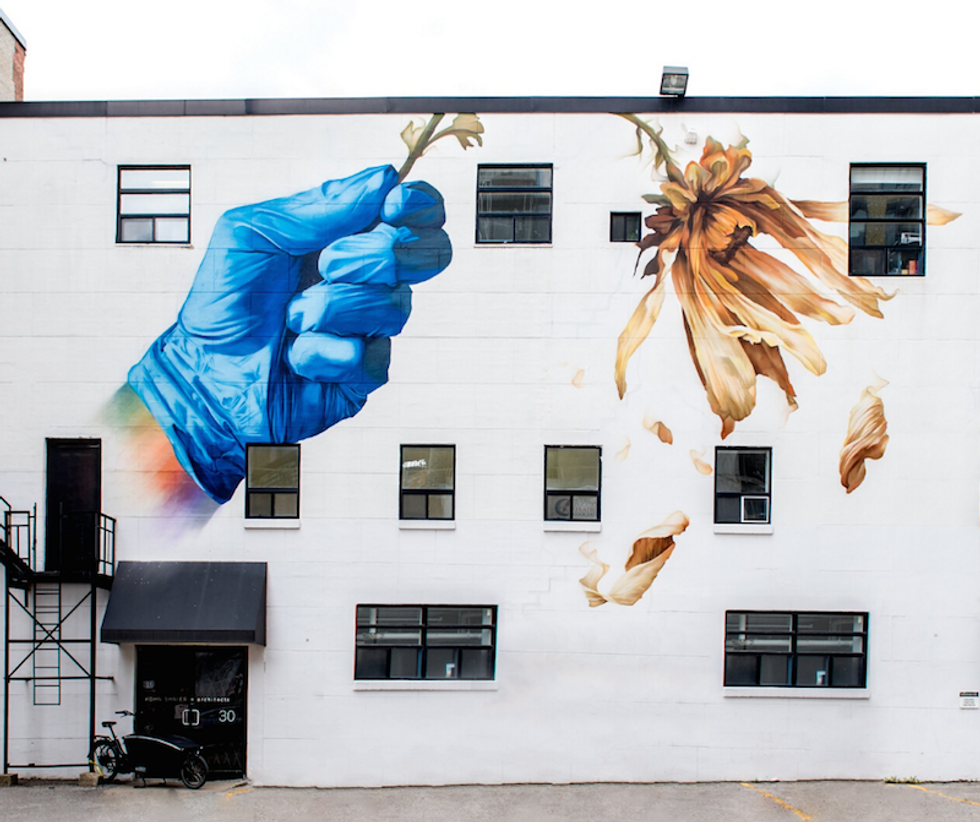 Earlier in the spring, StART sent out an open call to local Toronto artists, asking them to identify local frontline service workers who are actively keeping our community safe during the COVID-19 crisis as the inspiration for their artwork. This could include health care workers, first responders, volunteers, grocery and pharmacy workers, delivery services, and neighbours. The common theme is a reflection of the City's motto "Diversity Our Strength."
In total, 23 artists will complete a series of 15 street art wall murals that feature diverse essential workers of all ages, genders, backgrounds, and professions.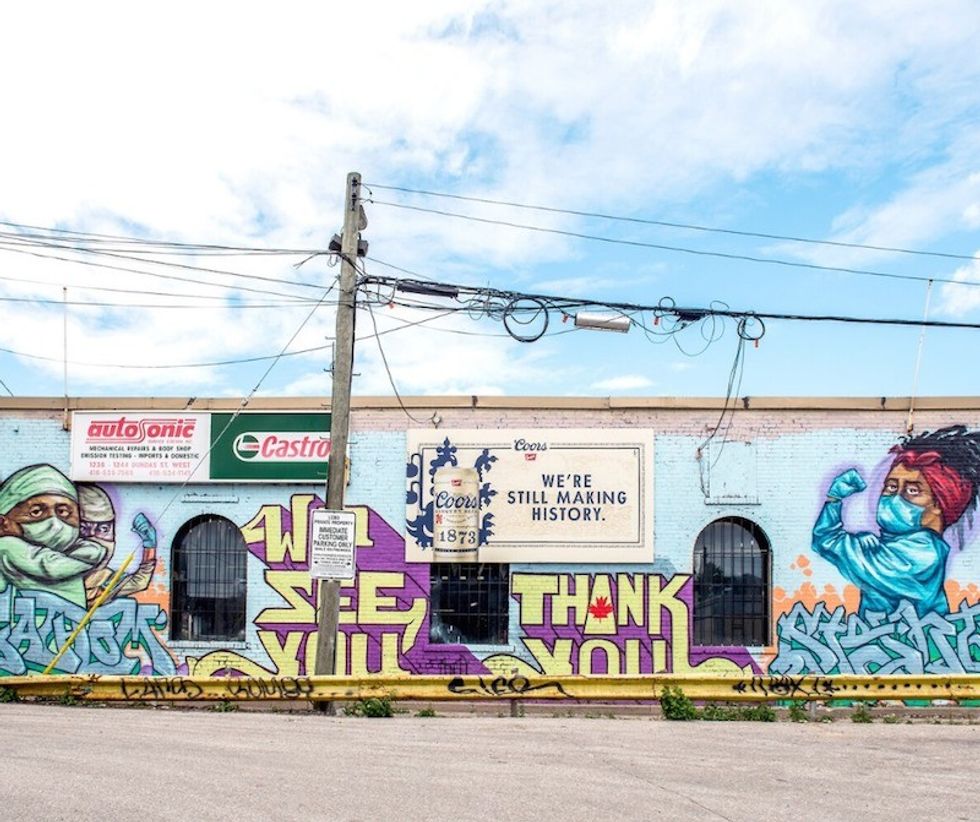 "This project, delivered by local graffiti artists, celebrates many of our city's heroes who continue to fight COVID-19 and save lives while putting themselves at risk," said Mayor John Tory. "Our health care workers, doctors, nurses, paramedics, firefighters, grocery store and pharmacy workers, mail workers, community workers, volunteers, and more have worked tirelessly. They deserve to be recognized in this way and I am so grateful to all of them for doing their part to keep Toronto safe."
Six murals are currently complete, and can be found at 2265 Danforth Ave., 30 Maud St., 546 Richmond St. W. (in graffiti alley), 575 Queen St. W., 761 Jane St., 1230 Dundas St. W., and one soon to be completed at 165 Main St. We can expect to see the remaining artwork by the end of July.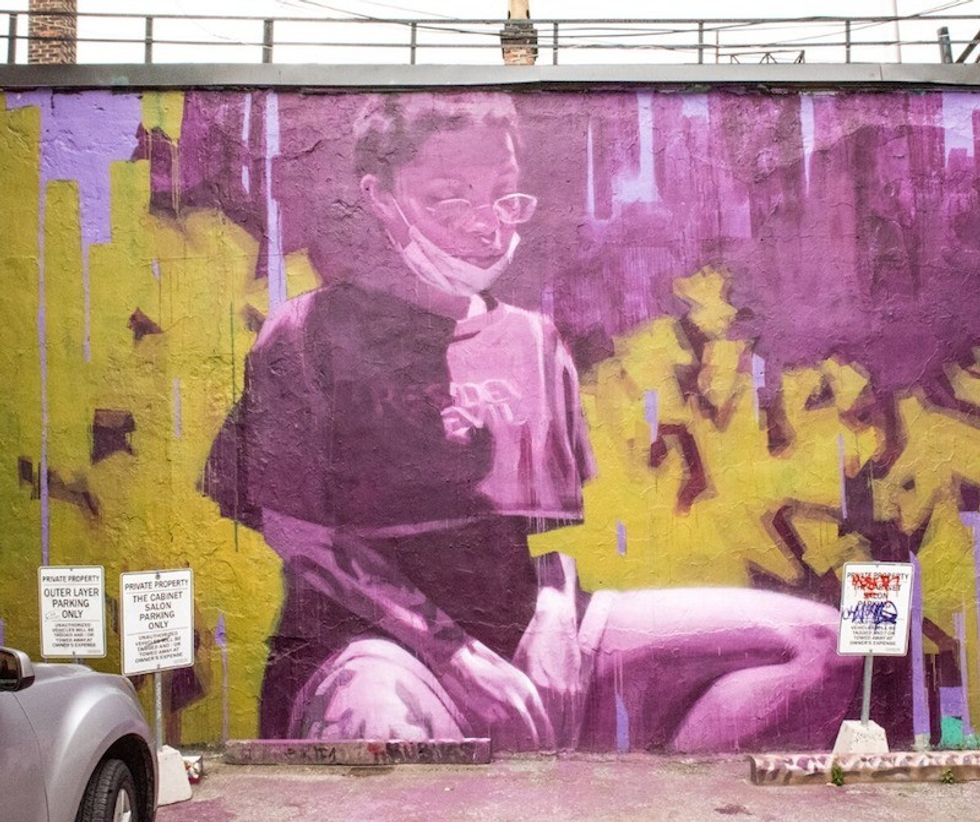 For those in the dark, StART is a suite of innovative programs designed specifically for streets and public spaces. Initiated in 2012 as an integral part of the City's Graffiti Management Plan, StART has reduced graffiti vandalism and replaced it with vibrant, colourful, community-engaged street art. The murals are funded through a partnership via the City/StART using third-party private sector revenue.
"This timely and relevant StART project uses infrastructure in Toronto to create legacy artwork that will animate and celebrate our frontline workers, first responders, and volunteers for years to come," said Councillor James Pasternak (Ward 6 York Centre), Chair of the Infrastructure and Environment Committee. "Graffiti art positively affects our neighbourhoods and, even during these difficult times, we can count on our talented local artists to make our city even more liveable and vibrant."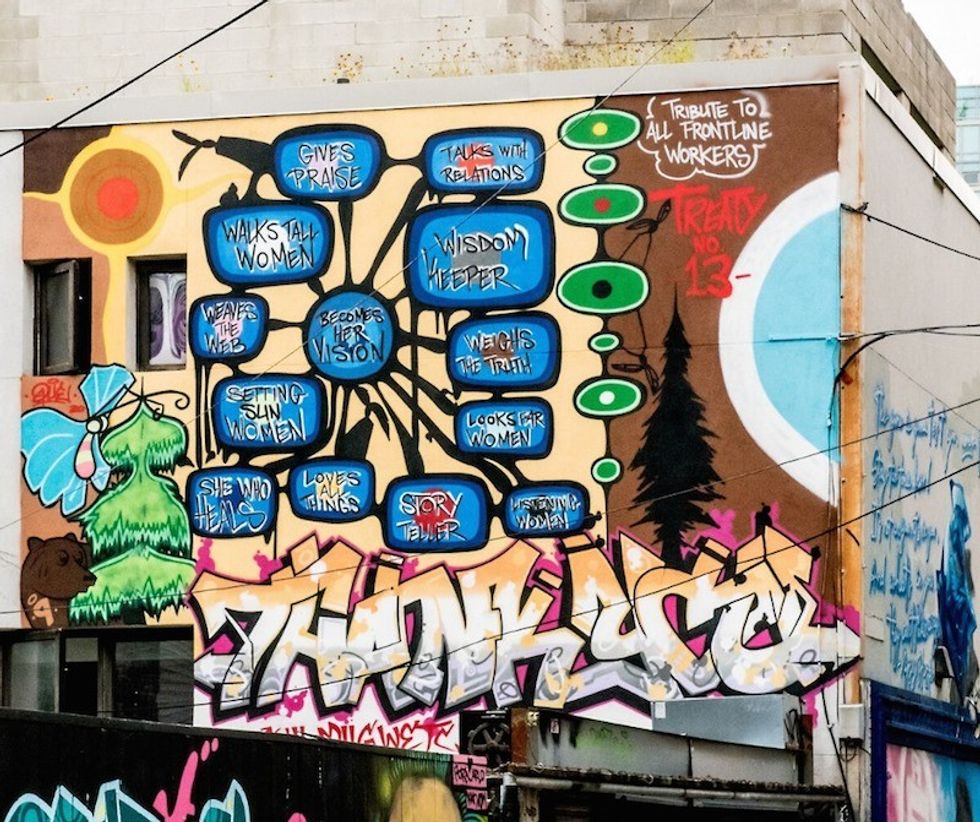 It's safe to say Toronto is having a major moment on the public art front – and one that will stick around for awhile. The Frontline Heroes Art Project enhances Toronto's upcoming Year of Public Art, a yearlong celebration of art and community in 2021. The initiative will highlight Toronto's incredible collection of public art and the artists behind it, provide opportunities for artists to develop new public art projects, and encourage people to connect and engage with public art.
So, in even the most challenging of times, at least we have that.
Toronto